Remove the fear of the blank page and rejuvenate your journaling practice for spring with these March journal prompts for adults.
If you enjoy planing and journaling printables, make sure to click over to this post and download free printable March planner pages. If you want more journaling prompts, grab this list of journal prompts for self-care, too.
Keep scrolling past the list of journaling prompts to grab your free printable March journal. Each page is lined and comes with the writing prompt printed at the top. Your PDF also includes a complete list of all 31 prompts on one convenient page.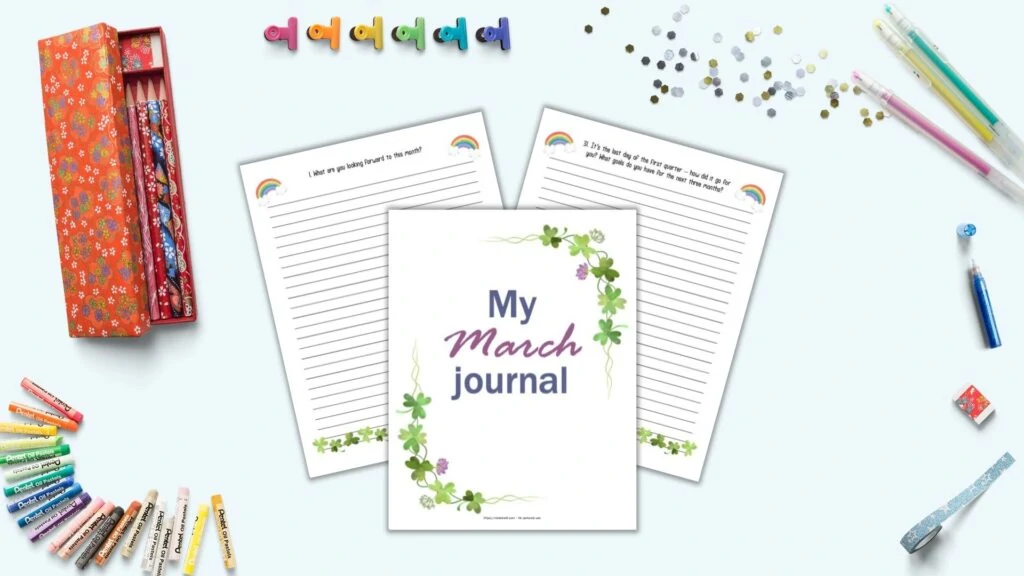 This post may include affiliate links which means I may earn a commission on qualifying purchases at no additional cost to you.
Journal writing prompts for March
The journal prompts are listed out below. They are also included in your free printable March journal. The prompts are all conveniently located on a single page in your PDF, too. Keep scrolling past the journal prompts to the download information section for previews of the printable journal.
If you'd rather write in your own notebook instead of on the printable journal, that's fine. Check out this post on the best bullet journal notebooks that make journaling fun and enjoyable. Writing on cheap, flimsy paper is a real bummer – do yourself a favor and get a durable notebook with paper that's easy to write on.
March journal writing prompts:
What are you looking forward to this month?
What is something you've been putting off that can finally get done this month?
What are some ways you like to relax?
What is the most surprising (good) thing to ever happen to you?
Do you consider yourself to be a jealous person? Is there someone you're jealous of right now? What do they have that you desire?
Look back to yesterday's prompt. Can you find a way to feel happy for the person you're jealous of? To celebrate for them? Are you ready to release your jealousy? How does releasing jealousy feel in your body?
How comfortable are you with confrontation and asserting yourself? Do you frequently find yourself saying "yes" when you'd rather say "no?"
What is your favorite part of your body? What do you like about it?
If you could go back in time and change any moment, what would it be?
What are some random acts of kindness you can do this month?
Is there anything you still haven't told your parents?
March 12th is Plant a Flower Day – What are your favorite flowers?
What is the best compliment someone could give you?
Is there some area of your life where you're holding yourself back? Why and how?
What are you grateful for this month?
List something you are not happy with right now. Now brainstorm three action steps you could take to address the issue.
Where would you live if you could live anywhere in the world?
How can you love yourself more?
How do you find joy in every day?
March 20th is the International Day of Happiness – List 10 things that make you happy.
Spring is here! What is your favorite part about this season?
Do you have fun plans for this spring?
What are your favorite spring flowers and plants?
What is your favorite spring memory?
What defines success to you?
How have you changed the most in the last 5 years?
What does failure mean to you?
If you could have any weather right now, what would it be?
Write a love letter to yourself.
Write down some of your favorite quotations. Why do you like them?
It's the last day of the first quarter – how did it go for you? What goals do you have for the next three months?
Here are all 31 prompts in an image to Pin so you can find them again later. (Please don't print this image – it won't print well. Print the copy in your PDF journal download.)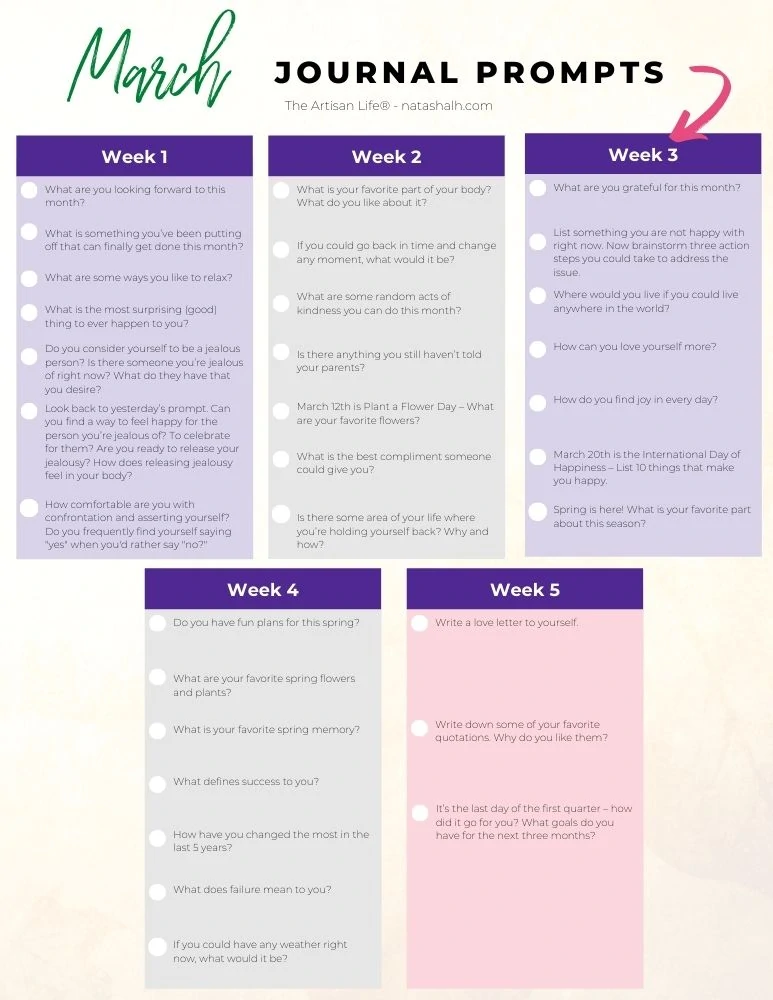 Free printable March journal
First, a great big thank you to Jane of DigitalArtsi. Her beautiful digital watercolor artwork decorates the pages of this journal. I am grateful for her beautiful art, affordable licensing, and generous terms of use. Thank you, Jane!
For the best journaling experience, I recommend printing the pages on bright white 32# paper. It's smooth to write on so your words can flow without scratchy, annoying paper. It resists feathering and bleeding, too, so any doodling, drawing, or lettering you do will look great. (Tired of junky pens? Discover the best pens for journaling in this post.)
Like all planner and journal printables on The Artisan Life, these printables are for personal and classroom use. This includes use with your own students, therapy clients, Scout groups, library groups, etc. as long as you are personally organizing the activity and not charging specifically to participate.
You are not licensed to redistribute the printed pages or digital files to others for use with their children/students. Please refer your friends and coworkers to this page so they can download their own copies.
I hope you enjoy using these March journaling prompts and discover something new about yourself!
Journal Prompts and Planner Printables
Planner and calendar printables allow you to stay organized without a trip to the store or wait for the mail.
Journal prompts remove the fear of the blank page and allow you to start journaling today! Make sure to grab your free printable journal pages in each post.