Celebrate the start of summer with these June journaling prompts for adults. These journal writing prompts can help you get back on track with your daily journaling practice or start a fresh new practice this summer!
Make sure to keep scrolling past the list of writing prompts to download your PDF with all 30 prompts for handy reference and two printable mermaid themed journal pages that match your free printable June planner pages.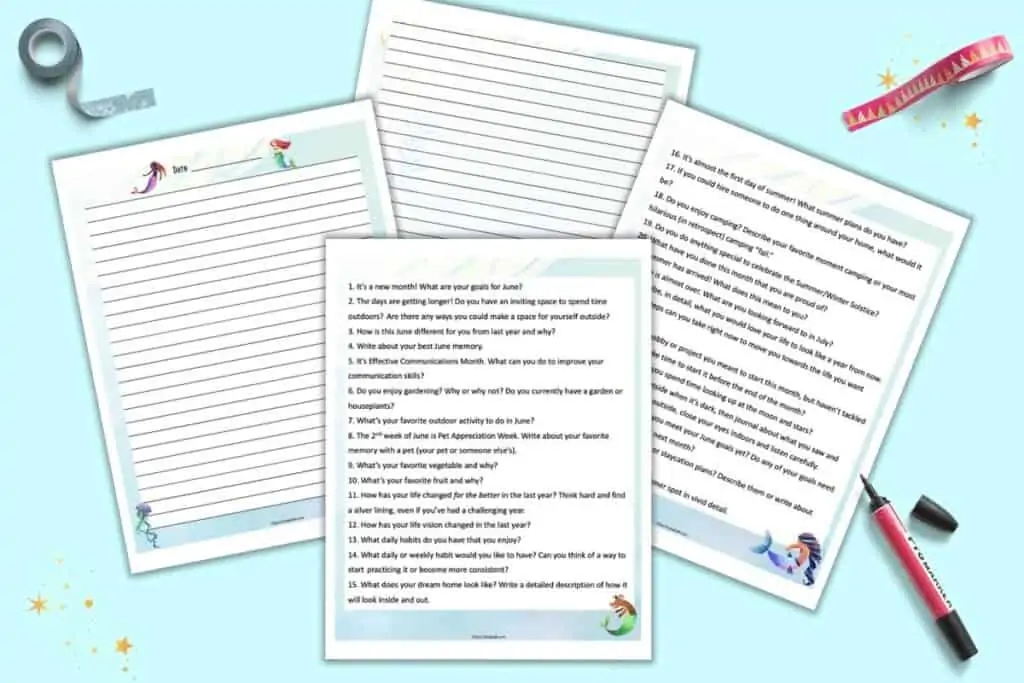 This post may include affiliate links which means I may earn a commission on qualifying purchases at no additional cost to you.
Journaling notebooks for summer
A high quality notebook makes a world of a difference when you're journaling. You can journal on any scrap of paper or cheap notebook, but having a nice notebook makes you a lot more likely to actually sit down to write.
Bullet journal notebooks are popular for journaling. I personally prefer spiral or coil bound notebooks that lie flat. My Japanese brother-in-law prefers bound notebooks and says spiral notebooks are uncommon in Japan. If you're not sure which you prefer, try a couple of notebook styles to see which you enjoy writing in more.
Whatever notebook you select, make sure it has the type of page you like whether that's blank, lined, boxes, or grid dot. Also, double check the listing or physical journal to make sure you like the line spacing. Journal notebook line spacing can vary widely.
You may also want to look for acid free paper. Acid free paper doesn't turn yellow and brittle with age, which is nice if you plant to keep your journal. My grandfather kept a diary for most of his adult life and we have dozens of his casebound journals. Because they were written on acid free paper, even the old journals are still supple and easy to read. It's so cool to leaf through them and read his thoughts.
And, of course, you can always journal on your free printable mermaid journal pages! Download information is lower down in the post.
Journal writing prompts for June
Thirty days of writing prompts for June are listed out below. They are also included in your free printable PDF for easy reference. There's no need to screenshot this page and spend time scrolling through 1,527 pictures to find it whenever you want to journal.
June journal writing prompts:
It's a new month! What are your goals for June?
The days are getting longer! Do you have an inviting space to spend time outdoors? Are there any ways you could make a space for yourself outside?
How is this June different for you from last year and why?
Write about your best June memory.
It's Effective Communications Month. What can you do to improve your communication skills?
Do you enjoy gardening? Why or why not? Do you currently have a garden or houseplants?
What's your favorite outdoor activity to do in June?
The 2nd week of June is Pet Appreciation Week. Write about your favorite memory with a pet (your pet or someone else's).
What's your favorite vegetable and why?
What's your favorite fruit and why?
How has your life changed for the better in the last year? Think hard and find a silver lining, even if you've had a challenging year.
How has your life vision changed in the last year?
What daily habits do you have that you enjoy?
What daily or weekly habit would you like to have? Can you think of a way to start practicing it or become more consistent?
What does your dream home look like? Write a detailed description of how it will look inside and out.
It's almost the first day of summer! What summer plans do you have?
If you could hire someone to do one thing around your home, what would it be?
Do you enjoy camping? Describe your favorite moment camping or your most hilarious (in retrospect) camping "fail."
Do you do anything special to celebrate the Summer/Winter Solstice?
What have you done this month that you are proud of?
Summer has arrived! What does this mean to you?
June is almost over. What are you looking forward to in July?
Describe, in detail, what you would love your life to look like a year from now.
What steps can you take right now to move you towards the life you want next year?
Is there a hobby or project you meant to start this month, but haven't tackled yet? Can you make time to start it before the end of the month?
How often do you spend time looking up at the moon and stars?
If possible go outside when it's dark, then journal about what you saw and heard. If you can't go outside, close your eyes indoors and listen carefully.
It's almost July. Did you meet your June goals yet? Do any of your goals need tweaking and more work next month?
Do you have any vacation or staycation plans? Describe them or write about your dream vacation.
Describe your favorite summer spot in vivid detail.
Free printable June journal pages
In addition to two pages with each journal writing prompt, I also created two lovely journal pages for you. They have a mermaid theme that matches these free printable June planner inserts.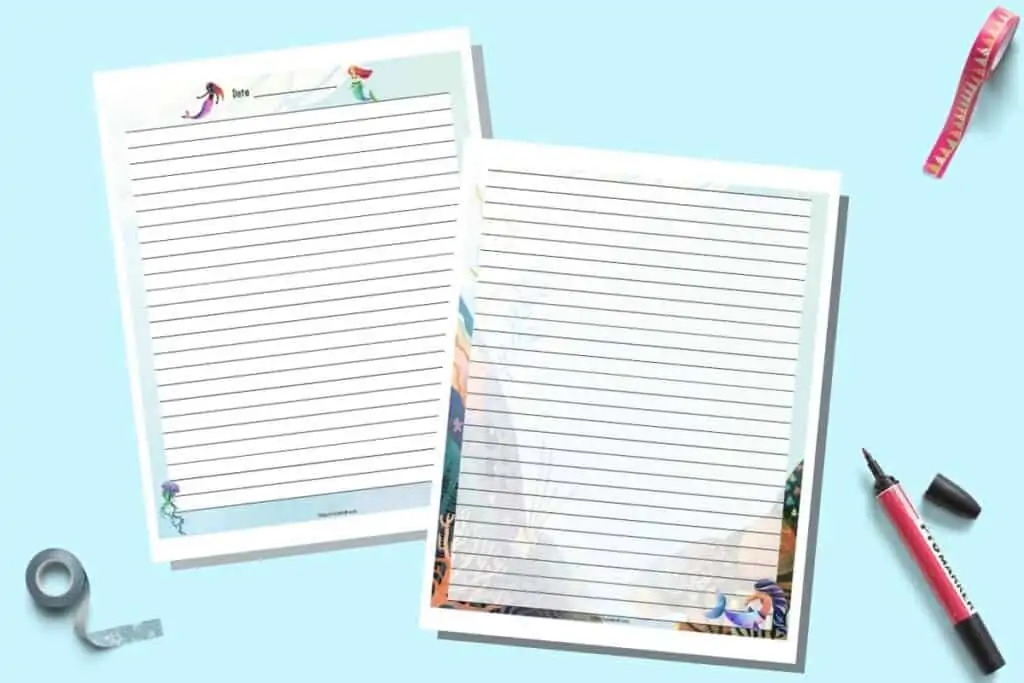 Please note that the artwork in these printables is copyright by DigitalArtsi and is used under license. Thank you, Jane, for your beautiful artwork and generous licensing terms.
Like all journaling & planning printables on The Artisan Life, these are for personal and single classroom use. You are welcome to use them with Scouts groups, home school co-ops, personal therapy clients, library activities, etc.
You are not licensed to redistribute the files or printouts to others for their personal use outside of activities you are organizing. Instead, please refer your friends and coworkers to this page so they can download their own copies.
You are not licensed to sell or redistribute the files or printouts to others for their personal use. Instead, please refer your friends and coworkers to this page so they can download their own copies.

I hope you enjoy using these June journaling prompts and discover something new about yourself! Make sure to check back in soon for July journaling prompts. New prompts are usually posted mid-month.
Journal Prompts and Planner Printables
Planner and calendar printables allow you to stay organized without a trip to the store or wait for the mail.
Journal prompts remove the fear of the blank page and allow you to start journaling today! Make sure to grab your free printable journal pages in each post.