Finally make it through a digital detox or social media fast with this free printable digital detox planner!
This digital detox planner will help you plan and execute a social media fast, tv/entertainment fast, and even a computer fast. You'll be able to track your moods and results so you stay accountable and can assess the impact of your detox. Keep scrolling to see previews of the planner and grab your free printable PDF.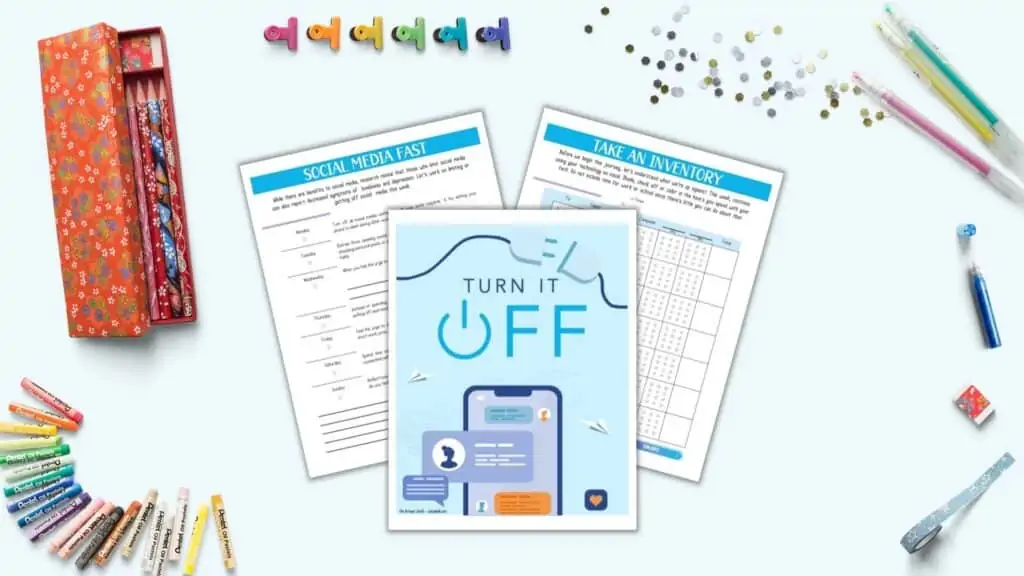 This post may include affiliate links which means I may earn a commission on qualifying purchases at no additional cost to you.
What are the benefits of a digital detox/social media fast?
It can be very difficult to cut down on screen usage. After all, phones and phone apps are deliberately designed to be addictive! Breaking up with your phone is the hardest part of a digital detox for for many people. This entire post and journal was inspired by my personal quest to stop using my phone so much under the guise of "checking the news" or "staying in touch with friends."
If you suspect need help with your phone usage, take a look at the book How to Break up with your Phone. It's an eye-opening read with a 30 day action plan to help you revaluate your relationship with your phone. It is not an admonition to throw your phone directly in the trash. The author recognizes that cell phones are part of modern life, but she helps you use yours as a tool instead of a time suck.
Sale
If you're reading this post, you're probably already aware that a digital detox can benefit your life. I won't go into depth, but here are few reasons to do a digital detox to help keep you motivated.
Multiple studies have shown social media use is linked to symptoms of anxiety and depression (source)
Just having a cell phone in sight reduces the quality of conversations (source)
Cell phone use weakens social skills and makes small social interactions, such as smiling at a stranger, less likely (source)
Constant notifications from screens can make you less productive because they interrupt your state of "flow" (source)
Screen use decreases the amount of time you have for other activities like hobbies, exercise, interactions with friends and family, and time in nature. Since all of these things are beneficial for you, reducing the amount of time available for them is detrimental.
Benefits of a digital detox can include:
Better sleep
Increased productivity
Better relationships with friends and family
Greater happiness as you spend more time outdoors and doing activities you enjoy
Less stress
Greater sense of control over your own life and free time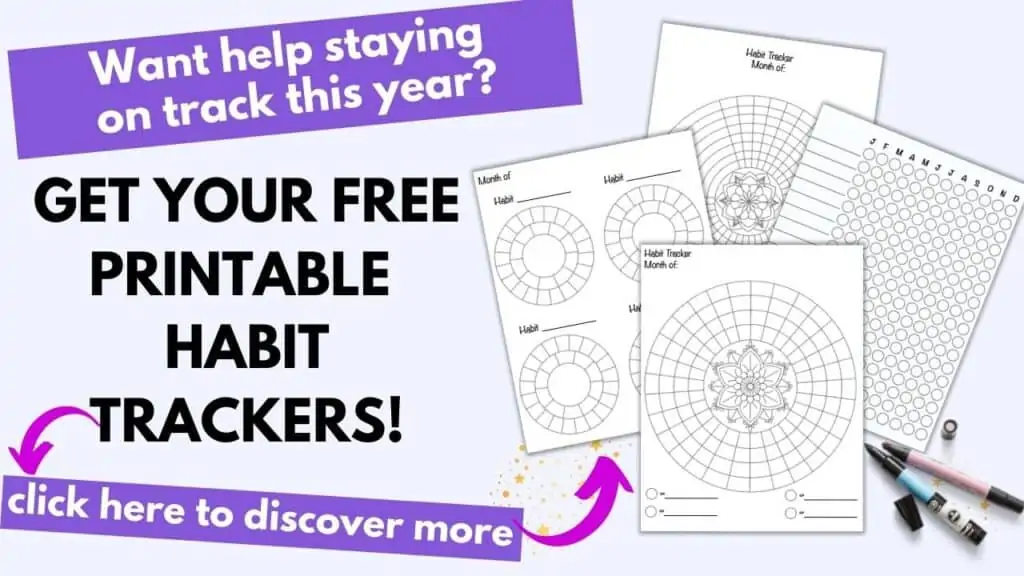 How to use your printable digital detox challenge journal
Now that we've briefly looked at the ways a digital detox can benefit you, let's take a look at your digital detox planner.
These pages are US Letter sized so you can place them in a binder, keep them on a clipboard, store them in a folder, or print them at a smaller size and trim them down to fit your favorite planner system.
For greater success, keep this digital detox journal visible, especially the journal and tracker pages. Do not hide them away in your planner (unless you're an avid planner and know you'll open it every day). Keep it un-bound so it's easy to access and write on. I recommend grabbing a cute clipboard for your pages and hanging it somewhere obvious with a heavy duty Command hook.
Once your challenge is over, transfer the pages to a binder or folder so you can look back on them, but keep those pages visible while you're working on your digital detox.
I recommend using 32 lb bright white paper for a professional feeling (and looking) journal that's a joy to write in. This paper is smooth to the touch, plus your pens and markers don't feather and bleed on it like they do on "regular" printer paper. This is important because it helps your tracker pages look their best.
Psychologically, once you start to see the bubbles neatly filled in, you'll feel more motivated to keep going. For a comparison of various papers, with a video flip through of print outs, check out this post with the best paper for planner printables.
HP Paper Printer | 8.5 x 11 Paper | Premium 32 lb | 1 Ream - 500 Sheets |...
Made in USA: HP Papers is sourced from renewable forest resources and has achieved production with 0% deforestation in North America.
Heavyweight premium printing: HP Premium32 is a heavyweight (32 pounds), brighter (100 bright) and whiter (163 whiteness) paper with a super-smooth...
Certified sustainable: HP Premium32 presentation paper is Forest Stewardship Council (FSC) certified and contributes toward satisfying credit MR1...
Digital detox challenge journal PDF
This printable journal has 20 pages to help you through your digital detox in stages. Pages include:
An assessment of your current screen use and why a detox is important to you
Pages to help you baby step, one at a time, through a 7 day social media detox, TV/entertainment fast, and a computer fast
Journal pages so you can log your feelings and results for each mini-challenge
Screen time replacements ideas and tracker
90 day tracker pages to conduct a successful, long-term social media detox, TV fast, and computer fast
Review pages to evaluate each longer challenge and reflect on its impact
Grid dot and lined notes pages for additional journaling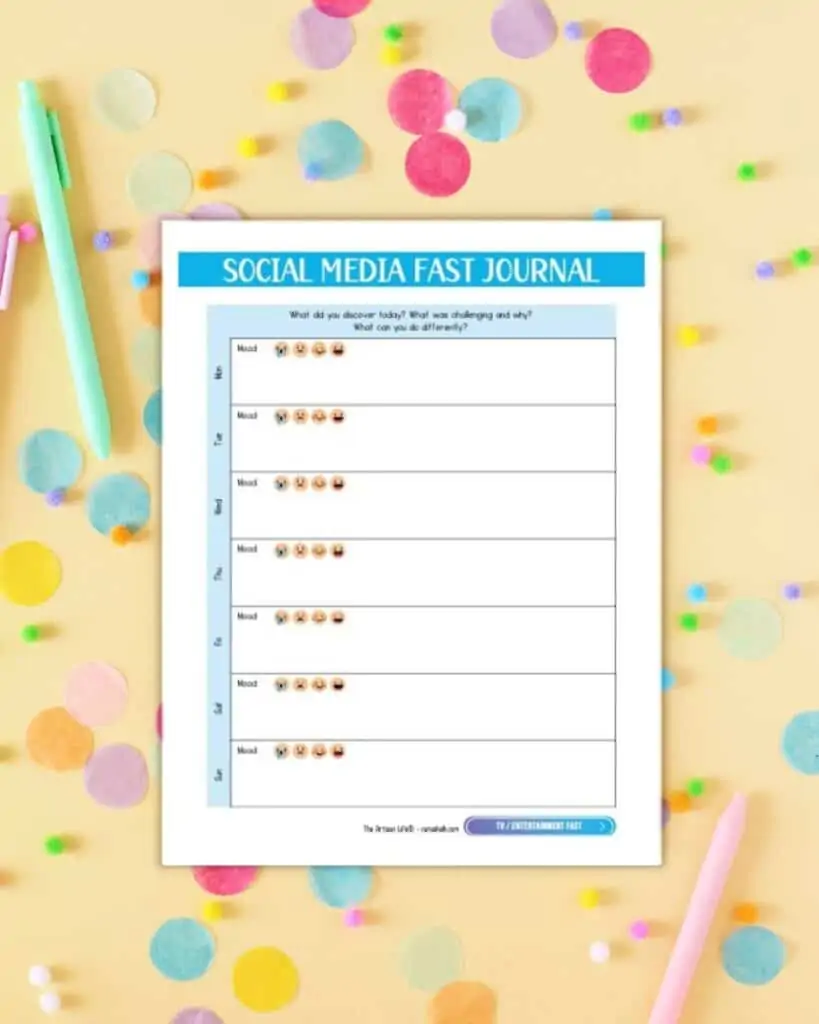 You can preview the entire planner before downloading by watching the quick video below. Download information is located below the preview video – look for the row of purple arrows.
You are licensed to print and use these journal prompts for your own personal use and with your children, students, book club, therapy clients, and other activities you are personally organizing.
If you enjoy journaling and planning, make sure to snag these additional free printables and journal prompts here on The Artisan Life:
Journal Prompts and Planner Printables
Planner and calendar printables allow you to stay organized without a trip to the store or wait for the mail.
Journal prompts remove the fear of the blank page and allow you to start journaling today! Make sure to grab your free printable journal pages in each post.