These free printable mermaid 2021 monthly calendars have stunning digital watercolor mermaid graphics to make your year magical. Even better – there's a calendar cover page to beautify your home binder, a year at a glance, calendar, and matching pages for notes and your vision board!
Month at a glance calendars are perfect for hanging on your fridge or in your workspace so you don't have to whip out your phone, digital planner, or full-sized planner every time you want to see what day it is.
Because they're so beautiful, you can incorporate these mermaid calendar printables into your workspace or home as part of your decor. They look lovely on an office wall, fridge, or even in your personal space where you do your planning or journaling.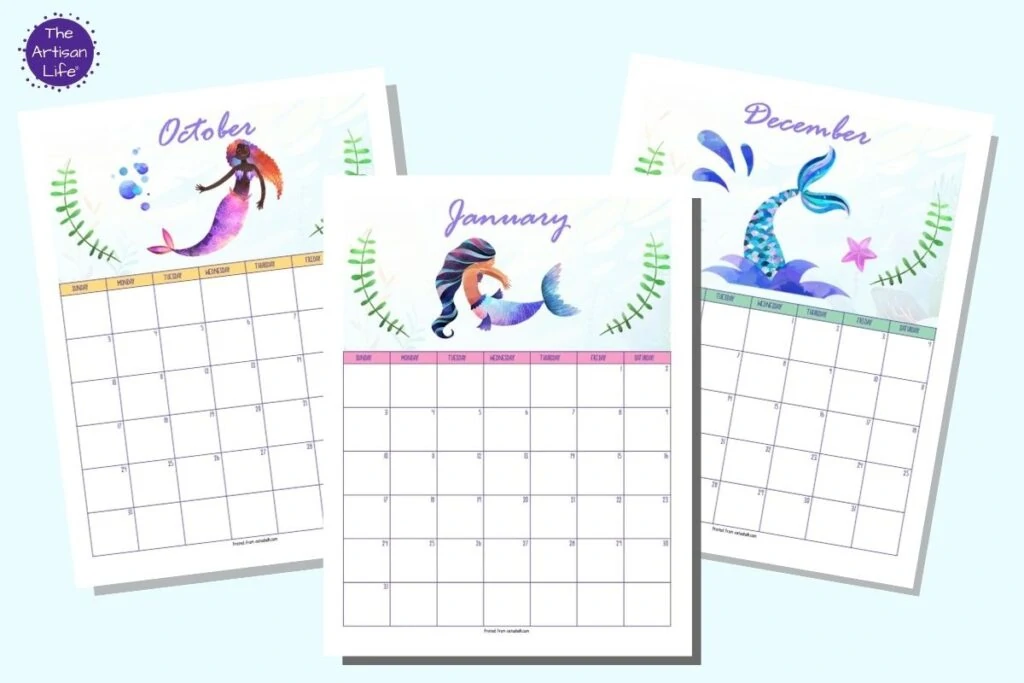 There are two ways to get these free printables: individually, one month at a time or as a complete PDF with fun extras like a year at a glance page. Make sure to watch the preview video further down in the post to see the extra goodies you receive in the complete PDF download!
If this mermaid calendar isn't quite what you're looking for, stop by and check out these astrology calendar pages,  these floral calendar pages, and this complete 50+ page nature themed planner and calendar.
This post may include affiliate links which means I may earn a commission on qualifying purchases at no additional cost to you.
How to print beautiful calendars
I recommend printing the calendar pages on 32 lb bright white paper.
This paper is heavier and brighter than "regular" printer paper for nicer, crisper images. I selected this paper as the best for printables after using a ton of my ink to print the same floral planner page on multiple papers and cardstocks. I filmed the results so you don't have to waste your ink, too. For a look at the results, please visit this post on the best paper for planner printables.
HP Paper Printer | 8.5 x 11 Paper | Premium 32 lb | 1 Ream - 500 Sheets |...
Made in USA: HP Papers is sourced from renewable forest resources and has achieved production with 0% deforestation in North America.
Heavyweight premium printing: HP Premium32 is a heavyweight (32 pounds), brighter (100 bright) and whiter (163 whiteness) paper with a super-smooth...
Certified sustainable: HP Premium32 presentation paper is Forest Stewardship Council (FSC) certified and contributes toward satisfying credit MR1...
First, download your printable PDF. Individual download links are located below the individual page previews. The complete PDF is available below the individual download area. Look for the big blue box with "Click here to download" written on it.
Print and enjoy! Remember to use the HP 32 pound paper, if at all possible. It's surprisingly affordable and will make you wonder why you've used "normal" paper for your printables! It's seriously gorgeous. I used it to print a household checklist for my mom last month and she immediately commented on how nice the pages looked.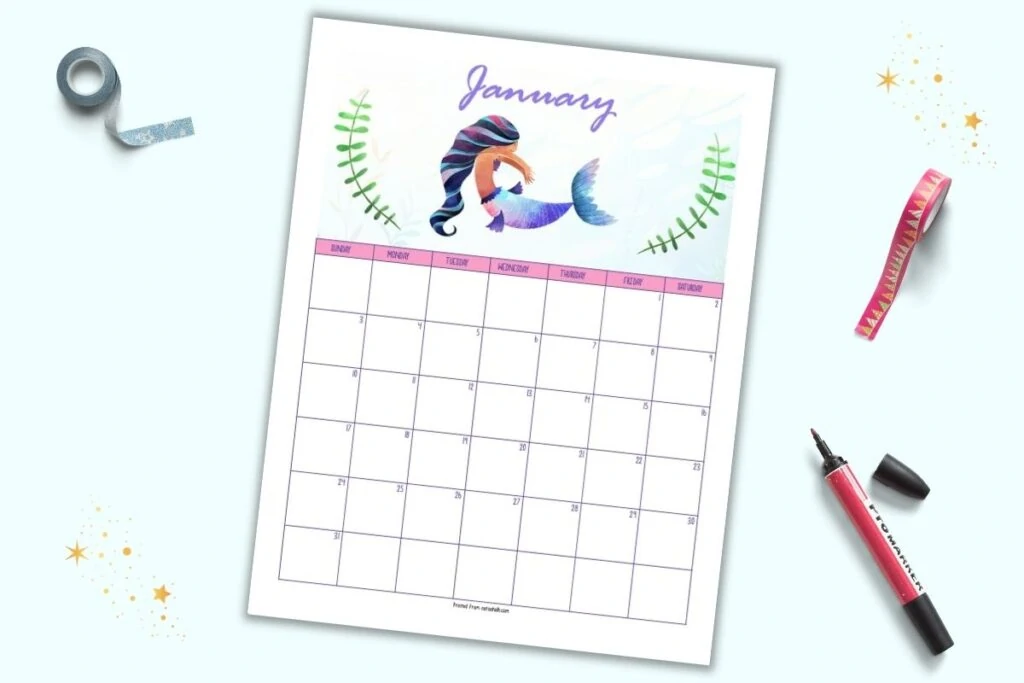 The calendar page can be hole punched to put in your household binder, or hung wherever you'd like. Washi tape is a damage-free, cute way to hang printables. This mermaid washi tape would look fantastic with these printables:
Gold Washi Tape Set of 2 Rolls – Unique design Gold Colorful Sea Wave...
SET OF 2 DIFFERENT ROLLS - 0.59in * 32.8ft (Width * Length)
GENUINE WASHI MATERIAL - Japanese paper washi material, better quality and texture. Paper material can be torn directly, no need scissors or teeth,...
CLASSY PATTERN - Japanese style sea wave pattern with decorative gold color, super beautiful
The calendar boxes are approximately 1″ square. This means you can use any 1″ or smaller sticker to decorate your planner printable. Erin Condren and Happy Planner Classic stickers are 1.5″ wide, so you can simply scale printable stickers for these systems down to use them on your calendar. Discover the benefits of printable stickers in this post.
This printable calendar has printer-safe margins, so make sure you print at 100% or actual size unless you're intentionally scaling down to make the pages fit in a planner.
If you want to print and use these calendar pages in your favorite planner, simply print to scale and trim the pages down to size with a paper trimmer. The chart below is a handy reference for printing calendar and planner pages to scale. Pin it now so you can find it again later!
Free printable 2021 calendar with mermaids
You can download each month of the year for 2021 individually using links below each preview image.
You can also get the entire year, plus a cover page, year at a glance page, notes page, and vision board. This PDF is also available for free – click on the big blue box below that reads "click here to download your printable." Since the individual pages aren't up to see right now, here's a preview of everything that's included in the complete file:
Like all free planner and journal printables on The Artisan Life, these are for personal and single classroom use. You are welcome to use them with your own students, in your book club, etc.
You are not licensed to redistribute the printables or digital files to others for their personal use outside of activities you are specifically organizing. Using them at your book club – great! Sending a friend the file to use at her book club – please don't. The Artisan Life is a user-supported site and I rely on your support to keep making awesome free printables like these.
Please do not print the preview images – they is low resolution and will look terrible. Use the download links located below each image. This download link will open a new tab and your download should begin automatically. Accept downloads from Dropbox, if a dialogue box appears asking for permission.
Make sure to scroll past the individual download links for the complete PDF!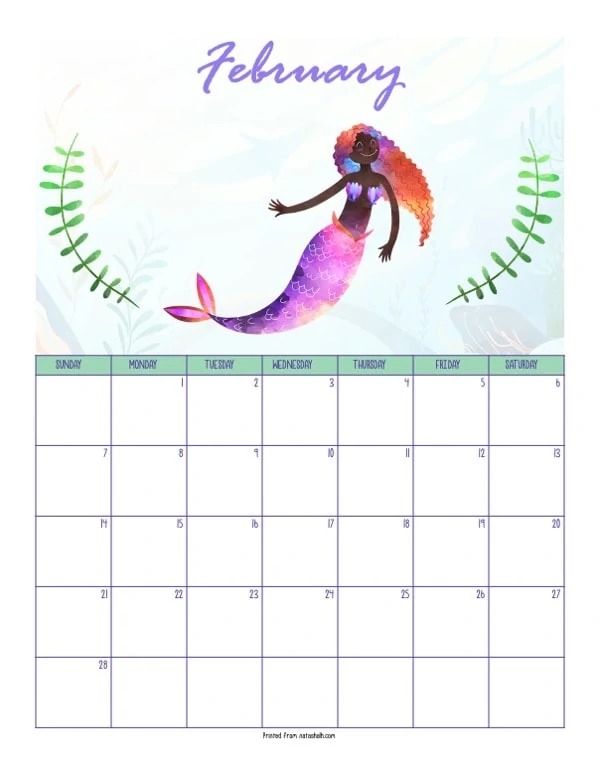 Download February 2021 mermaid calendar here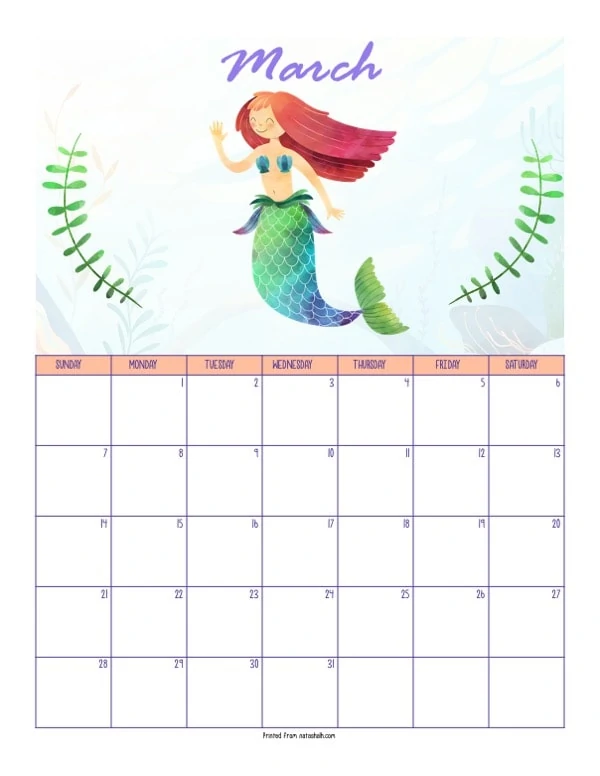 Download your March 2021 mermaid calendar here
Download the April 2021 printable mermaid calendar here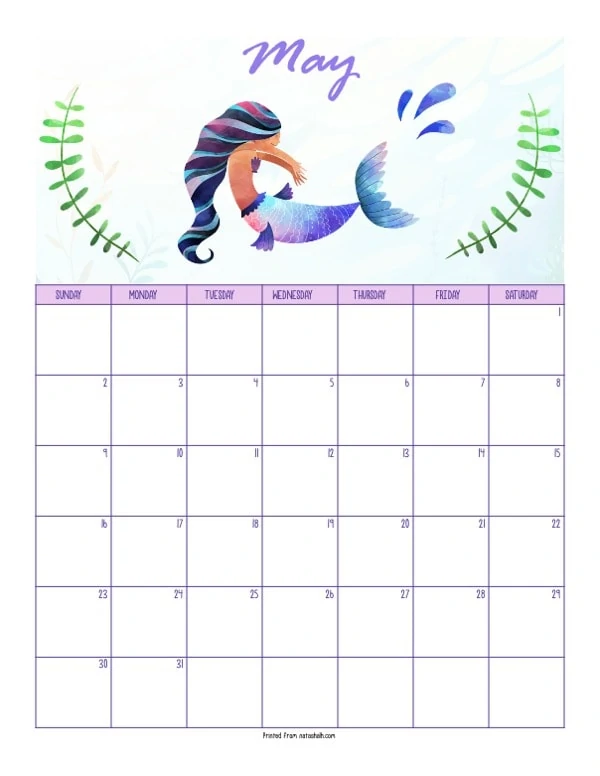 Download your May 2021 mermaid calendar printable here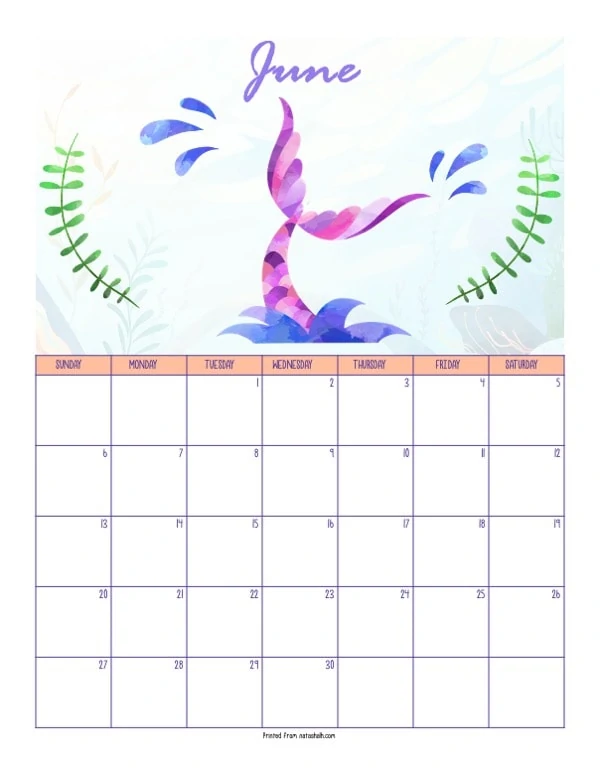 Download your June 2021 mermaid printable calendar here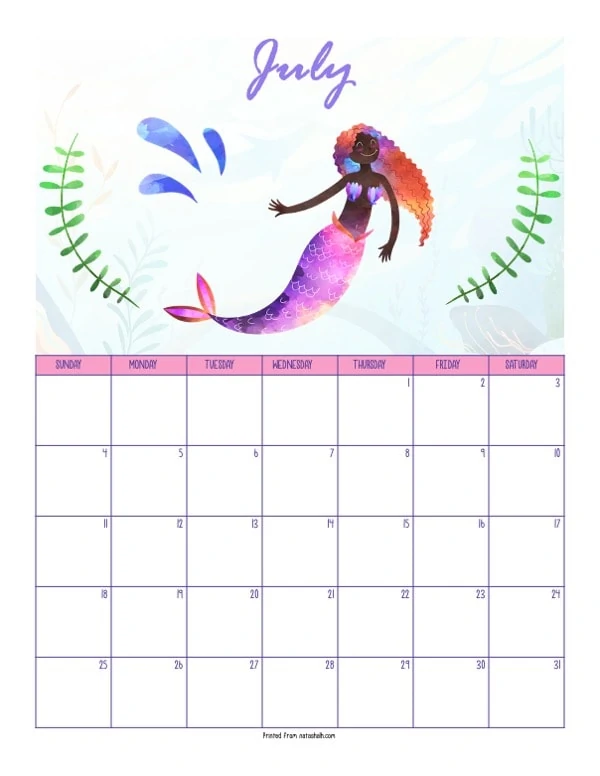 Download your July 2021 printable mermaid calendar here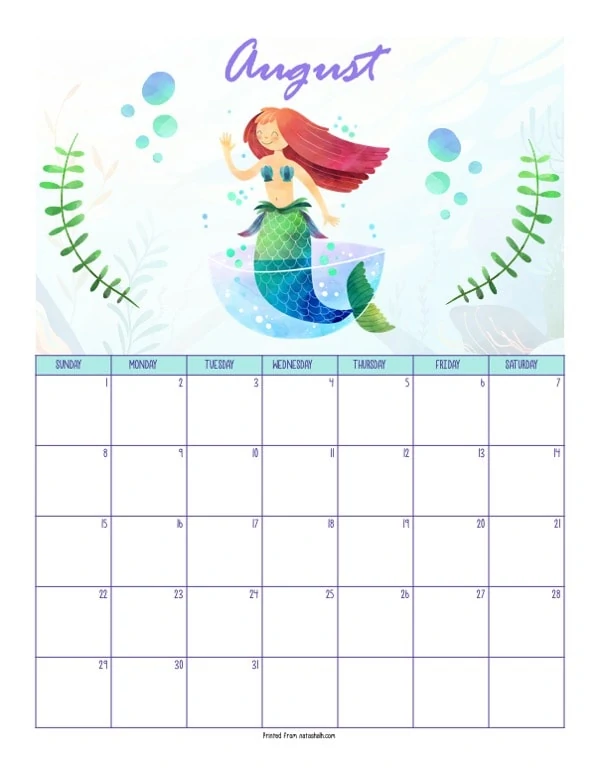 Download your August 2021 printable mermaid calendar here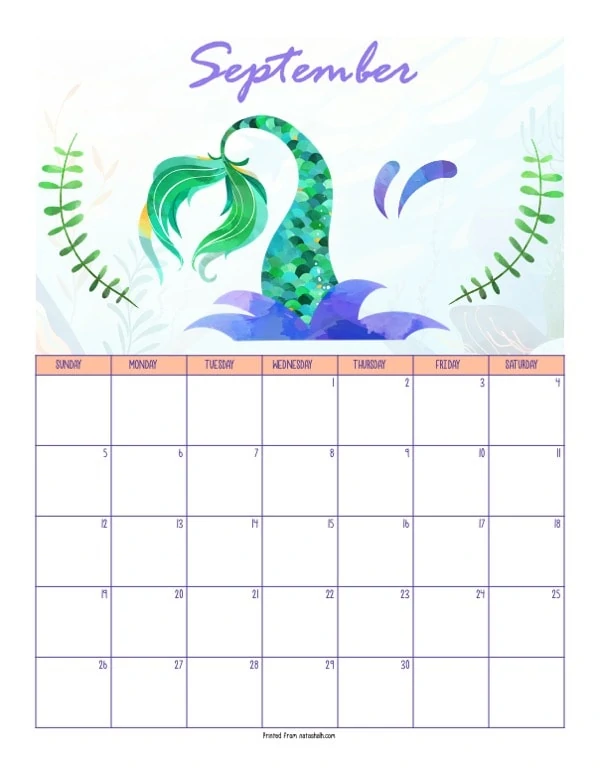 Download your September 2021 printable mermaid calendar here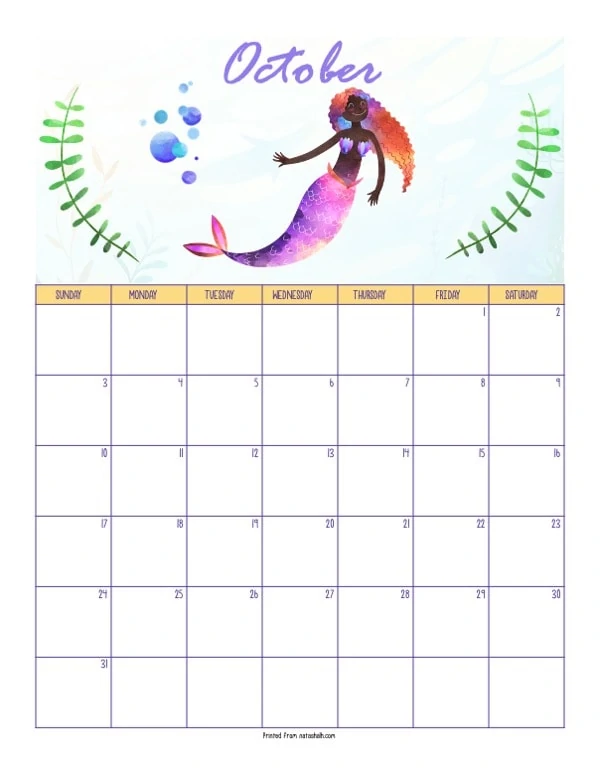 Download your October 2021 printable mermaid calendar here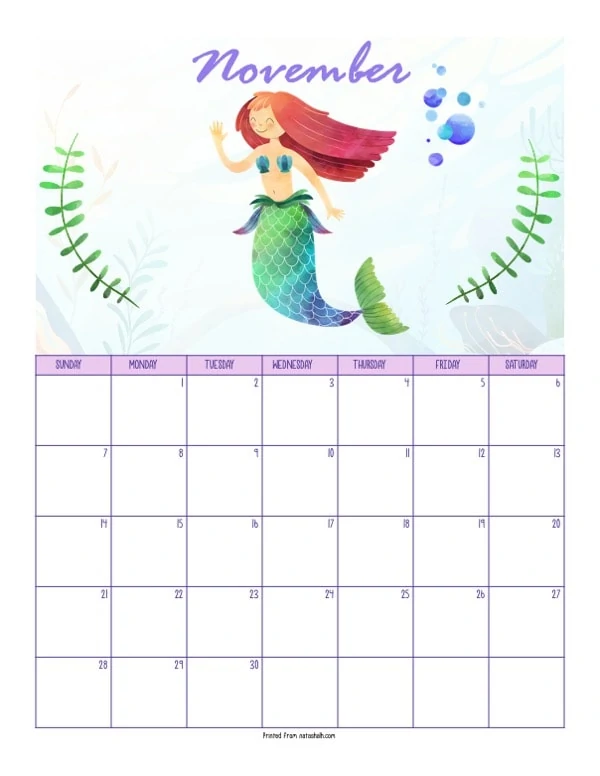 Download your November 2021 printable mermaid calendar here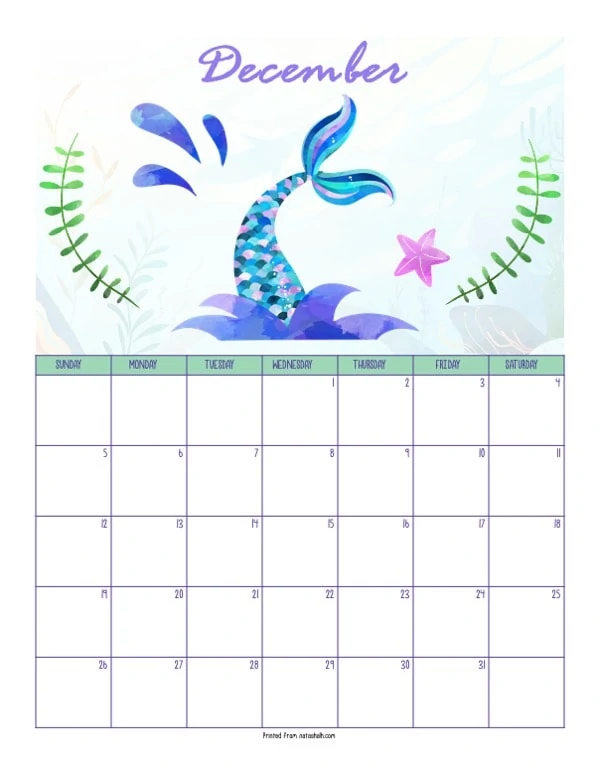 Download your December 2021 printable mermaid calendar here
Grab 16 pages of mermaid calendar printables, including a cover page, year at a glance, 12 monthly calendar printables, a page for notes, and a vision board:

I hope you enjoy the mermaid calendar printables! If you like planning, journaling, and staying organized, be sure to check out these additional free printables:
Planner Printables
Plan your year with free, colorful monthly themed planner printables in US Letter and Happy Planner Classic sizes! The entire year is available now so you can plan ahead.
There are also non-month specific planner printables and free printable planner stickers.