These winter journal prompts are fun for adults, teens, and kids! Use them as part of your own self-care routine or as a classroom writing prompt for kids. Winter is the perfect time for getting cozy with a mug of tea and a journal. These fun winter journal prompts will get your creative juices flowing and help bring a smile to your face on long winter evenings.
Make sure to keep scrolling past the list of prompts in the post to download your freebie with cute winter-themed journal pages. The winter journal pages also make cute note paper!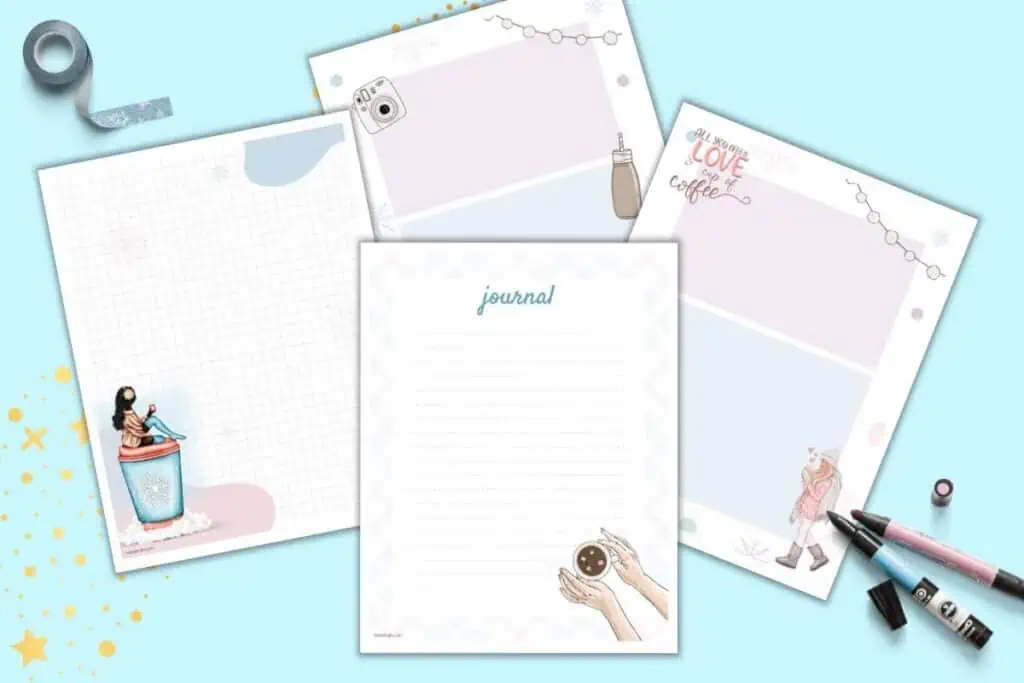 The free printable journal page have a bullet journal style. Some pages have a grid dot, others have lines, and others have space for freeform doodling or writing. Several pages have "planner girl" style clipart, so I've included different hair and skin tones so you can select the pages that you prefer.
This post may include affiliate links which means I may earn a commission on qualifying purchases at no additional cost to you.
Sometimes people worry that using a journal prompt is somehow "cheating" or "not really journaling." This isn't true. Artists use reference objects and figure models when they paint, sculpt, and draw. Musicians use tuning aides for their instruments. Authors use writing prompts to practice writing and get their creativity flowing. It is completely okay to use a writing prompt for your daily journaling practice!
It's also okay to use a writing prompt some days, but write about whatever is on your heart and mind on other days. Or use a writing prompt to get started, then continue writing on a different topic. It's your journal and you're journaling practice!
Journaling prompts for winter
A nice notebook makes so much of a difference when you're journaling. This is especially true when you're journaling for in the winter when everything is so bleak outside!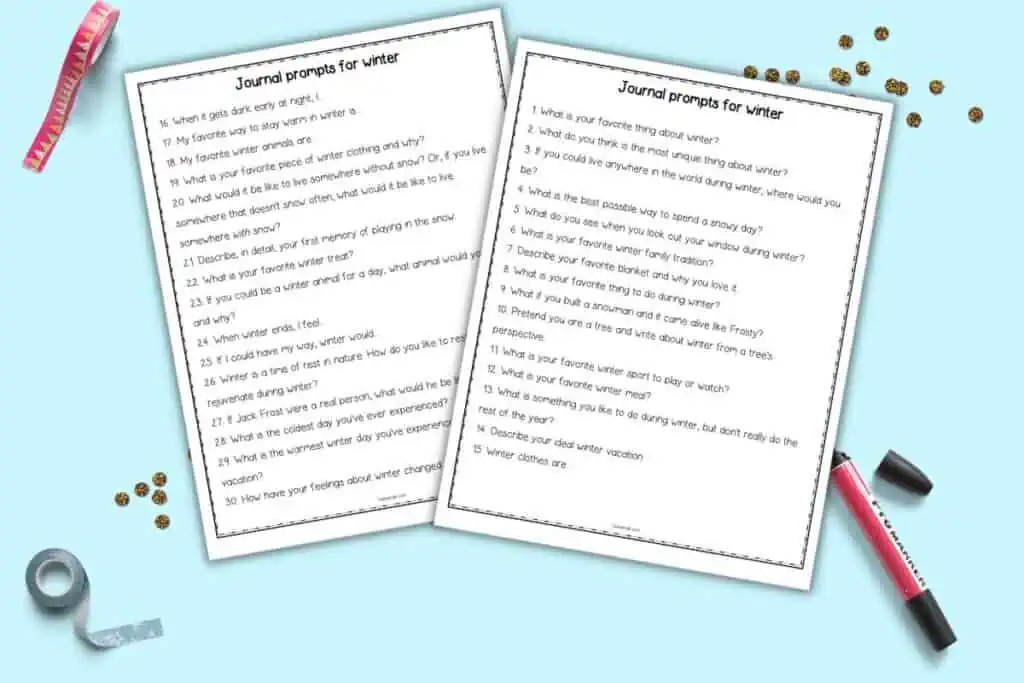 You can journal on any scrap of paper, but having a pretty notebook that lies open and contains thick, high-quality paper so your writing doesn't feather, bleed, and show through makes the experience much more comforting and cozy.
If you decide to print and use the journal pages, recommend using 32 lb bright white paper. It's smooth to the touch and a joy to write on, plus your pens and markers don't feather and bleed on it like they do on "regular" printer paper. For a comparison of various papers, with a video flip through of print outs, check out this post with the best paper for planner printables.
HP Paper Printer | 8.5 x 11 Paper | Premium 32 lb | 1 Ream - 500 Sheets |...
Made in USA: HP Papers is sourced from renewable forest resources and has achieved production with 0% deforestation in North America.
Heavyweight premium printing: HP Premium32 is a heavyweight (32 pounds), brighter (100 bright) and whiter (163 whiteness) paper with a super-smooth...
Certified sustainable: HP Premium32 presentation paper is Forest Stewardship Council (FSC) certified and contributes toward satisfying credit MR1...
You don't have to use the printable journal pages with these writing prompts. You can also use them in a notebook that increases your feelings of comfort during this winter season.
Bound bullet journal notebooks are popular for journaling, but I'm personally a big fan of spiral bound journals because they lie flat. This makes the easy to write in without cracking the spine or spending half your time worrying about holding the opposite page out of the way while you write.
A5 Spiral Notebook,Hardcover Journal for Women,Notebooks for Women Men,6"x...
·CONVENIENT SIZE: Our A5 (6"x 8.5") spiral bound notebooks includes 80 sheets(160 pages) ivory thick paper, 1 elastic closure band, perfect size to...
·QUALITY MATERIALS:100 gsm premium paper is 20% thicker than the normal, effectively prevent bleed through and minimal ghosting, which provide smooth...
·PERSONALIZED COVER:Well designed with elegant illustration, add a little color to your life.Great gift idea for Women, Men, Students, Kids, Girls,...
Fun winter journal prompts for fun & self-discovery
Alright, let's see the journaling prompts! As mentioned above, keep scrolling past the list for the opportunity to download your free printable winter journal/notebook pages.
1. What is your favorite thing about winter?
2. What do you think is the most unique thing about winter?
3. If you could live anywhere in the world during winter, where would you be?
4. What is the best possible way to spend a snowy day?
5. What do you see when you look out your window during winter?
6. What is your favorite winter family tradition?
7. Describe your favorite blanket and why you love it.
8. What is your favorite thing to do during winter?
9. What if you built a snowman and it came alive like Frosty?
10. Pretend you are a tree and write about winter from a tree's perspective.
11. What is your favorite winter sport to play or watch?
12. What is your favorite winter meal?
13. What is something you like to do during winter, but don't really do the rest of the year?
14. Describe your ideal winter vacation.
15. Winter clothes are…
16. When it gets dark early at night, I…
17. My favorite way to stay warm in winter is…
18. My favorite winter animals are…
19. What is your favorite piece of winter clothing and why?
20. What would it be like to live somewhere without snow? Or, if you live somewhere that doesn't snow often, what would it be like to live somewhere with snow?
21. Describe, in detail, your first memory of playing in the snow.
22. What is your favorite winter treat?
23. If you could be a winter animal for a day, what animal would you be and why?
24. When winter ends, I feel…
25. If I could have my way, winter would…
26. Winter is a time of rest in nature. How do you like to rest and rejuvenate during winter?
27. If Jack Frost were a real person, what would he be like?
28. What is the coldest day you've ever experienced?
29. What is the warmest winter day you've experienced? At home? On vacation?
30. How have your feelings about winter changed over the years?
Using printables in a planner
It's easy to print these pages to scale, trim them, and use them in your favorite journal or planner. Tape them to a blank page or use an appropriate hole punch, such as the Happy Planner Classic hole punch. Reference the chart below when you print:
You can even put printed pages into a coil bound journal! The video below is taken from this post with 2020 planner printables. Please visit the post for detailed instructions and two ways to add pages to a bound planner or notebook.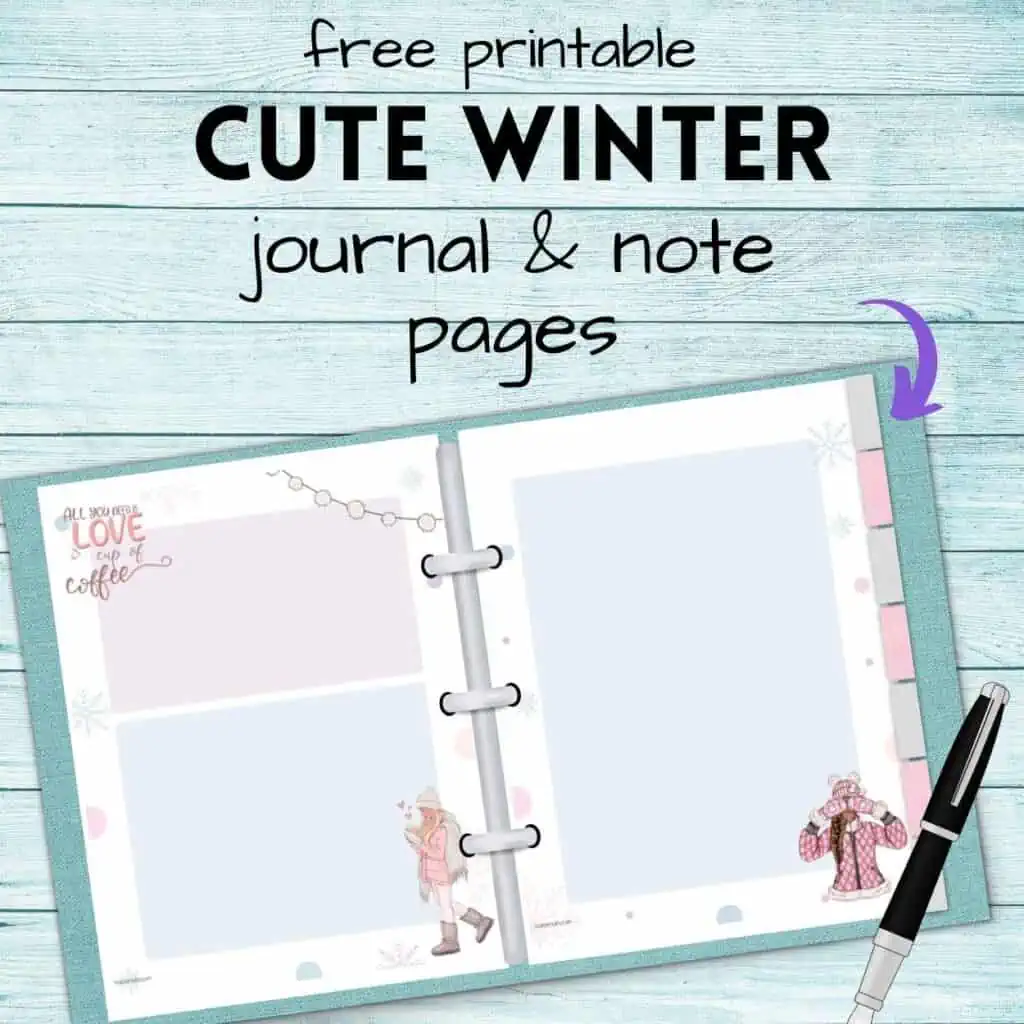 Winter planner and journal pages PDF
Let's take a look at the planner/note pages. There are 12 sheets. Some are similar, but have different girls in the same style. The PDF also includes two pages with the journal prompts listed out for handy reference. Here's what you're getting: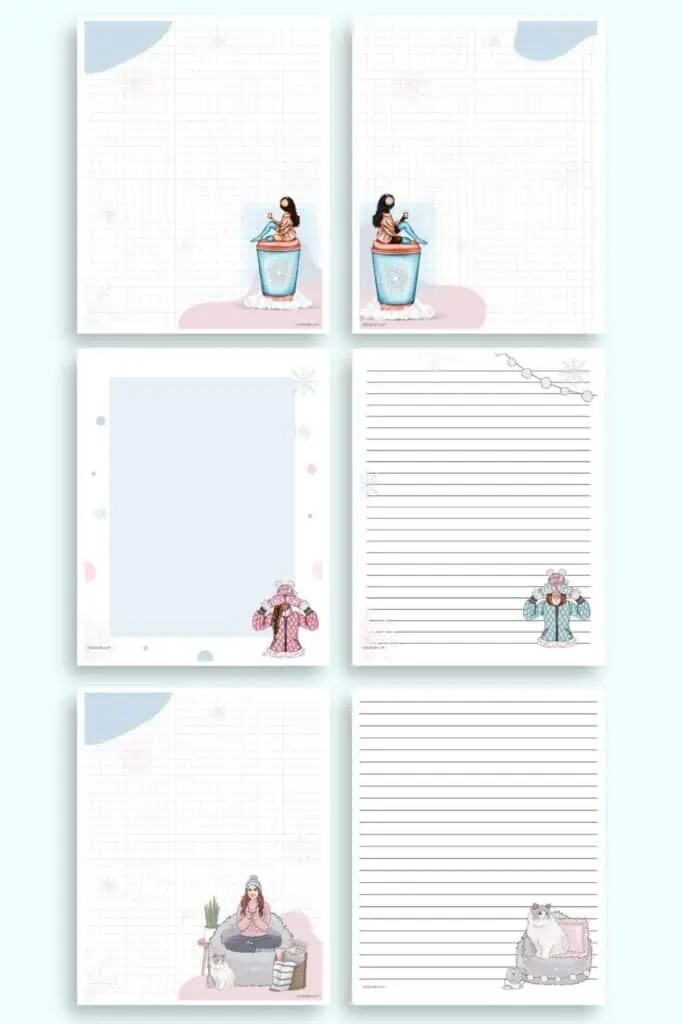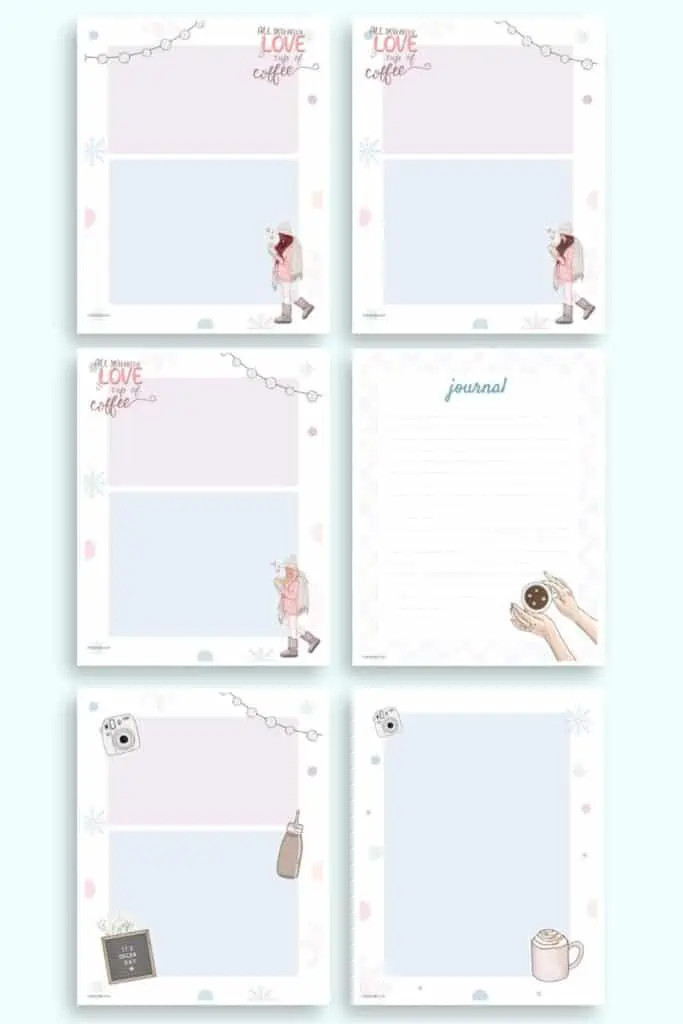 You are licensed to print and use these journal prompts for your own personal use and with your children, students, book club, therapy clients, and other activities you are personally organizing.
If you enjoy journaling and planning, make sure to get these additional free printables and journal prompts here on The Artisan Life:
Journal Prompts and Planner Printables
Planner and calendar printables allow you to stay organized without a trip to the store or wait for the mail.
Journal prompts remove the fear of the blank page and allow you to start journaling today! Make sure to grab your free printable journal pages in each post.