These free printable guardian angel themed bullet journal planner printables are fun to color and easy to use. Use them to relax, stay organized, and help you feel the presence of your angel guides throughout the week.
The set of free bujo planner pages includes a habit tracker, daily log, weekly log, and a goal planner page. Each page has lovely angels to color to remind you that you're always being watched over and guided by your angels. Grab your six free printable angel guide themed planner pages today!
If you love free printables, make sure to grab these free chakra bullet journal printables, hummingbird planner pages, and spirit animal bujo planner pages, too.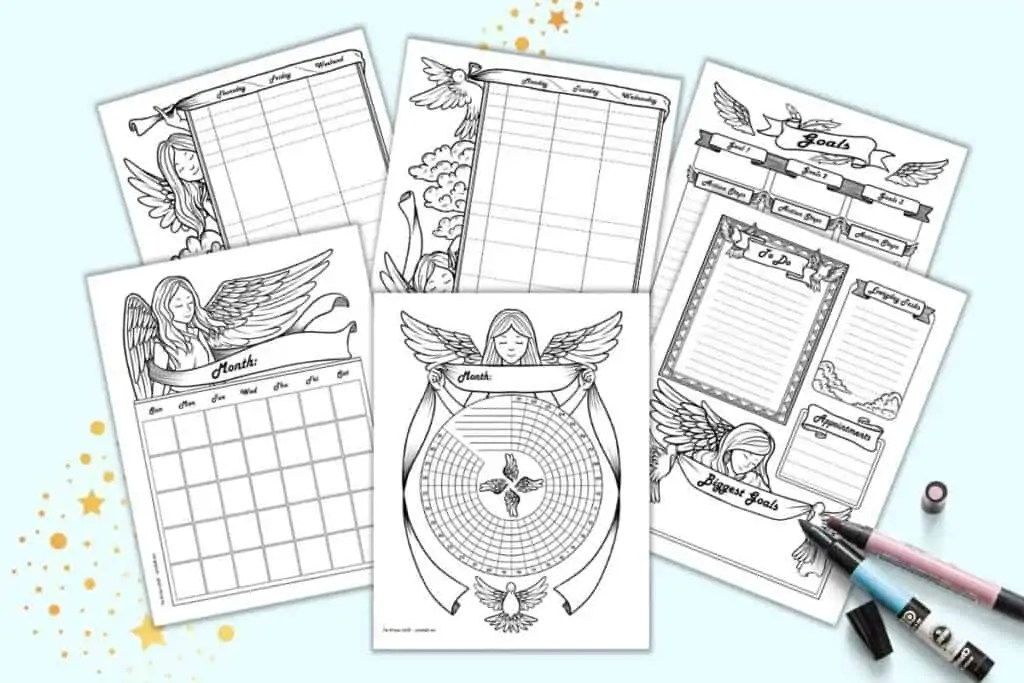 This post may include affiliate links which means I may earn a commission on qualifying purchases at no additional cost to you.
How to use bujo planner printables
Planner and bullet journal printables are a quick way to make your planner beautiful and functional without spending all week drawing your layout.
For the best coloring and planning experience, print these pages on HP 32# paper because it's sturdier and brighter than "regular" printer paper. You'll be able to color and draw on your pages without unwanted bleeding and feathering ruining your designs. The smooth, bright paper is a joy to color and write on.
HP Paper Printer | 8.5 x 11 Paper | Premium 32 lb | 1 Ream - 500 Sheets |...
Made in USA: HP Papers is sourced from renewable forest resources and has achieved production with 0% deforestation in North America.
Heavyweight premium printing: HP Premium32 is a heavyweight (32 pounds), brighter (100 bright) and whiter (163 whiteness) paper with a super-smooth...
Certified sustainable: HP Premium32 presentation paper is Forest Stewardship Council (FSC) certified and contributes toward satisfying credit MR1...
Picking the right paper is important, but the pens and markers you use have an impact on feathering and bleed through, too.
If you want to learn more, stop by this post on the best pens for bullet journaling. In a hurry? The Sakura Pigma Microns are a fantastic choice. They don't bleed or feather and they come in many sizes and even different colors. The ink is waterproof and archival quality so you can keep your planners to look back on.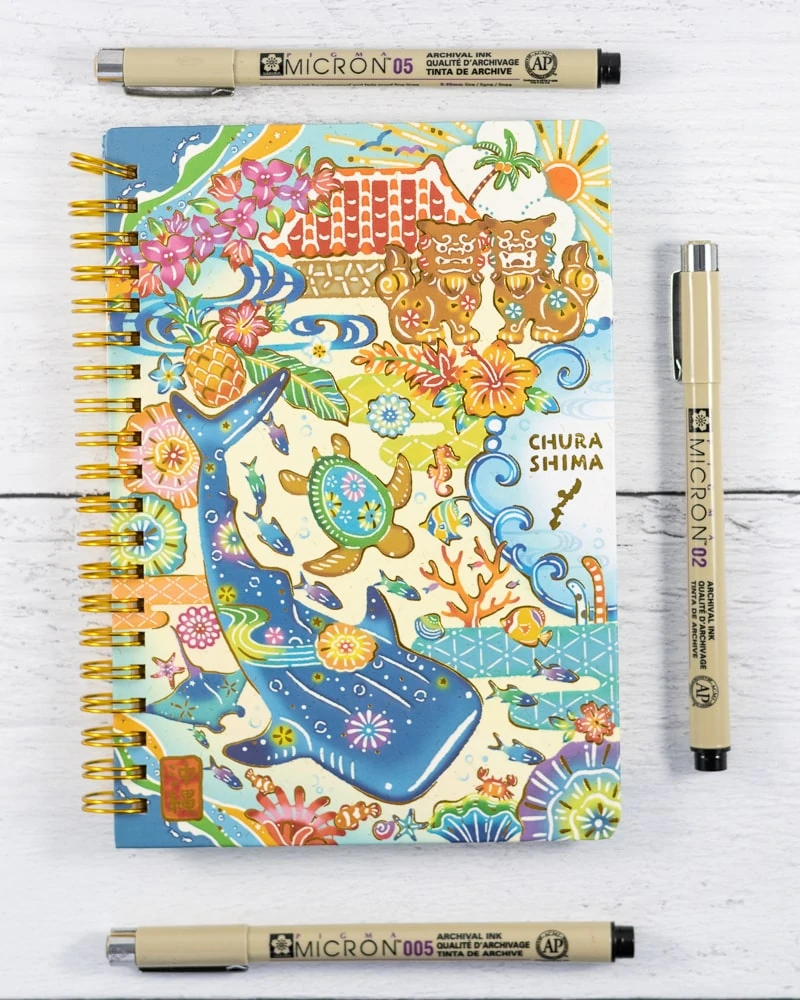 No products found.
If you want to color your bujo pages, use gel pens. They're fun for adding sparkle and detail that look divine with these angel planner pages. Discover the best gel pens for coloring in this post. Again, Sakura is my top choice. Sakura Gelly roll pens are amazing. The Tanmit pens shown below are very affordable and color surprisingly well.
These angel guides bujo printables are in US letter size.
Happy Planner Big, Franklin Covey Monarch, and Daytimer Folio all use US letter sized pages. You don't need to print to scale or trim if you use one of these planner systems. Just print, hole punch, and enjoy! The designs are inside safe printer margins.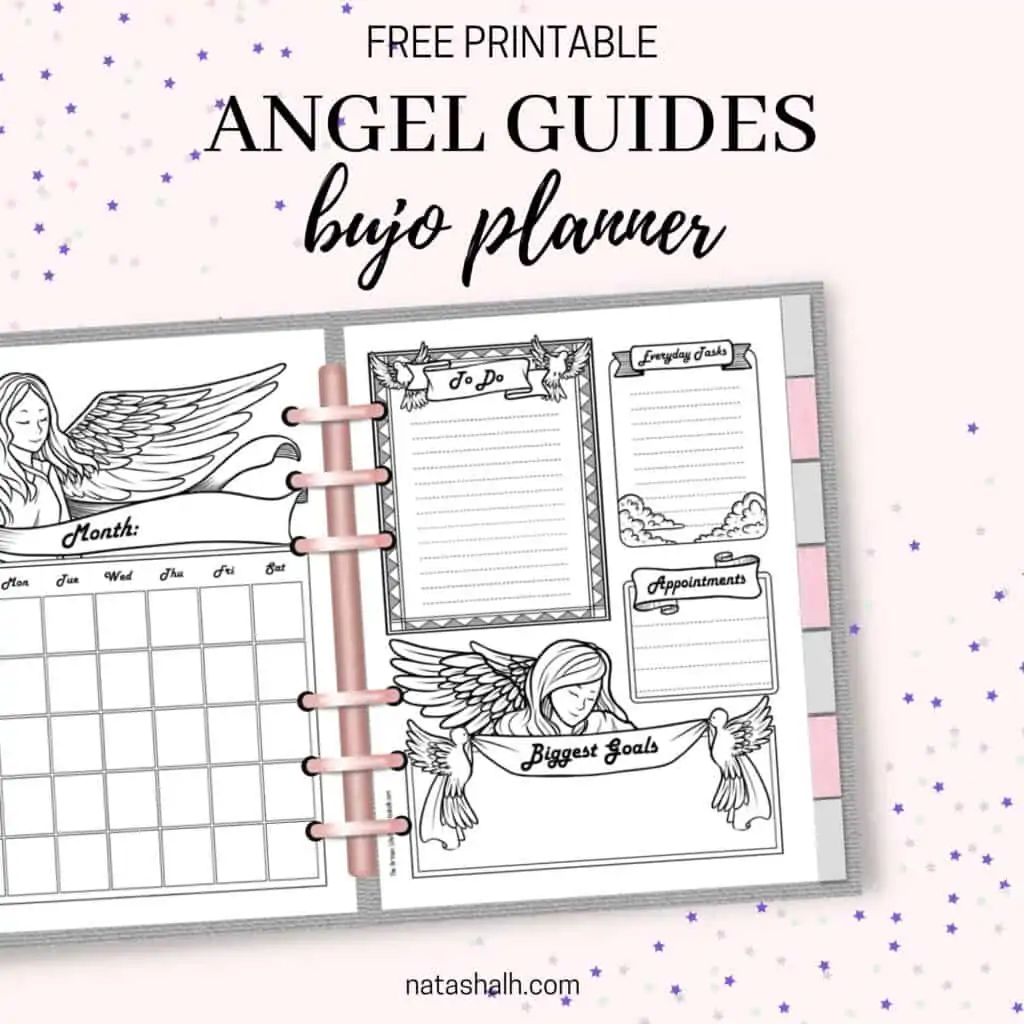 If you're printing on A4 paper, you can safely click "scale to fit" and have the design look fine.
For other planner systems and bullet journals, print the pages to scale and trim them down using a paper trimmer. I've already done the math for you – just follow the chart below!
Bullet journal notebooks come in a wide range of sizes. Measure your notebook to ensure a correct fit if you're not sure what size you have. I recommend measuring even if your notebook is labeled as a common size (such as A5). Notebooks don't always match the exact dimensions they claim to be.
How to add pages to your planner depends on your planner system. Here's now to add pages to a disc bound planner, a ring planner, and even a coil bound planner:
For disc bound systems, like the Happy Planner, you'll need to use the appropriate hole punch. Make sure to get the Classic size for Classic and the Big size hole punch for the Happy Planner Big.
For ring planners like Filofax and Day Timer, you'll probably want the correct hole punch for your specific system.

This adjustable 6 hole punch is a great choice because it can be used for a variety of personal and compact A5 and A6 planners.

You can also use a single hole punch and a spare planner page to line up the holes. Place the two sheets together with the punched planner page on top, use a pencil to mark where the hole needs to be, then punch the hole with your single hole punch. This method is tedious and has the potential to introduce error a lot of places along the way. An adjustable 6 hole punch is faster and easier.

You can tape or glue pages into your favorite bullet journal or notebook. I love using double sided tape to hold the page and washi tape to decorate.
Yes, you can add pages to a coil bound planner. The video below was originally filmed for this post.
To use these bujo planner pages in your favorite notebook, simply follow the steps below:
First, print your page to scale to scale to match your notebook. You may want to scale down an additional number or two to ensure a large margin if you'd like to use decorative washi tape.
Next, trim the printable down. I use my Fiskar's paper trimmer. I don't worry about getting the exact measurement since I want the printable page to be smaller than my notebook page.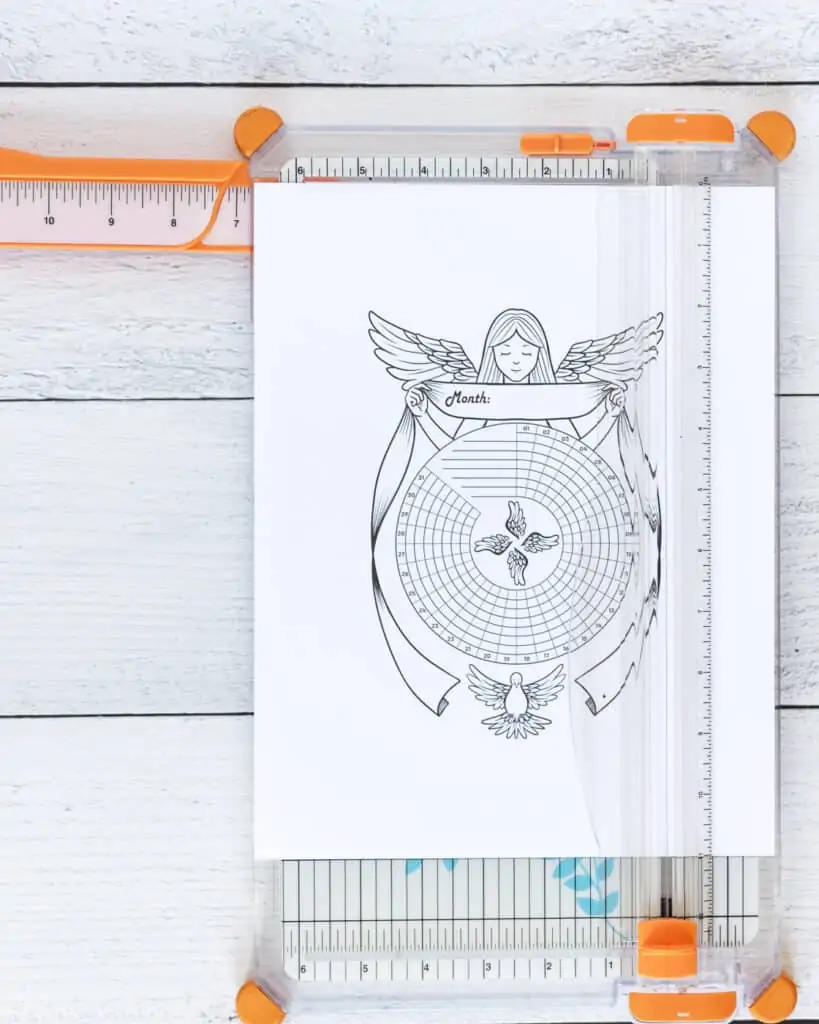 Finally, tape the page in place. I recommend thin double sided sticky tape for attaching the page. You could also use a tape runner, but I think double sided tape is less expensive, easier to use, and works better. Make sure to get the flat, clear double sided sellotape, not the thick tape for mounting pictures and things. I also like to add some washi tape for decoration.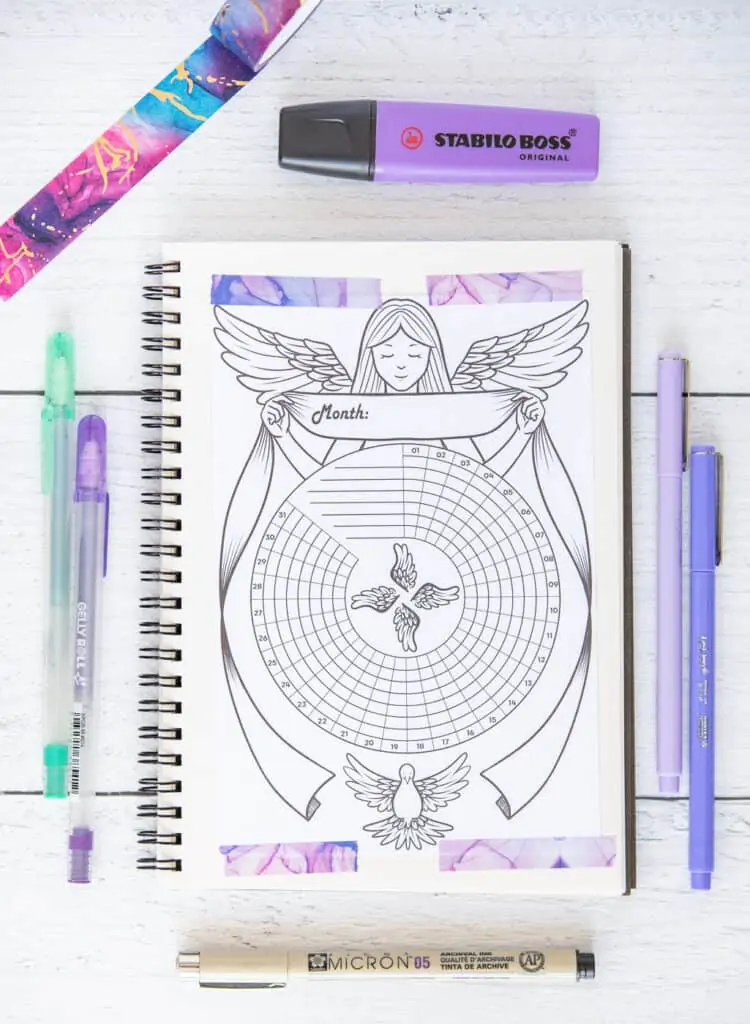 If you're curious, the notebook shown above is a Muji Japanese A5 notebook with unlined pages. My stationary-loving Japanese brother-in-law uses and recommends this brand.
Free printable guardian angel planner inserts
Let's take a look at your new angel themed planner pages. This set has six pages in printer-friendly black and white:
Daily Log (To-do list, goals, and appointments). This page is versatile and can be used as a daily log but also for weeks or months.
Two page weekly spread. The pages have 24 un-timed lines so you can schedule by the hour, half hour, or even 15 minutes.
Goals/habits tracker. (The habit tacker has 31 days so it has enough space to use any month of the year.)
Goals planner with action steps.
Undated monthly calendar.
Although the pages are shown in sets of two in the preview images below, each sheet has its own page in the PDF.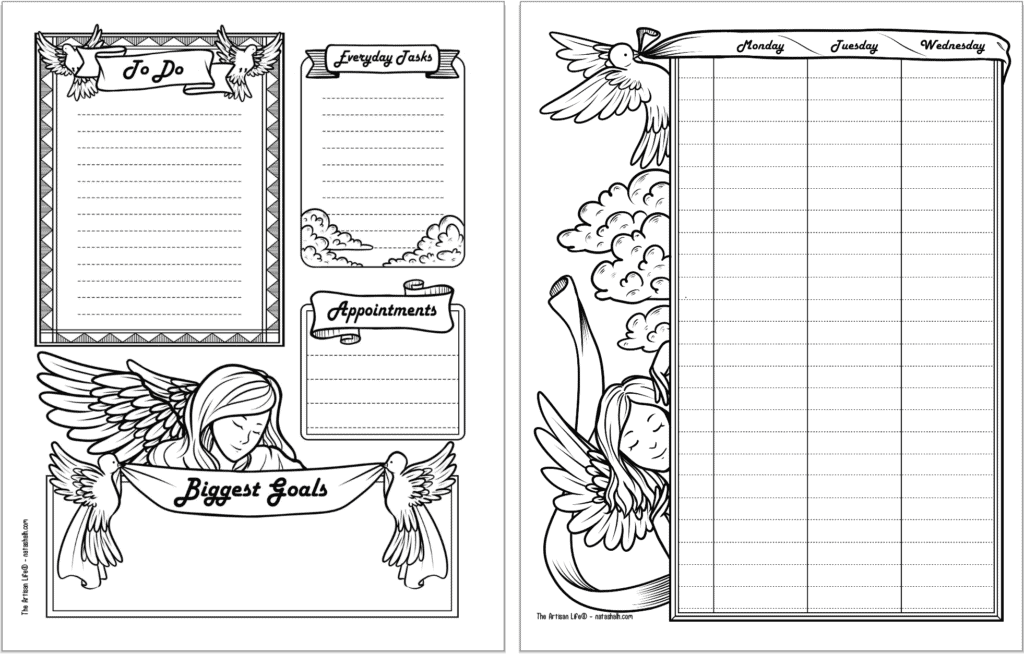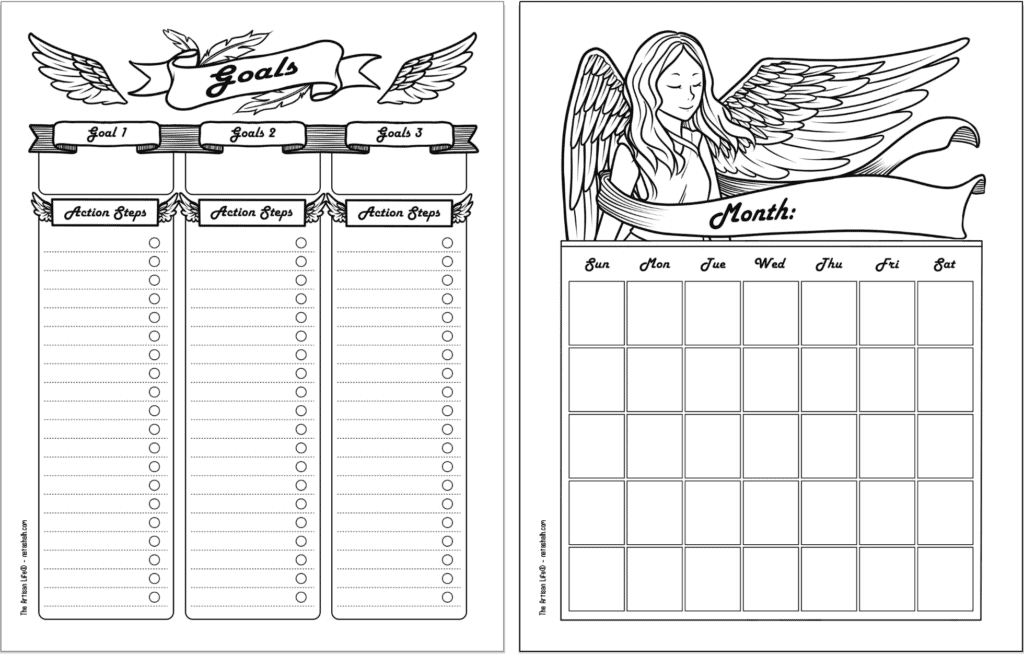 Angel bujo planner PDF download
Like all journal and planner printables on The Artisan Life, these are for personal and single classroom use. This includes use with any small group activity you are personally organizing, as long as you are not charging specifically to use this printables. (Book clubs, Scouts groups, etc.)
You are not licensed to redistribute the printouts or digital files to others. You are also not licensed to sell the pages in digital or printed form. If you want to share the pages, please refer your friends and coworkers to this page so they can download their own copies.
If you agree to these terms, you may click below:

I hope you enjoy using these bujo planner printables! If you prefer keeping a physical planner or journal, make sure to check out these additional free planner printables here on The Artisan Life:
Planner Printables
Plan your year with free, colorful monthly themed planner printables in US Letter and Happy Planner Classic sizes! The entire year is available now so you can plan ahead.
There are also non-month specific planner printables and free printable planner stickers.