These printable Christmas games are perfect for holiday parties or use at home with your family! Grab these free printable Christmas party games for groups and families.
Holiday parties with everyone standing around and not really interacting are so awkward. You can prevent your office holiday party or gathering at home from becoming "that" party with these free printable Christmas party games.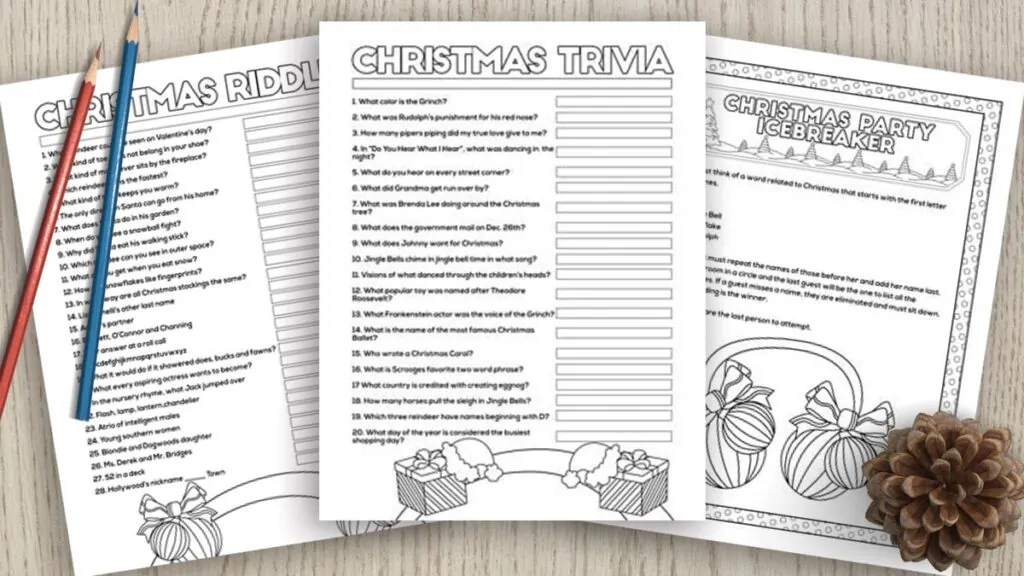 These printable games for Christmas are also fun to do with your kids and make an easy, no prep activity to occupy your children while you're busy decorating or cooking. They're also great for bringing out at a restaurant for a bit of entertainment while waiting for your food.
I've also added a new post with a colorful, free Christmas emoji Pictionary printable! Make sure to stop by and download it, too.
Please note that download information for all of the games is towards the bottom of the post. Look for the row of purple arrows.
Related: Free printable Secret Santa questionnaire
This post includes affiliate links, which means if you make a purchase though one of these links I may earn a commission at no additional cost to you.
Many of these games have coloring page elements. This means you save colored ink (yay!) or can run the games off on the copier at work. It also means you can hand your kids some crayons and keep them busy for even longer (double yay!).
Our favorite coloring supplies are Crayola twistable crayons (no paper to peel off an eat and they don't need sharpening) and Crayola Super Tip markers (they're washable and color well).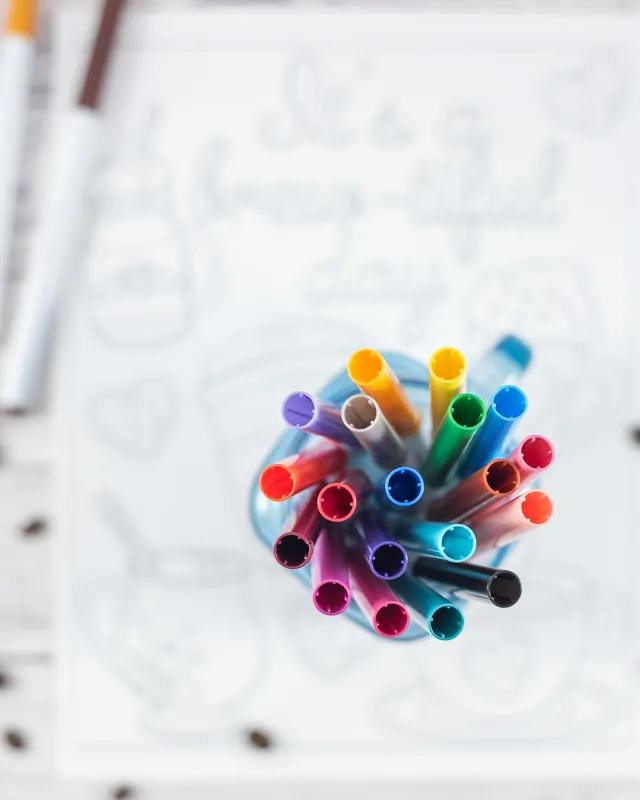 Free printable Christmas games
First, some important housekeeping.
These party game printables are free for personal use. This means you can print them and use them with your friends, family, office party, or personal classroom. If your friends, family, or coworkers want to use these games for their own party, please refer them to this post so they can download the printables for themselves.
*** The images are low resolution previews – please look below all of the previews for download information. There is a row of purple arrows pointing the way. ***
Christmas party icebreaker game
First there's a fun Christmas party icebreaker game. This one is a great way to get things started at your workplace or home holiday party.
Related: Free printable Christmas bingo
Printable Christmas trivia game
Next there's a two page Christmas trivia game. You can see who completes the sheets correctly first, or give people a limited amount of time to answer as many questions as possible. Giving everyone five minutes sets a nice, brisk pace!
For a shorter game, use only the first sheet. There isn't a preview of the answer key, but it's included in the PDF download.
Get your piggy bank bigger pants for Christmas when you sign up for a free Ebates account! Earn cash back on the online purchases you were going to make, anyway, PLUS cash bonuses for referring friends! (Ebates is called Rakuten now, but it's the same thing.)
Christmas word find
In this game, participants must look around the room and write down objects then can see that begin with the letters of "Christmas." (Don't worry – the download has a sheet explaining the rules!)
For example, you might see carpet for "C," a hat for "H" and so on.
The printable has two game sheets per page – just use a paper trimmer to cut the sheet in half.
Christmas riddles
Next we have fun Christmas riddles! Although not all of the clues are directly related to Christmas, the answers are Christmas-related. This game also has an answer key in the printable PDF.
Holiday match party game
The holiday word match is a fun game! Participants write down six words related to Christmas. The printable explains the rules – you can use any paper to play.
Know your toys
Can the people at your party figure out these common toy names? The answer key is included in the download in case anyone is stumped!
This game is also two to a page – just print and cut in half with a paper trimmer!
Name the Christmas carol printable game
Next there's a "name that tune" game for Christmas songs and Christmas carols. Participants are given a few words from a popular Christmas song or carol and have to write down the song's name.
Don't worry – the answer key is included.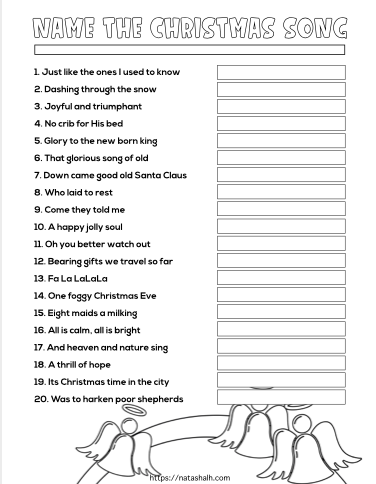 Name the reindeer game
Can you name Santa's reindeer in alphabetical order? If not, the printable has you covered with an answer key!
It's surprisingly difficult to name all the reindeer in alphabetical order off the top of your head! This game is perfect for children, too, and can help them practice their letters.
How to download your printable Christmas games
Alright, let's get to the download information!
Christmas & Holiday Printables
Looking for printables for the holidays? You've come to the right place! Discover Christams templates for DIY ornaments and decorations, Christmas games for families at home, and more.
Don't lose track of these printable Christmas games – Pin them now!