Snowflakes are so fascinating! I very rarely see real snowflakes, so I decided to make a bunch of free printable snowflake stencils/templates for holiday crafts.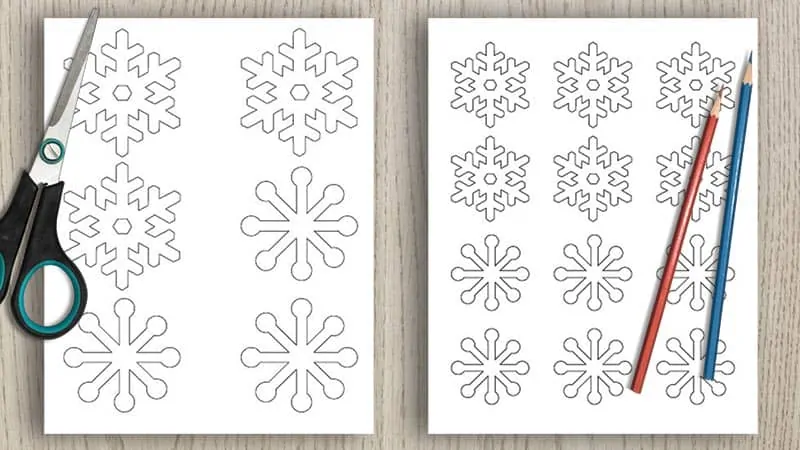 This post induces affiliate links, which means I may earn a commission on purchased made through links at no additional cost to you.
These snowflake stencils are perfect for holiday craft projects like making snowflake garland, creating ornaments, making snowflakes to decorate your windows with, and even for things like decorating cards or making unique gift tags.
Your imagination is the only limit. There are so many things you can do with these stencils! For example, you can even make your own window clings. This helpful post from I Love to Create shows you how to make window clings using puffy paint. (Just use these snowflake patterns instead of the summer design they provide!)
As much as I love my own designs, sometimes they're not the right tool for the job. For example, if you want to use paint with a snowflake stencil more than a couple of times, you might want to get a plastic or vinyl stencil. It will hold up a lot better to repeated use!
The snowflake stencils are available free for personal use. Please do not redistribute the digital files – simply refer your friends and family to this post so they can download their own copy!
The images are low resolution previews. Use the download links for the high resolution PDF printable files. You will not see a preview because the PDFs are compressed as .zip files. Simply download and decompress!
You're a busy person – save valuable time when you download all 25 pages of snowflake printables with one click for the super low price of $1. Keep scrolling for individual free download links.
If you'd rather put more miles on your mouse and download them one at at time, just scroll a little bit more!
Small snowflake templates
To start with, we have smaller snowflakes.
At first, I only had complicated snowflakes, but then I realized we needed some simple snowflakes, too!
Here are some 2 inch wide simple snowflake shapes to print and cut out:
>> Download the 2″ snowflake patterns here <<
Simple snowflakes shapes – 3″ wide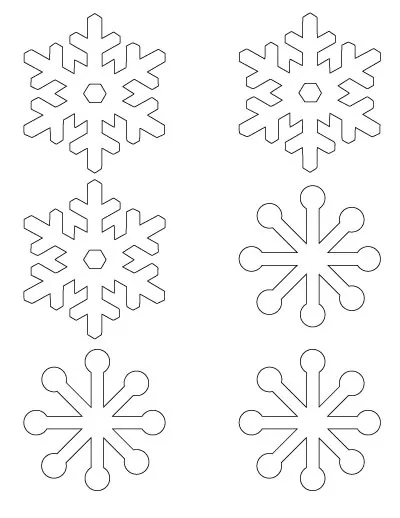 >> Download the 3″ classic snowflake templates here <<
Next we have more complex small snowflakes. These snowflakes are also about 3″ across, but are more complex.
>> Download these 3″ snowflakes here <<
Detailed snowflake templates
Next we have medium snowflakes with a lot of detail. These are about 4″ high. There are some different designs in this set! There are a total of 10 snowflakes on three separate pages.
>> Download the 4″ snowflakes here <<
Large printable snowflake shapes
Next we have large snowflake templates.
As with the smaller snowflakes, there are simple snowflakes and more complex ones. The downloads are separate to make things easier. If you have toddlers you probably don't want all the complicated snowflake shapes, just the easy ones!
There is a large classic snowflake template. This one is so perfect for prating scissor work and making decorations!
>> Download the large classic snowflake here <<
Then there is a large simple snowflake pattern. This one is great for little kids! They can practice putting pompoms on the circles at the end or use do a dot markers on them.
>> Download the large simple snowflake here <<
Next there are the more complex snowflakes to print.
These ones are better for adults and older children. The16 snowflakes are one to a page and about 7.7″ across (when printed at full size). This should fit inside the print margins of virtually every home printer so you don't have to worry about scaling!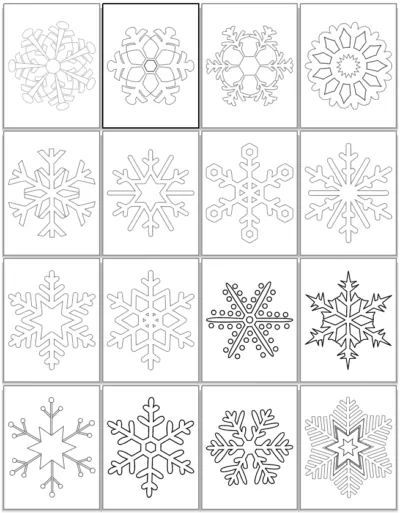 > Download the large complex snowflakes here << (opens in a new tab)">>> Download the large complex snowflakes here <<
These snowflakes are just a few of the free printable coloring pages and shape/object templates available on The Artisan Life!
Never miss awesome freebies ever again by becoming an Artisan Life family member.
You'll receive instant access to a free printable gift planner and a stocking planner to keep track of all your holiday purchases! No more rushing to Target after the kids are in bed because you forgot stocking stuffers again.
Make sure you can find these snowflake printables again later – Pin them now!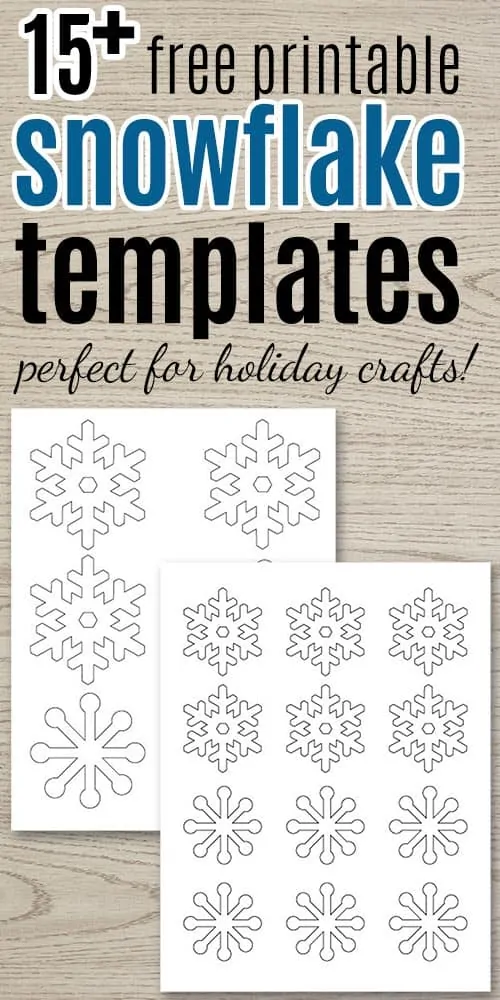 Christmas & Holiday Printables
Looking for printables for the holidays? You've come to the right place! Discover Christams templates for DIY ornaments and decorations, Christmas games for families at home, and more.