This free printable "how many words can you make from Merry Christmas" game is no-prep family fun! It can also be used as a Christmas themed classroom activity or as a printable Christmas party game. Pick from an easy version with spaces for 10 words or a more challenging version for the whole family with space for 30 words!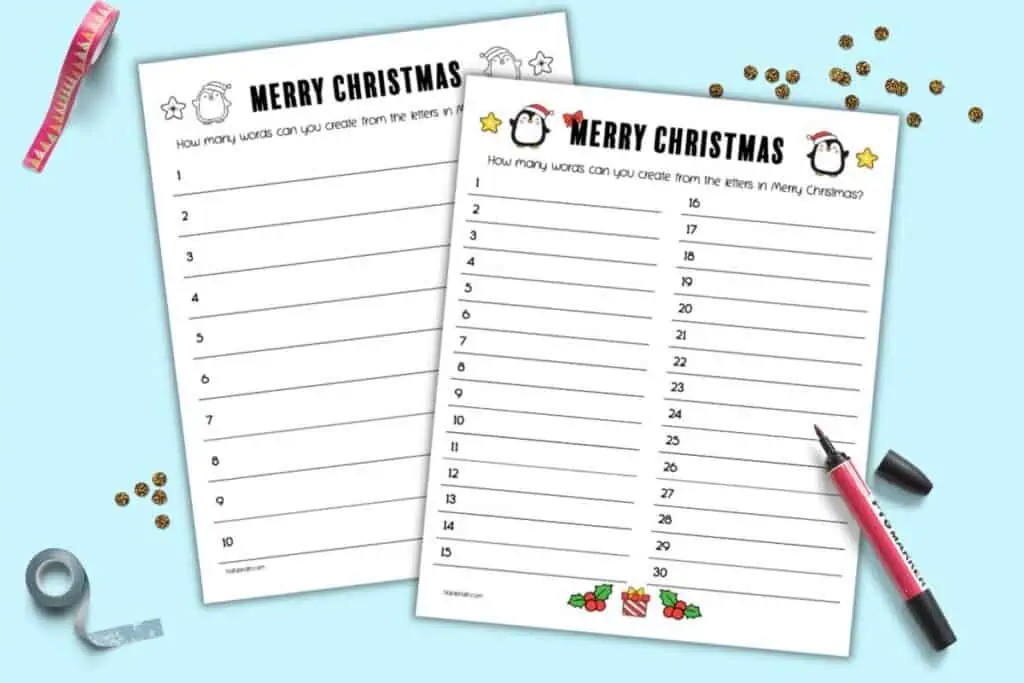 Playing games together is a great way to pass the time with your family on Christmas. Printable games are also great for office Christmas parties! Hold a friendly competition to see who can make the most words or have the kids team up against Mom or Dad. For more family-friendly Christmas game printables, be sure to check out these additional downloads from The Artisan Life:
This post includes affiliate links, which means I may earn a commission on purchases made through links at no additional cost to you.
Stop by this page of free Christmas printables for party games, templates, additional coloring pages, and more. Some of the most popular Christmas printables are these free printable snowman templates, gingerbread man templates, and star templates.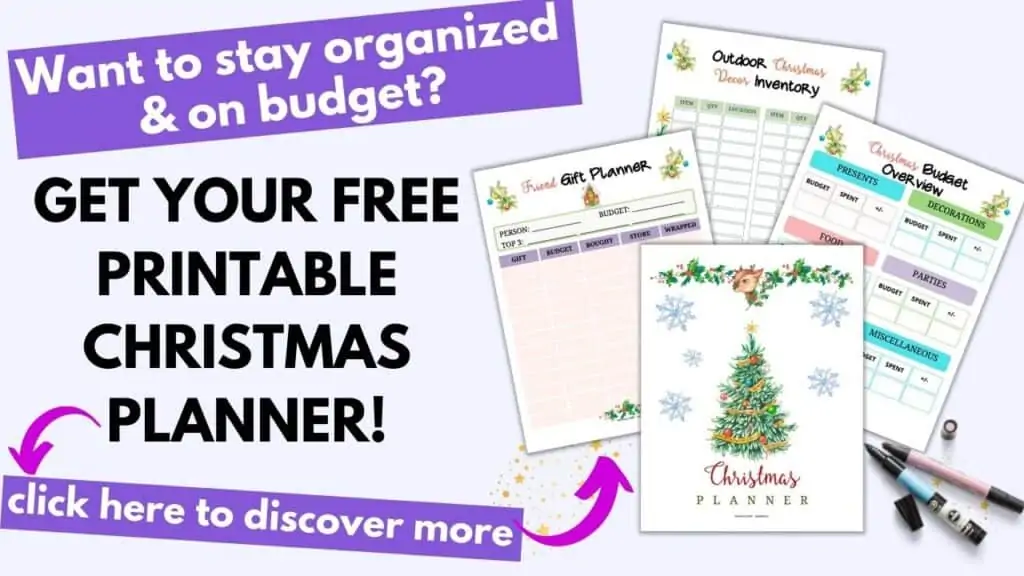 How to play How Many Words Can you Make from Merry Christmas
This Christmas game is fun and easy to play. First, grab your download from lower down in the post. You'll see a row of purple arrows pointing the way.
Print the pages you want. There are four pages:
Easy version in color
Easy version in black and white
Harder version in color
Harder version in black and white
The only difference between the "easy" version and "harder" version is the number of lines. There are hundreds of words you can make from "Merry Christmas." Having 300 spaces on the page would be pretty impractical, though!
Use the sheet with 10 space for elementary students and the sheet with 30 spaces for older kids and families. If anyone finds more than 30 words, they can flip the page over and write on the back.
Rules for "how many words can you make from Merry Christmas"
The main rule for the game is that you can only use each letter in "Merry Christmas" once for each word you come up with.
You could use three letter "r"s in your word, two "m"s, or two letter "s"s because each letter appears multiple times in the phrase Merry Christmas
Other letters that appear once, such as C, can only be used once.
Like with other word games, proper nouns are generally not allowed. You could permit proper nouns, if you'd like.
For an added challenge, you can have everyone cross a word off their list if someone else has it listed, too. This encourages players to go for longer, more complicated words instead of a bunch of short words.
Words to make from Merry Christmas
Here are a few words you can make from Merry Christmas to get your creative juices flowing:
sit
sat
sire
mire
ram
tame
yes
chemistry
stammer
carrier
hermit
These are just a few of the literally hundreds of possibilities!
Free printable Merry Christmas game
Like other holiday printables on The Artisan Life, this Merry Christmas game is available for personal and classroom use use.
You are not licensed to alter, sell, or redistribute the files (digital or printed) to others for their use. You absolutely are not licensed to post them for sale or download on any website. Please just send your friends and family to this page to download their own copies.
If you agree to this license, you may click below:

I hope you enjoy using your Merry Christmas game! Be sure to check out these additional Christmas printables while you're here:
Christmas & Holiday Printables
Looking for printables for the holidays? You've come to the right place! Discover Christams templates for DIY ornaments and decorations, Christmas games for families at home, and more.