This free printable Christmas Bingo game is fun for the whole family! It's also a great party game for your office or holiday party or get-together with friends. Even young older toddlers and preschoolers can play along because no reading or knowledge of numbers is required.
This post has been updated for 2020 with more bingo boards featuring an even larger pool of cute Christmas images for longer games and more players.
If you've followed an older Pin image here the cards may not look exactly the same. They're similar, but definitely better. The new and improved version has cute Christmas llamas, Christmas sloths, and more!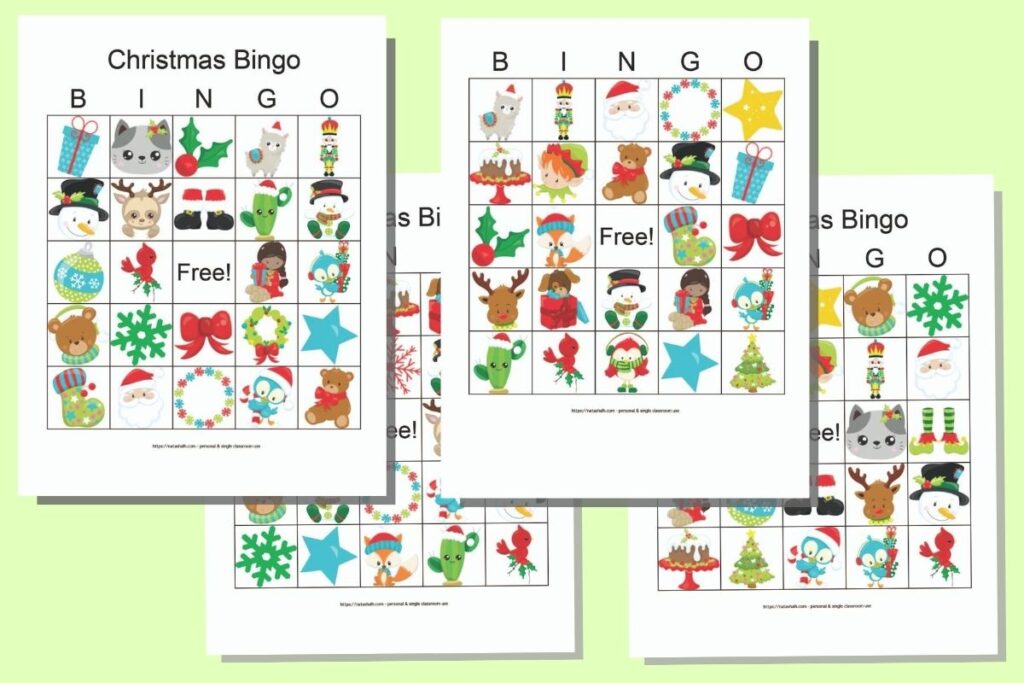 This post includes affiliate links, which means I may earn a commission on qualifying purchases at no additional cost to you.
How to play Christmas picture bingo
This bingo game is an easy, no-prep way to keep your kids occupied while you prepare for the holiday. Toddlers and preschoolers can play with this bingo as a solitaire matching game, or you can grab these free printable Christmas matching cards for them to enjoy.
This Christmas bingo game is also fun for adults at holiday parties. Many readers have written about using picture bingo with elderly adults, too. It's a fun take on bingo night for any age group!
If you're having a holiday party and gift exchange at work, be sure to check out this free printable Secret Santa survey and these $10 gift ideas for coworkers!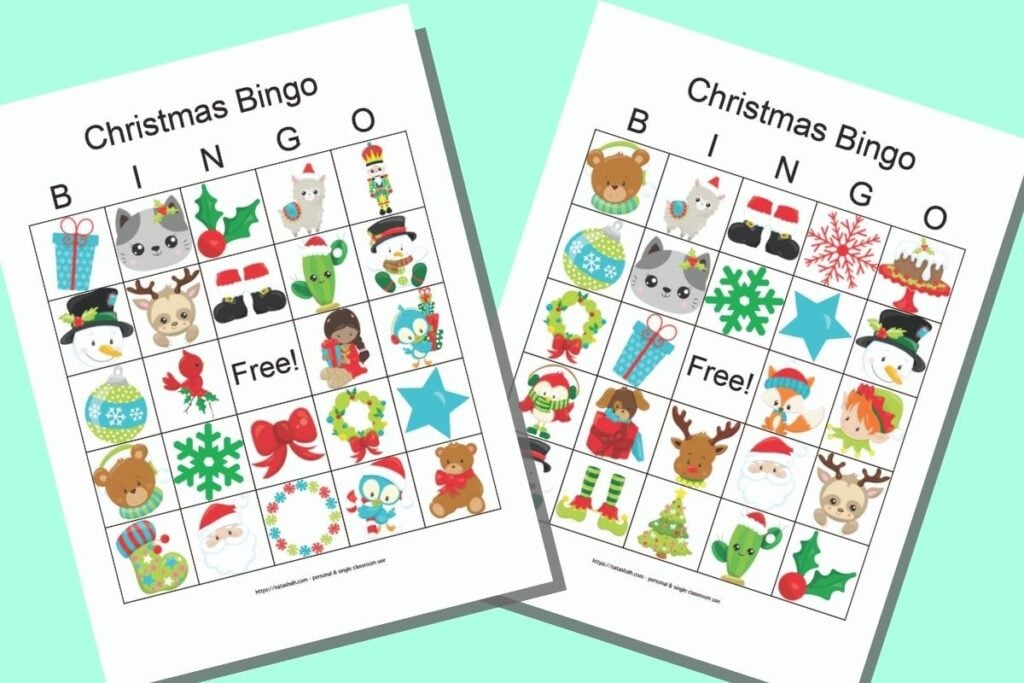 You can use these bingo cards in a 'traditional' way by cutting out the pictures on the call list sheet, placing them in a bag, and drawing them randomly.
Make sure to print the two pages of calling cards at the back. There are 33 different images in the image pool. Only 24 appear on any given card.
It's easier for participants, especially younger children, if you show the image instead of just trying to describe it. Some of the images are similar, so showing the card can help eliminate confusion. (For example, there is a Frosty face and a full-body Frosty the Snowman.)
Alternatively, you can save some cutting and the risk of lost pieces by giving the call sheet to an adult and having them 'randomly' call out images. I think this is a good choice if you're at a party because it means fewer pieces to keep track of.
Make a tic mark with a pencil to mark which pictures you've already called.
If you laminate the cards (or use dry erase pockets), you can use markers to mark off called images.
You can print the game boards on plain printer paper, but it's not my first choice. Kids typically love doing the same thing over and over, so these bingo cards could see some heavy use over the holiday season.
For the most beautiful images, use presentation paper. Presentation paper is a heavy weight paper with a special coating for crisp, bright images.
For durable boards, but slightly less vibrant images, use cardstock.
The difference doesn't show up as clearly in a photo as it does in real life, but I printed the mermaid bingo card on the left on presentation paper. The one on the right is on cardstock.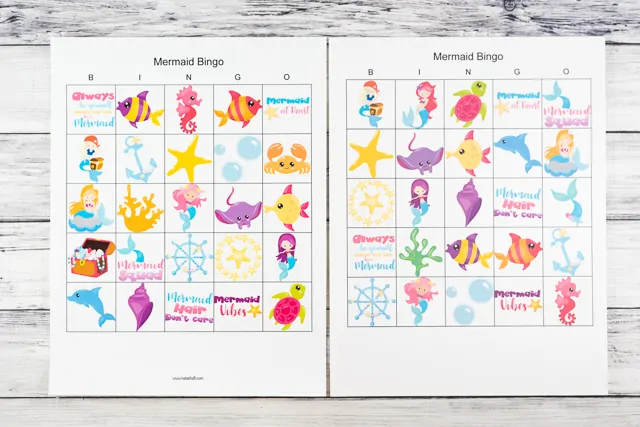 For repeated play, especially near food, drinks, or sticky candy hands, laminate the sheets or place them in a dry erase pocket or page protector. Dry erase pockets are like page protectors, but sturdier!
You can get sheets laminated at copy shops and office supply stores, but if you're going to laminate more than 10-2o pages ever, it's more economical (and a time saver) just to get an inexpensive home laminator.
When you laminate your bingo cards, you can store them with your Christmas decorations and use them year after year!
Related: Free printable Christmas word searches
Printable Christmas Bingo cards
Like all printable bingo games on The Artisan Life, the bingo cards are for your personal use. This means you can print and use them as much as you'd like with your family, in your own classroom, with your therapy clients, at the holiday party you're helping out with, etc.
You are not licensed to alter, sell, redistribute the digital files, or give physical copies to other people. Please just send your friends and family a link to this page so they can download their own copy!
There are three sets available:
Christmas bingo for a large group (50 boards)
Classroom set of Christmas bingo boards (25 cards)
10 free printable Christmas bingo games
4 free printable Christmas bingo cards
All sets are unique and can be combined.
Please keep scrolling past the paid versions to reach the free printable cards.
This is a secular Christmas bingo game. If you want a religious Christmas activity, check out this free printable Advent word search.
Christmas bingo for a crowd
This set of 50 Christmas bingo boards is perfect for Christmas parties, school celebrations, community bingo night, etc. It's available for the very low price of $4.29.
Classroom set of Christmas bingo cards
This set of 25 Christmas bingo PDFs is perfect for classrooms and smaller parties. If you need a few more cards, grab one of the free printable sets below and combine them.
Set of 10 free printable Christmas bingo cards
Next we have a set of 10 free printable Christmas bingo cards. This set is the most popular. It's ideal for small groups, like a small homeschool co-op class, and larger families.
Just use the form below the preview image to let me know where to send your bingo cards!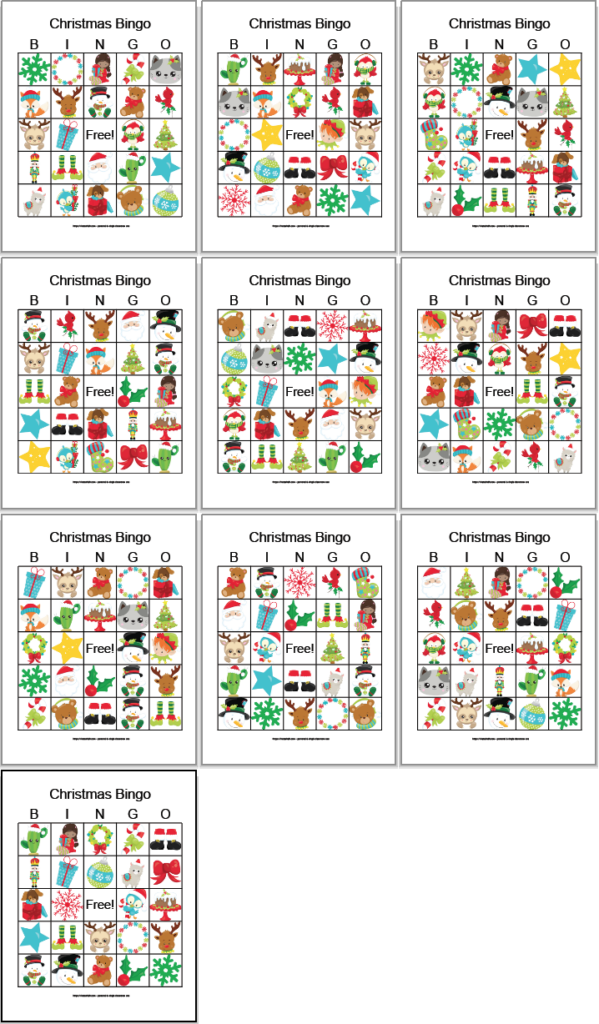 Set of four bingo cards for Christmas
Finally we have a set of four free printable bingo cards for Christmas.
These cards are available absolutely for free. Just follow the link below the preview image to download the PDF file from Dropbox.
More printables for Christmas
Christmas & Holiday Printables
Looking for printables for the holidays? You've come to the right place! Discover Christams templates for DIY ornaments and decorations, Christmas games for families at home, and more.