These free printable sloth coloring pages are so cute and fun! Grab 10 free printable sloth coloring sheets for children to keep your kids happily busy and coloring.
Some of the cute sloths are semi-realistic, while others are more fanciful. They can be used a part of a lesson plan about sloths, tropical ecosystems, or to celebrate International Sloth Day. However you decide to use them, I hope you enjoy!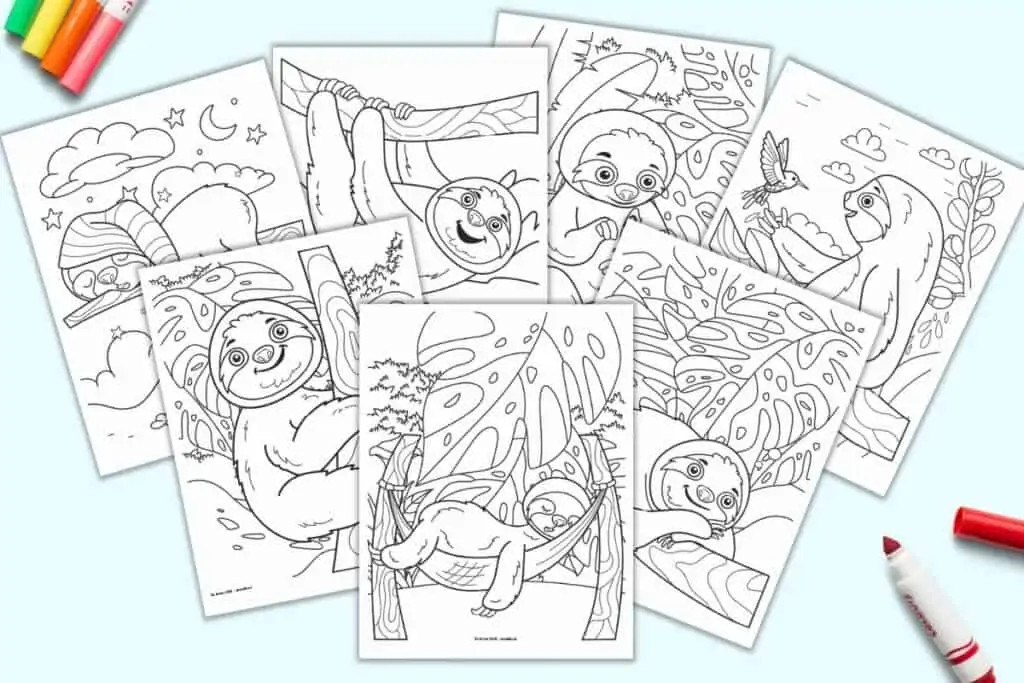 This post may include affiliate links which means I may earn a commission on qualifying purchases at no additional cost to you.
Like many children, my daughter loves sloths. She loves watching an episode of Planet Earth II with a pygmy sloth swimming in the water. If you've never seen a swimming sloth, a short clip from the episode is available for free from the BBC YouTube channel:
According to my daughter's DK book on sloths, sloth are much faster in water than on land. Their long arms make them good swimmers! I'm always amazed by the new things I learn from my daughter's nature books.
Sale
DK Readers Level 2: Sloths
DK (Author)
English (Publication Language)
48 Pages - 07/16/2019 (Publication Date) - DK Children (Publisher)
Slightly older children (8-10 years) will love this photo-packed Scholastic book about sloths. This book has lots of information to satisfy your child's curiosity about these popular, slow-moving creatures.
How to print and use coloring pages for kids
Printing and using these coloring pages is pretty straightforward – print them off and hand them over to your child.
I recommend printing the coloring pages on 32 lb bright white paper. Remember those yellow, rough coloring pages in coloring books as a child? They're not that fun to color on. This 32 lb paper is smooth and bright for vibrant colors and easy coloring.
The benefit for you is that the thicker paper doesn't bleed through as quickly so markers are less likely to stain your table again.
HP Paper Printer | 8.5 x 11 Paper | Premium 32 lb | 1 Ream - 500 Sheets |...
Made in USA: HP Papers is sourced from renewable forest resources and has achieved production with 0% deforestation in North America.
Heavyweight premium printing: HP Premium32 is a heavyweight (32 pounds), brighter (100 bright) and whiter (163 whiteness) paper with a super-smooth...
Certified sustainable: HP Premium32 presentation paper is Forest Stewardship Council (FSC) certified and contributes toward satisfying credit MR1...
My daughter's favorite markers for coloring are Crayola Supertips. They're affordable and fun for both adults and children. They're fairly washable, available in a wide variety of colors, and you can even use them for hand lettering practice! They can color fine detail and make broad strokes, too.
Sale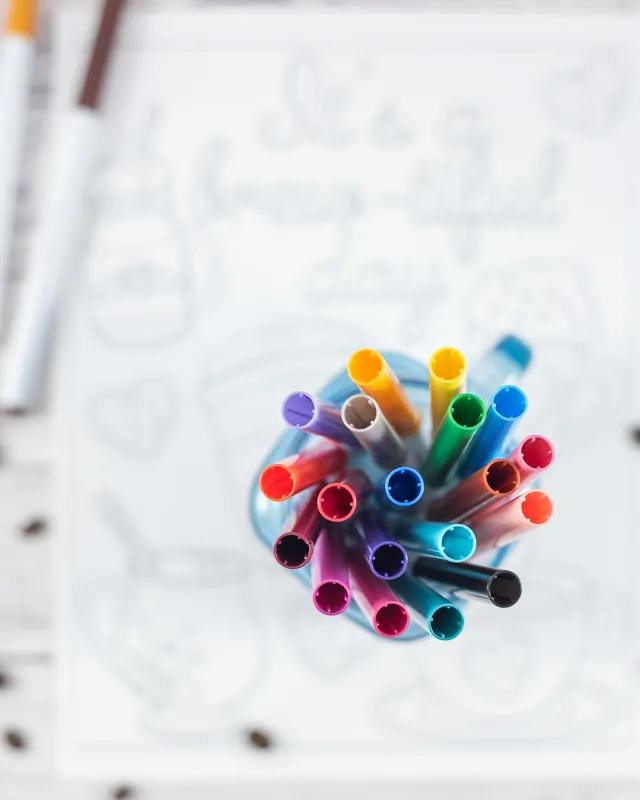 My daughter's favorite crayons are Honeysticks natural beeswax crayons. The colors palette is fairly limited, but the colors are rich and creamy.
These crayons are made in New Zealand from pure beeswax with food grade colorants. If your child is still taste testing their crayons, this brings a lot of peace of mind.
Sale
Honeysticks Natural Beeswax Crayons - Classic Crayon Size and Shape for a...
100% PURE BEESWAX AND FOOD GRADE COLORS FOR PEACE OF MIND: Handmade in New Zealand using 100% Beeswax and Food Grade Pigments for Color. Free from the...
CLASSIC SIZE THAT IS DURABLE AND ERGONOMIC - At Honeysticks, we understand that children develop pencil grip at their own pace. We have developed a...
8 EXCITING COLORS TO STIMULATE CREATIVITY - Your child will love expressing their inner artist with an exciting range of 8 Colors. These handmade...
My current favorite tools for coloring are gel pens. I wrote an entire post on the best gel pens for adult coloring, but there are my top budget and all around favorite gel pens for coloring;
Printable sloth coloring page download information
Download information is located below the preview images. Making these files individually downloadable would be boring and repetitive, so they're all conveniently located in one free PDF. The preview images are shown in groups of four to keep this post from being a mile long. Don't worry – each cute sloth has its own page in the PDF!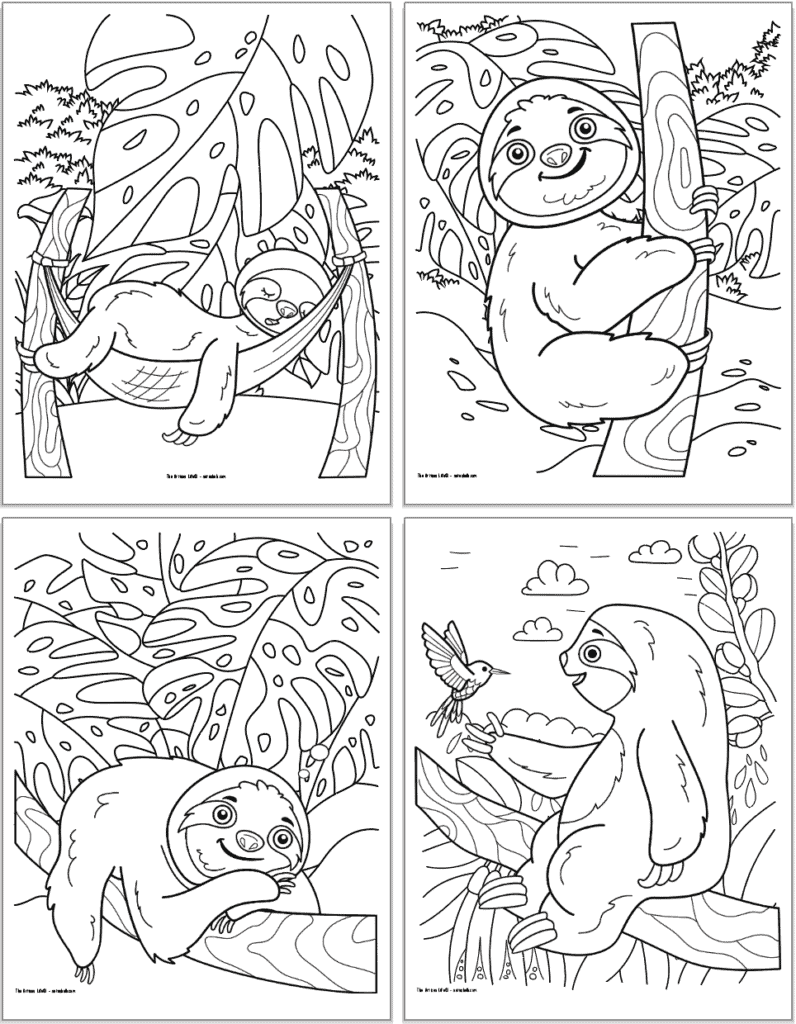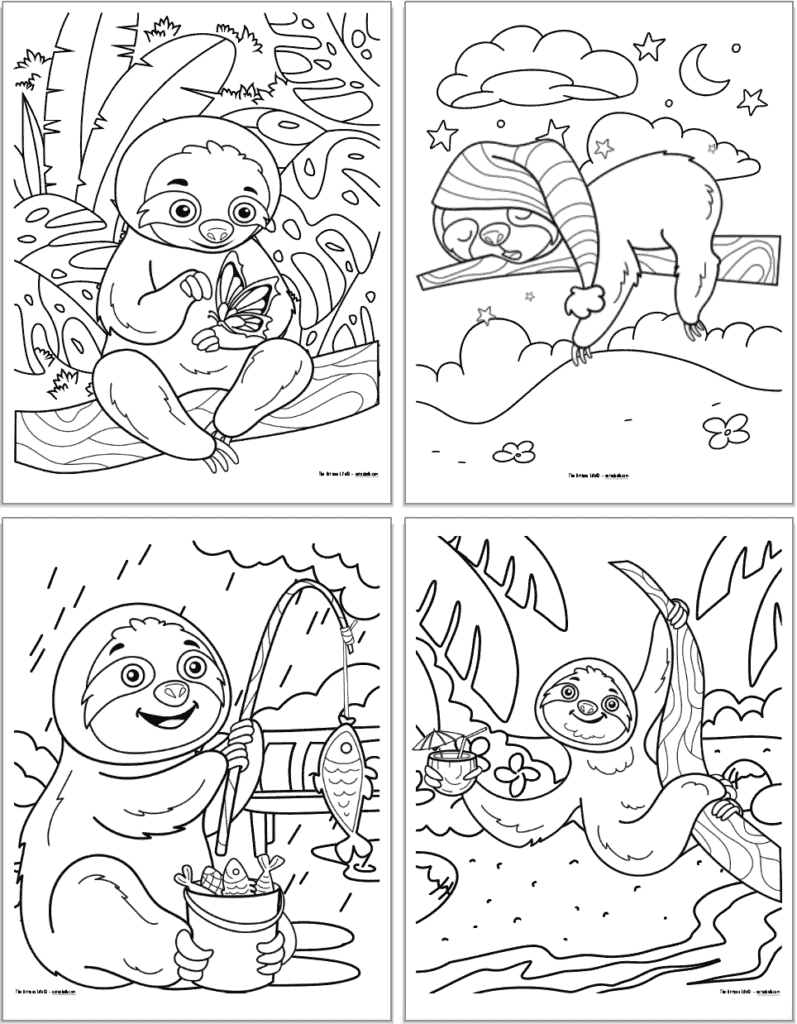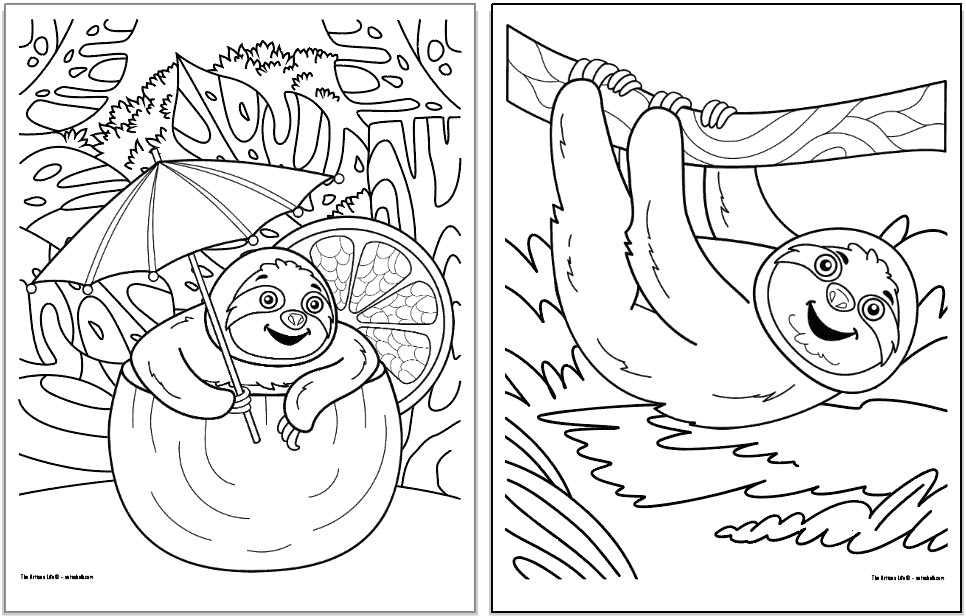 These coloring pages are licensed for personal and classroom use. This includes use with Scouts groups, library activities, therapy clients, etc. as long as you are personally organizing the activity.
You are not licensed to redistribute the files or printouts to others for their own personal or classroom use. Please refer your friends and coworkers to this page so they can download their own copies. Thank you!
I hope you enjoy these sloth coloring pages for kids! If you or your children enjoy coloring, be sure to grab these additional free printable coloring sheets while you're here on The Artisan Life:
Free printable coloring pages
Check out more free printable coloring pages on The Artisan Life!