These free printable money & wealth affirmation coloring pages can help you improve your money mindset!
Are you fed up with your poor money mindset and ready to make this the year you finally do something about it?
These free printable wealth affirmation coloring pages can help! Upgrade your money mindset for 2020 with the help of these free printable coloring sheets featuring affirmations about money and abundance.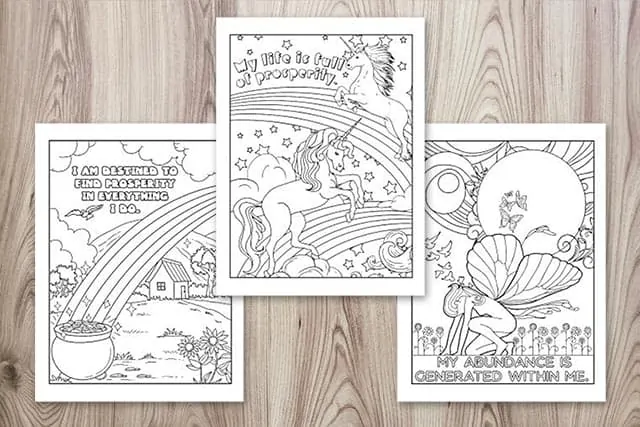 This post includes affiliate links, which means I may earn a small commission at no additional cost to you on purchases made through links.
First let's talk a little bit about how affirmations can help and why they're so important. You can use the table of contents to jump to the coloring pages if you'd prefer!
Using affirmations to improve your money mindset
Affirmations can help you in many areas of your life, including improving your money mindset.
By repeating affirmations, you can work to transform old, limiting beliefs into new, uplifting ones.
Buddha is said to have taught that "What you think, you become."
Napoleon Hill wrote "Whatever the mind can conceive and believe, it can achieve."
Research shows this is true – people who expect a positive outcome from a situation receive it the majority of the time while people who expect a negative outcome are more likely to receive that, instead.
Many of us grow up hearing things like "Money corrupts," "money is the root of all evil," or "money doesn't grow on trees." We internalize these messages and come to believe that there is never enough money and that people who have plenty of money are somehow "bad" people.
We feel guilty for wanting money and self-righteous about feeling like we don't have enough.
These wealth affirmations can help you retrain your inner voice and realize that money is not inherently bad and that there is enough for everyone.
If you'd like more personalized affirmations, stop by this post on how to create affirmations that work!
How to use printable coloring pages
If you just print these out on an inkjet printer with your regular copy paper, you won't get very good results.
Inkjet ink smears, especially if you use markers on regular printer paper, and standard printer paper isn't very nice to color on!
Instead, I recommend printing your wealth affirmation coloring sheets on a premium paper. A premium printer paper will work, or you can use presentation paper, which is my personal go-to. You can even use watercolor paper with many laser printers!
I love the coating on presentation paper. Even when I use my inkjet printer, I can color with markers without bleeding! My current favorite markers are Crayola Supertips. They're really affordable and a lot of fun!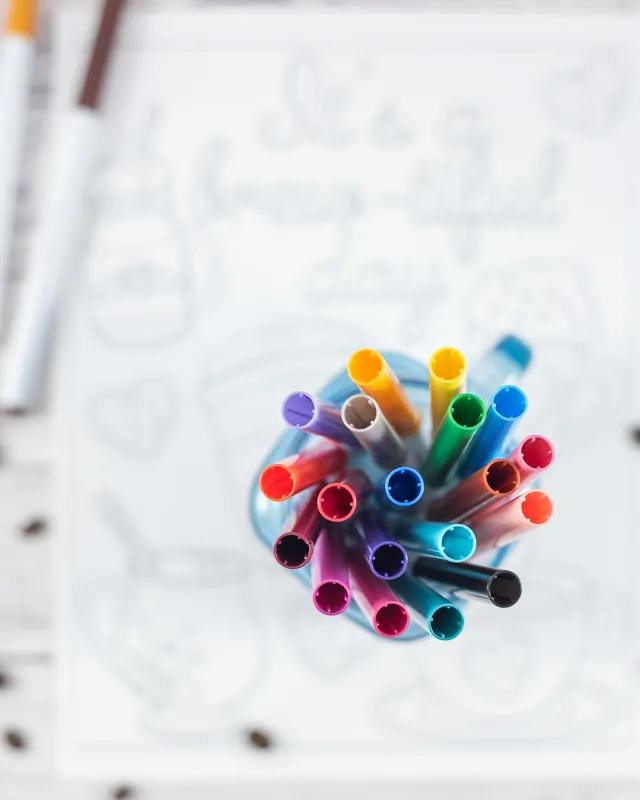 If you don't have a laser printer, you can use a copy machine at any office store.
You can also email most copy shops or bring your files in on a USB drive for printing. They typically offer cardstock for a small upset charge, but some also allow you to bring your own cardstock, instead. It's worth asking! Most libraries also have copy machines and have laser printers attached to their computers.
I wrote at length about the best papers for coloring page printables in this post with beach coloring pages. Please check it out if you'd like to know more!
Wealth & Money Affirmation Printables
These images are just low resolution previews. Please use the download links below to get the high resolution PDFs!
Also, please note that these printables are for personal and classroom use only. Please do not redistribute the digital or printed files to others – just send them a link to this blog post so they can download their own copies.
You can get the set of coloring pages for free here, or keep scrolling to check out the previews!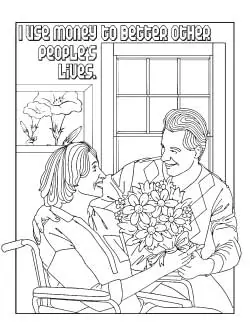 I use money to better other people's lives.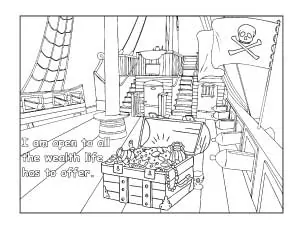 I am open to all the wealth life has to offer.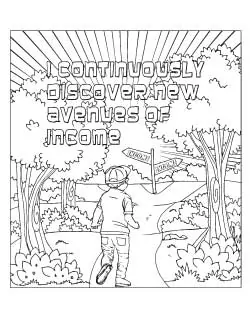 I continuously discover new avenues of income.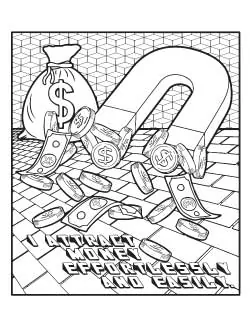 I attract more effortlessly and easily.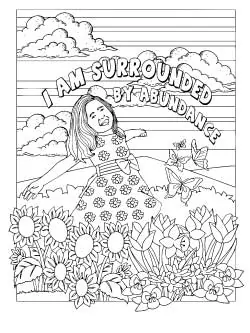 I am surrounded by abundance.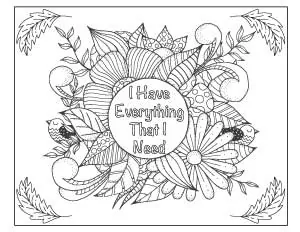 I have everything that I need.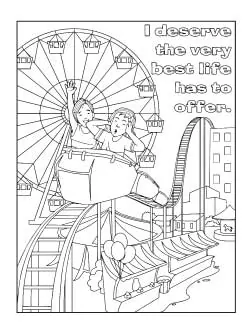 I deserve the very best life has to offer.
My abundance is generated within me.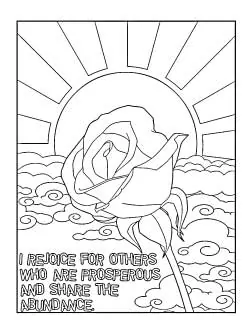 I rejoice for others who are prosperous and share the abundance.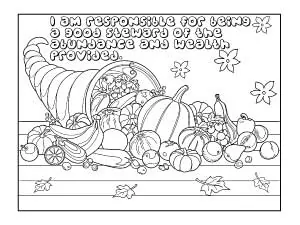 I am responsible for being a good steward of the abundance and wealth provided.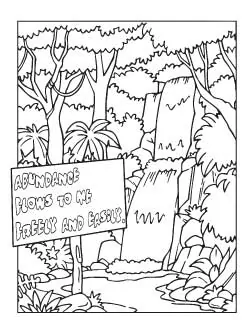 Abundance flows to me freely and easily.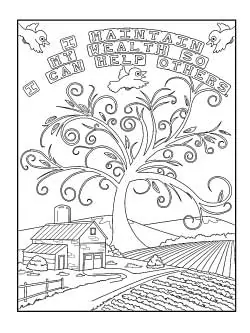 I maintain my wealth so I can help others.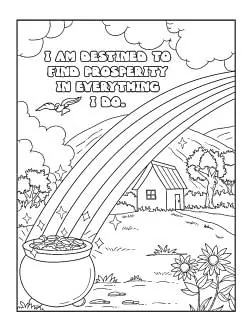 I am destined to find prosperity in everything I do.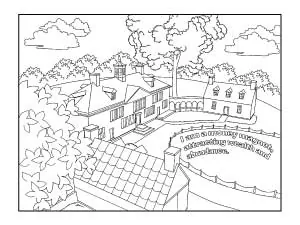 I am a money magnet attracting wealth and abundance.
I deserve abundance and prosperity.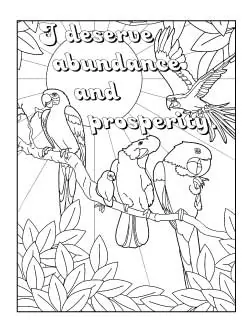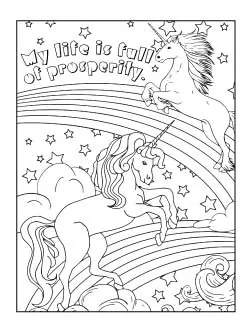 My life is full of prosperity.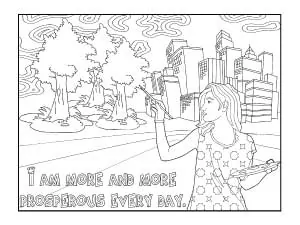 I am more and more prosperous every day.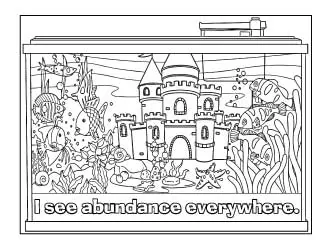 I see abundance everywhere.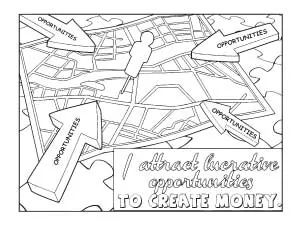 I attract lucrative opportunities to create money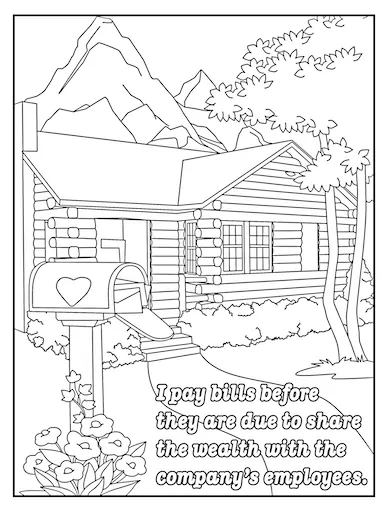 I pay bills before they are due to share the wealth with the company's employees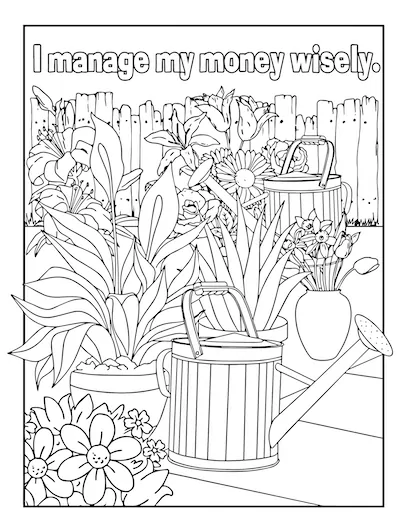 I manage my money wisely.
Where to download your affirmation coloring pages
These coloring pages are available for the price of $0+. What does that mean? It means you can put a 0 for the price to get them for free, or you can pay an amount that helps you feel abundant. You pick!
It's totally okay to put a price of $0. Seriously. Don't feel bad! Letting of guilt and shame around money is so important to developing an abundant mindset.
Don't lose track of these wealth affirmation coloring pages – Pin them now!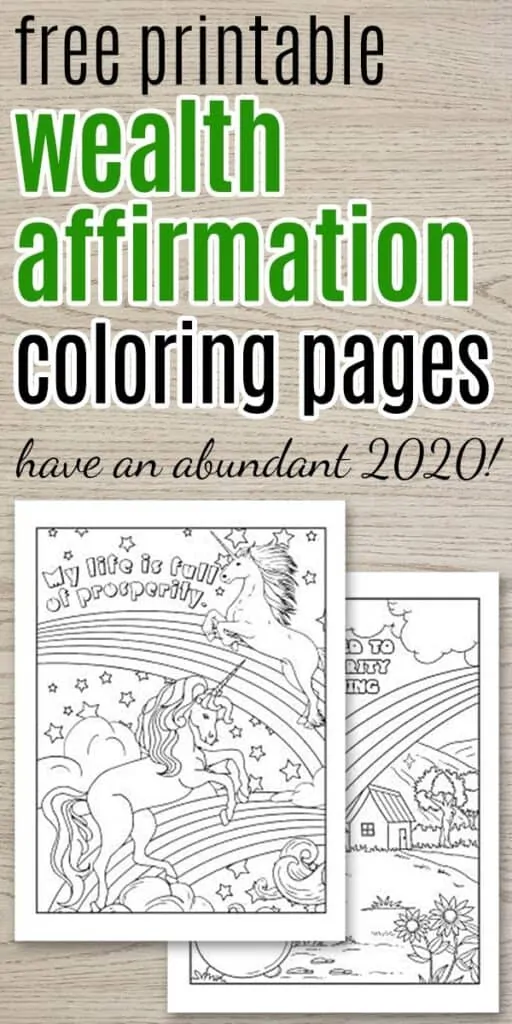 Free printable coloring pages
Check out more free printable coloring pages on The Artisan Life!