These free printable boho owl coloring pages for adults are the perfect way to de-stress and express yourself! The coloring sheets feature detailed designs with a variety of owls to color. A few of the pages feature quotations to color, too.
Owls are frequently considered symbols of wisdom, knowledge, and intuition. This symbolism is ancient – owls were associated with the Greek goddess Athena and the Egyptian owl god was a guardian of knowledge. The World of Birds has a fascinating page about the symbolism of owls in cultures from around the world if you want to know more about these fascinating birds.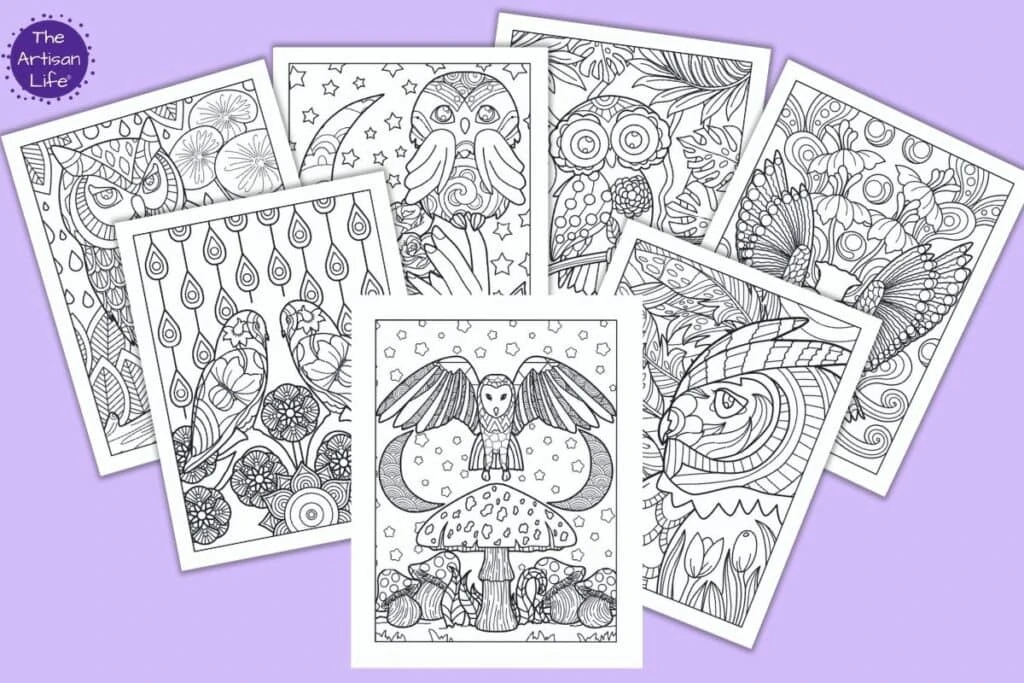 The appearance of owls in your dreams or thoughts can be seen as a hint to listen to your intuition and inner voice. If you you've arrived at this page, perhaps your inner mind is telling you to trust and listen to yourself. I personally find that's generally good advice!
I hope you enjoy these lovely owl coloring pages.
This post may include affiliate links which means I may earn a commission on qualifying purchases at no additional cost to you.
How to print and use printable coloring pages
Printing your own coloring pages is easy and far more cost-effective than purchasing coloring books.
You may be tempted to grab your cheapest copy paper and print out a stack of coloring pages. Please don't do this!
For a more enjoyable, relaxing coloring experience, try printing your coloring pages on 32lb bright white paper. The paper is thick, bright, and smooth for rich colors. Your marker or pencil will glide across the page when you use this paper! You'll never want to color in a "normal" coloring book with cheap, rough paper again after you try this dreamy paper.
HP Paper Printer | 8.5 x 11 Paper | Premium 32 lb | 1 Ream - 500 Sheets |...
Made in USA: HP Papers is sourced from renewable forest resources and has achieved production with 0% deforestation in North America.
Heavyweight premium printing: HP Premium32 is a heavyweight (32 pounds), brighter (100 bright) and whiter (163 whiteness) paper with a super-smooth...
Certified sustainable: HP Premium32 presentation paper is Forest Stewardship Council (FSC) certified and contributes toward satisfying credit MR1...
If you have access to a laser printer, you can also print on watercolor paper or another art paper and paint your coloring pages or use your favorite mixed-media materials.
Your coloring tools can have a huge impact on your coloring experience. Let's take a quick look at three popular options for adult coloring pages:
Gel pens
Markers
Colored pencils
There are lots of very inexpensive, and very disappointing, gel pen sets available. Purchasing one is so frustrating. That's why I wrote an entire post on the best gel pens for coloring. These two are my top picks:
My favorite budget coloring markers are Crayola Supertips. They're surprisingly affordable and fun for both adults and children. They're fairly washable, available in a variety of colors, and you can even use them for hand lettering practice! One thing to note, though, is that the caps don't always look exactly like the ink. This is a common marker problem I've noticed with other brands, too. I recommend swatching your markers out or testing them on a scrap sheet before coloring your page so you don't have unpleasant surprises.
When it comes to colored pencils, nothing can top a set of Prismacolors. Prismacolor colored pencils are soft and creamy. They color easily and are great for blending.
Sale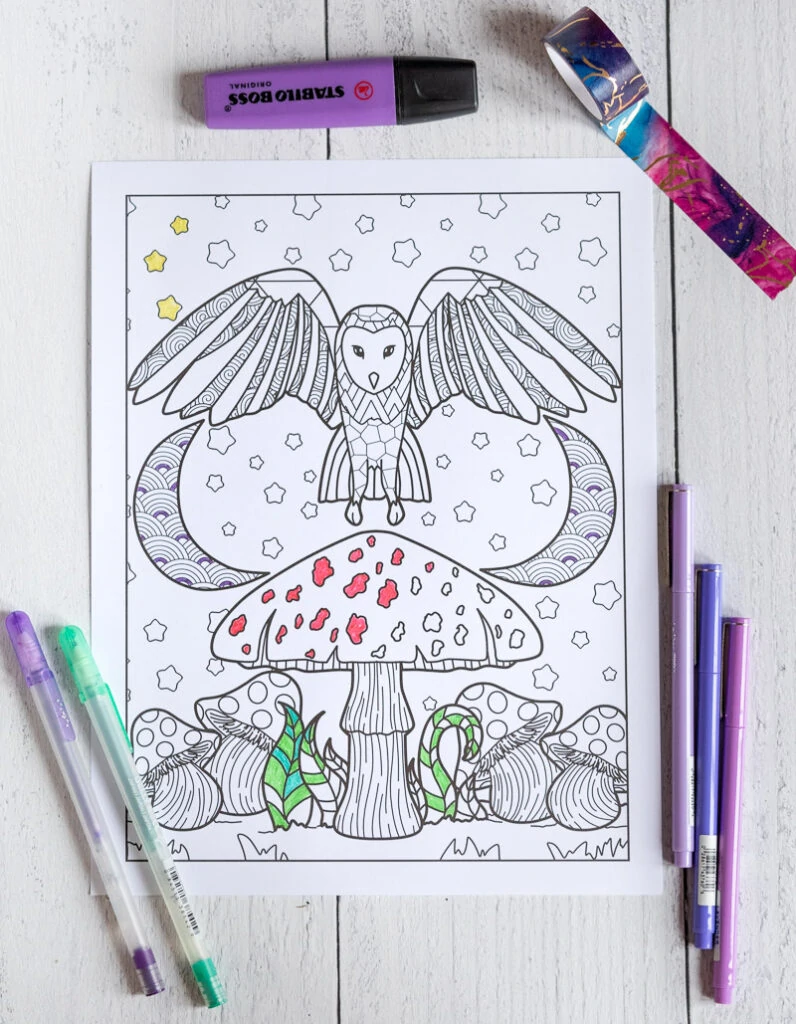 Free printable owl coloring sheets for adults
Like all printable coloring pages on The Artisan Life, these are for personal and single classroom use. This includes use with Scout troops, Sunday school classes, book clubs, therapy clients, etc. as long as you are personally organizing the activity and not charging specifically to participate.
You are not licensed to redistribute (or sell) the files to others for use with their students and/or children. Please refer your friends and coworkers to this page so they can download their own copies.
Because there are an incredible 30 (!) owl designs to select from, downloading each one individually would be annoying and time consuming. All 30 pages are available for download in one single file located below the preview images.
Previews are grouped four pages at a time. Don't worry – each sheet is on its own page in the PDF.
Coloring is great, isn't it?
Coloring has helped me cope with difficult times. Whether you're coloring for relaxation, a creative outlet, stress relief, or "just" fun, I hope these coloring pages bring you joy. If you enjoy them, please consider making a small donation through Ko-fi so I can continue sharing coloring pages.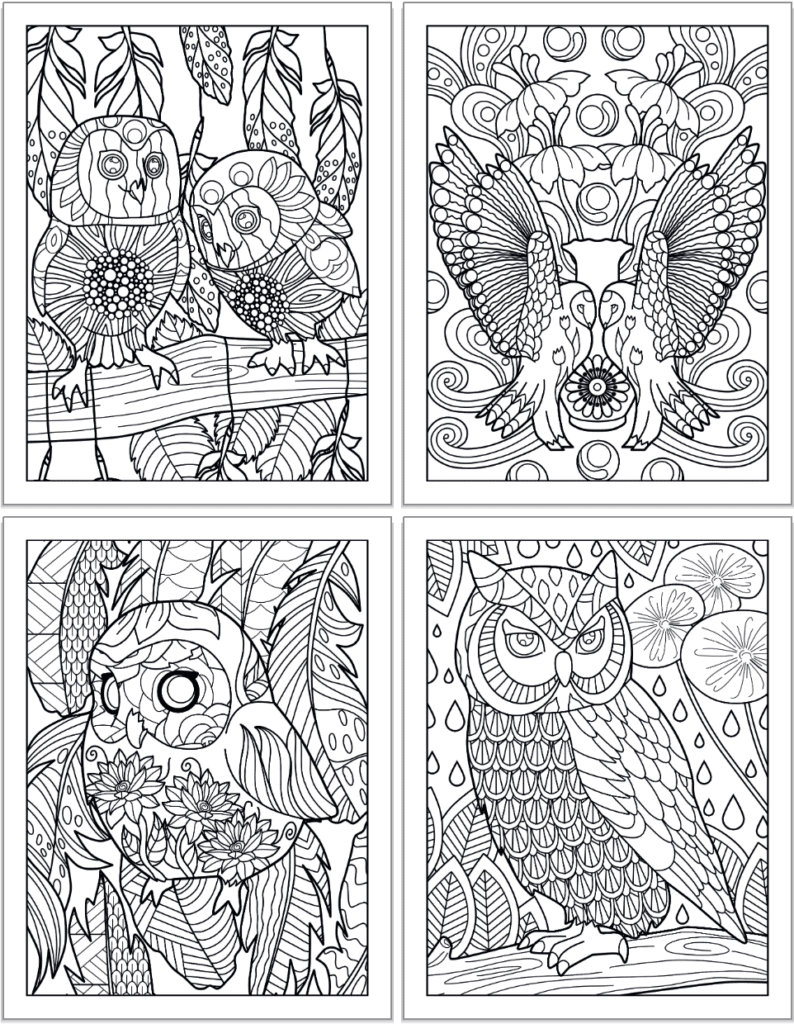 As a reminder: like all free coloring pages on The Artisan Life, these are licensed for personal and single classroom use. This means you are welcome to print them for yourself, your own students, and for group activities you are personally facilitating. Coloring pages are very popular with assisted living residents and senior center groups!
You are not licensed to give or sell the files or printouts to others for their personal use outside of activities you are personally organizing. Please refer your friends and coworkers to this page so they can download their own copies.
If you agree to this license, you may download the pages below:

I how you enjoy coloring your stress away with these owl coloring sheets. Make sure to snag these additional free printable coloring pages on The Artisan Life while you're here:
Free printable coloring pages
Check out more free printable coloring pages on The Artisan Life!