Using oracle cards and/or tarot cards is an intuitive practice. However, tarot and oracle card readings can require some practice, dedication, and time.
Tarot spreads, and oracle card spreads, can seem intimidating if you're just starting to explore tarot or oracle cards. This guide will step you through five tarot card spreads for beginners so you can stop feeing intimidated and start taking inspired action today!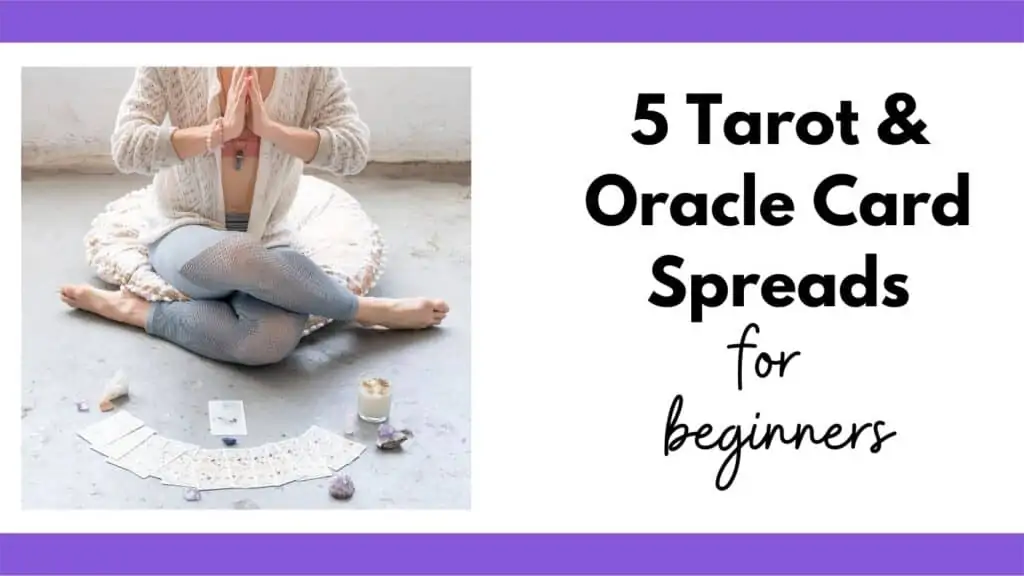 Although I've called this post "tarot card spreads for beginners," they are all popular and widely used spreads that can be used by anyone, even if you're already familiar with oracle or tarot cards. If you'd like to get started with oracle cards for free, be sure to check out this set of free printable word of the day oracle cards for inspiration.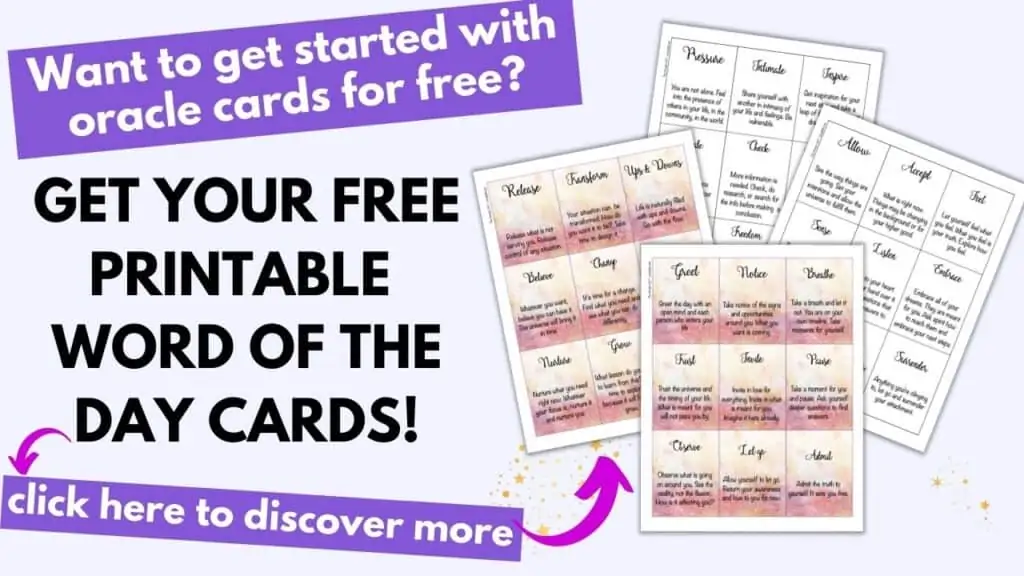 This post may include affiliate links which means I may earn a commission on qualifying purchases at no additional cost to you.
What is the difference between tarot cards and oracle cards?
I could write an entire post about the differences between tarot cards and oracle cards, so I'll keep this explanation short and simple.
In short, tarot cards are more codified and formal. Most tarot decks have 78 cards with traditional meanings. Decks specific "Major Arcana" and and "Minor Arcana" cards. If you want to know more about tarot cards, it's best to get a deck that comes with a guidebook to help you on your journey.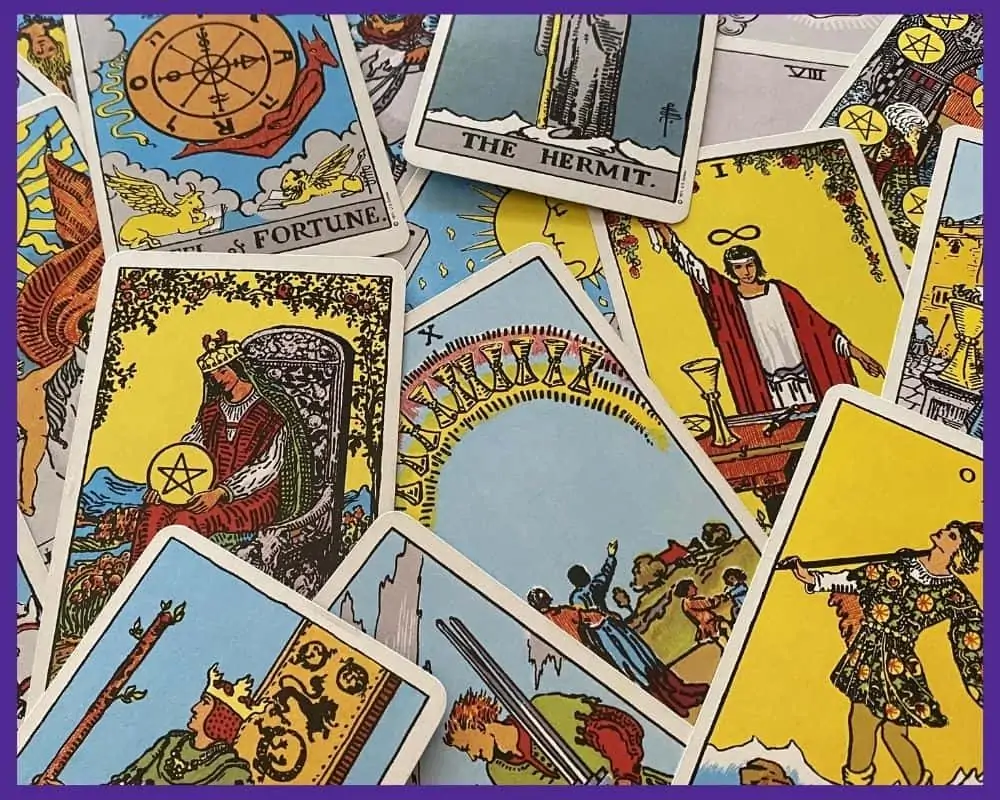 Sagesight Classic Tarot Cards Deck with Guidebook & Premium Linen Carry Bag...
✅ UNRAVEL THE MYSTERIES OF THE FUTURE with a tarot card deck of the original Pamela Colman Smith design, with true color tones remastered....
✅ GIVE IN TO A DELUXE TACTILE EXPERIENCE: With a premium linen finish, our elite tarot cards feel great in your hands. They are super-easy to...
✅ SEEK GUIDANCE ON A DAILY BASE: Made of thick cardstock, these 350gsm durable tarot cards will withstand daily use. Consult the universe every time...
Oracle cards are less structured. Decks can be almost any size and centered around virtually any theme. Instead of codified Major and Minor arcana cards, decks have cards based on the deck's particular theme.
Both tarot cards and oracle cards give you the opportunity to build your intuition, practice self-care, and reflect on your current situation. Oracle cards have a reputation for being more beginner-friendly (and they seem a bit less "taboo" to many people), but that does not make them any less powerful.
I am personally not as well-versed in tarot cards and prefer to use oracle cards. However, throughout this post, I usually refer to the card spreads as tarot spreads because that's what they're commonly called. These are two of my favorite decks at the time of writing: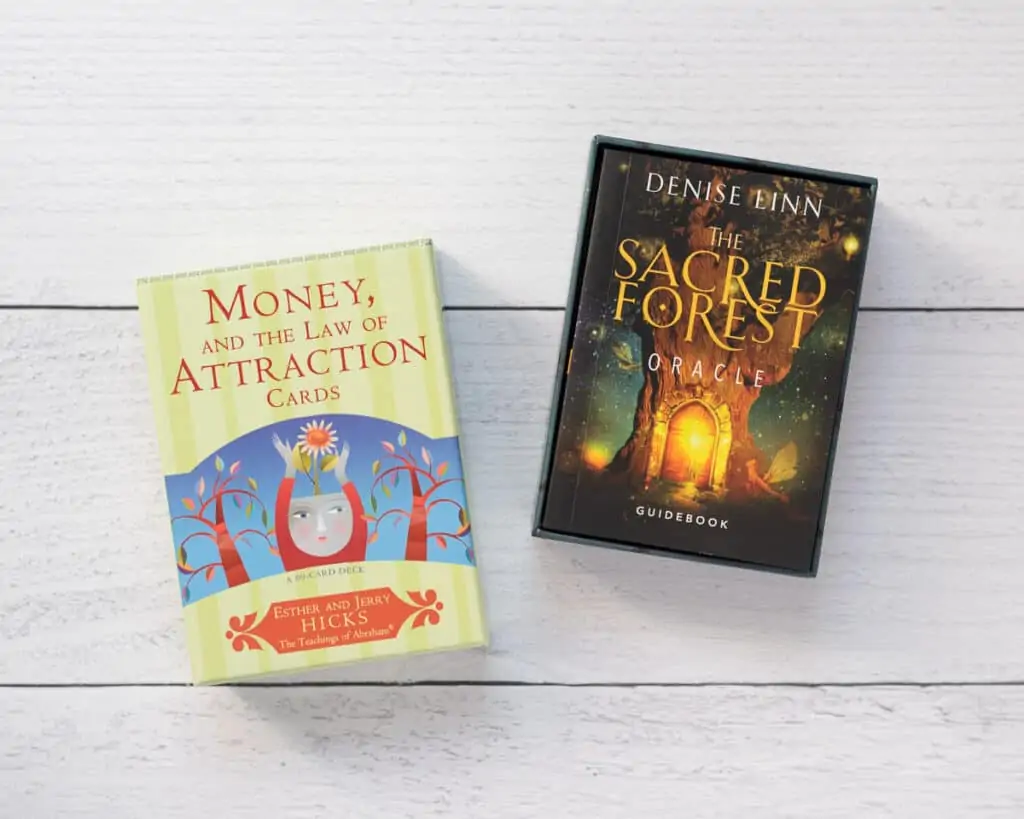 What is a tarot spread?
The tarot spread is a term used to describe the card design as you draw and lay out the cards. The term is used whether you're using tarot cards or their more free-spirited sister, oracle cards. It represents a sample of cards selected during reading.
Popular tarot card spreads
These are the most popular oracle card and tarot card spreads. Some people prefer to place each card face up as they go. Others prefer to place all cards face down, then flip them over one by one. As you work with your cards, you will discover which feels best for you. Because using cards is an intuitive practice, always go with your gut feeling, not what you think you are "supposed" to do.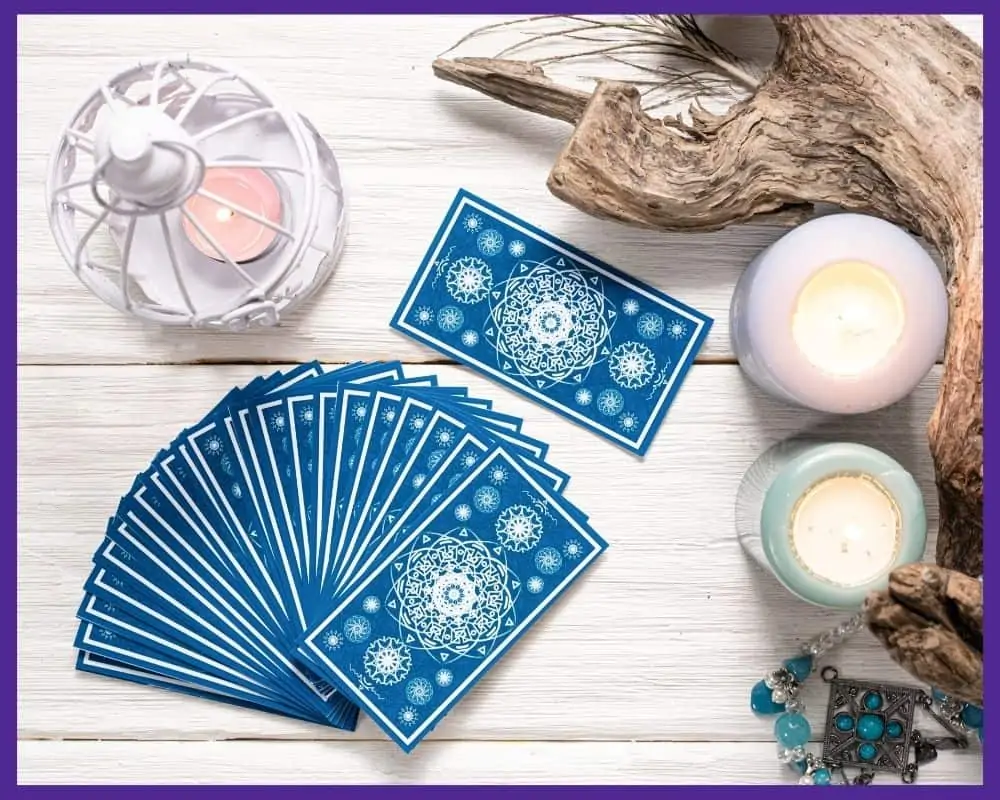 1-card spread
The one card spread is a quick and easy practice to bring into your morning or evening routine.
This is also called a "one card pull." It's the simplest reading and the best for people who are just getting started. This is especially true if you're just delving into tarot cards and are still getting to know the meaning of each major and minor arcana card. 
One card pulls work very well with oracle cards, too. Pulling a card can be part of your morning routine or evening routine. A card can serve as inspiration for your meditation or journaling practice for the day. I frequently like to display my pulled card of the day somewhere on my dining table or near my desk.
How to do a 1 card spread
Ask a question out loud, or clearly in your mind. Decide which way you want to shuffle the cards. Spread them on the desk (you can even make a shape if you wish) and choose one. Alternatively, you can simply pull a card without laying them out. Sometimes I don't even shuffle – I just run my hand along the deck and pull the card that feels right to me.
Look for the meaning and contemplate the answer you received. If you're using oracle cards, look at the image and are title for a moment before using the reference book or slipping to read the card's back. Your intuitive reaction to the card can be more revealing and important than the "official" text.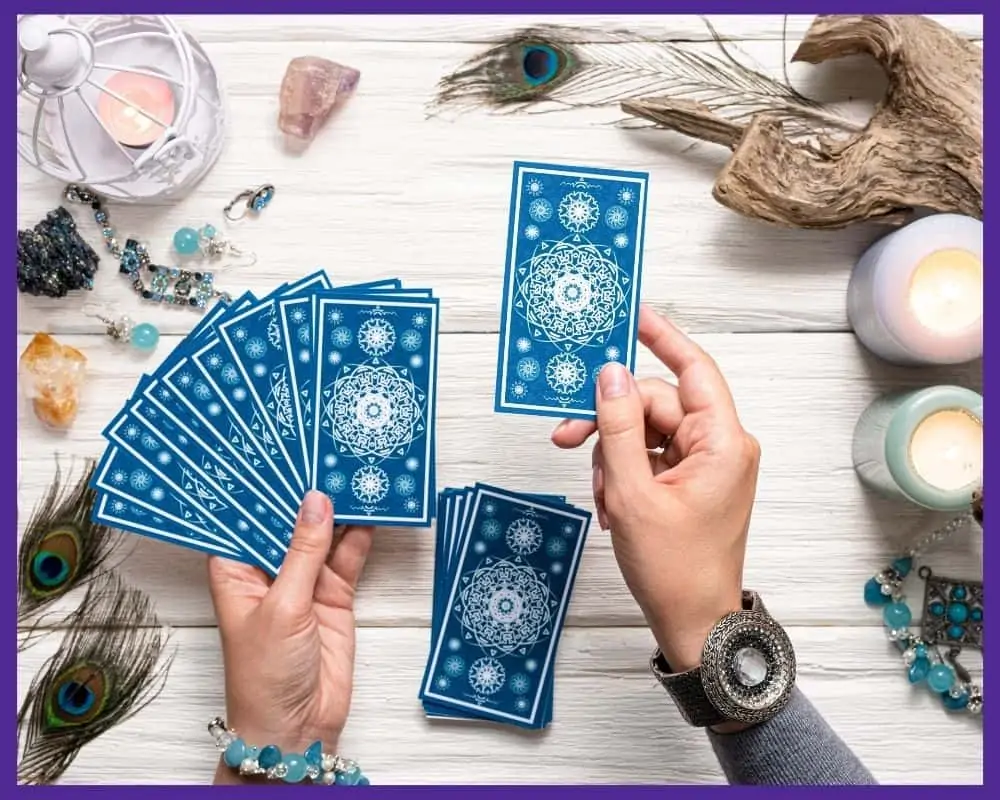 2-card spread
After you master the 1-card spread, you can add one card more and make your reading more detailed. This type of reading is an excellent tool for yes/no questions. 
It is a great way to find a solution to your challenge. One card can represent the current situation, and a second is a solution.
Also, it is effective for the following:
Harmful habits vs helpful habits
Useful beliefs vs useless beliefs
Do vs Don't
One choice vs another choice
Yes or No
Heart of the problem and the solution
What is fear, and what is going on
What mistake did you make, and what lesson do you need to learn
Why am I feeling like this (or this emotion) and what do I need to do
A two card spread can also be used to offer greater insight into the first card. Ask question, pull one card, as for elaboration or greater detail, then pull a second card. When we were trying to conceive, one day I pulled a card that immediately sent me the message that I was pregnant. I asked for clarification, and pulled another card that confirmed my impression. Sure enough, a week later I learned that I was, in fact, pregnant. That may sound a little crazy, but it's completely true.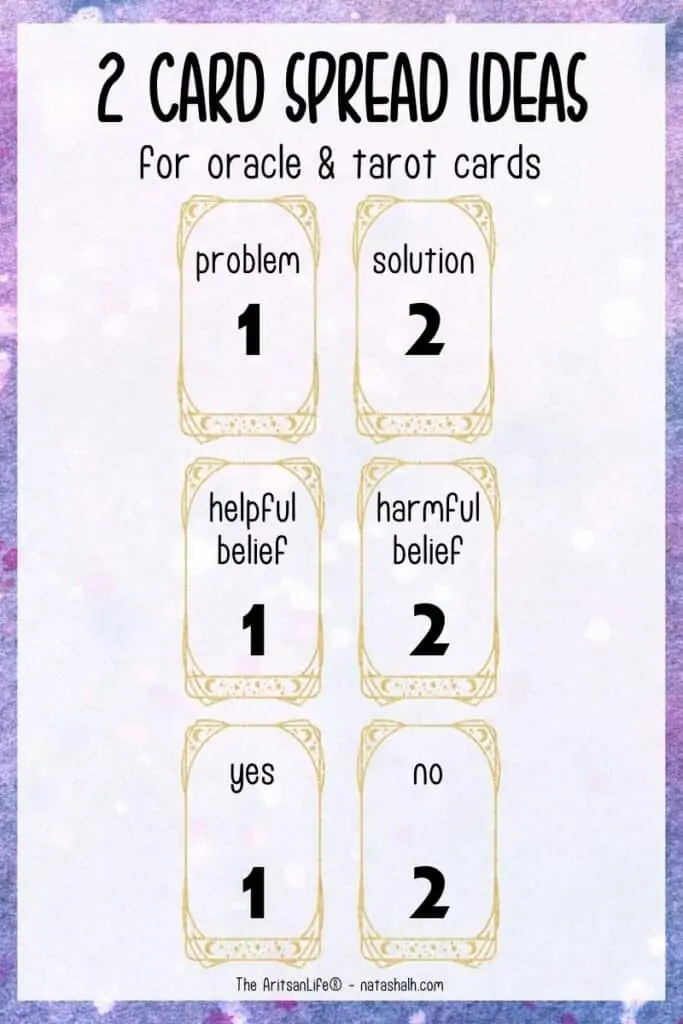 3-card
This card spread represents the past, present, and future. It's a great way to gain an insight into the situation/problem/challenge progress.
Think about something that has been on your mind for a while. It can be related to love, finances, health, or anything else you're thinking of.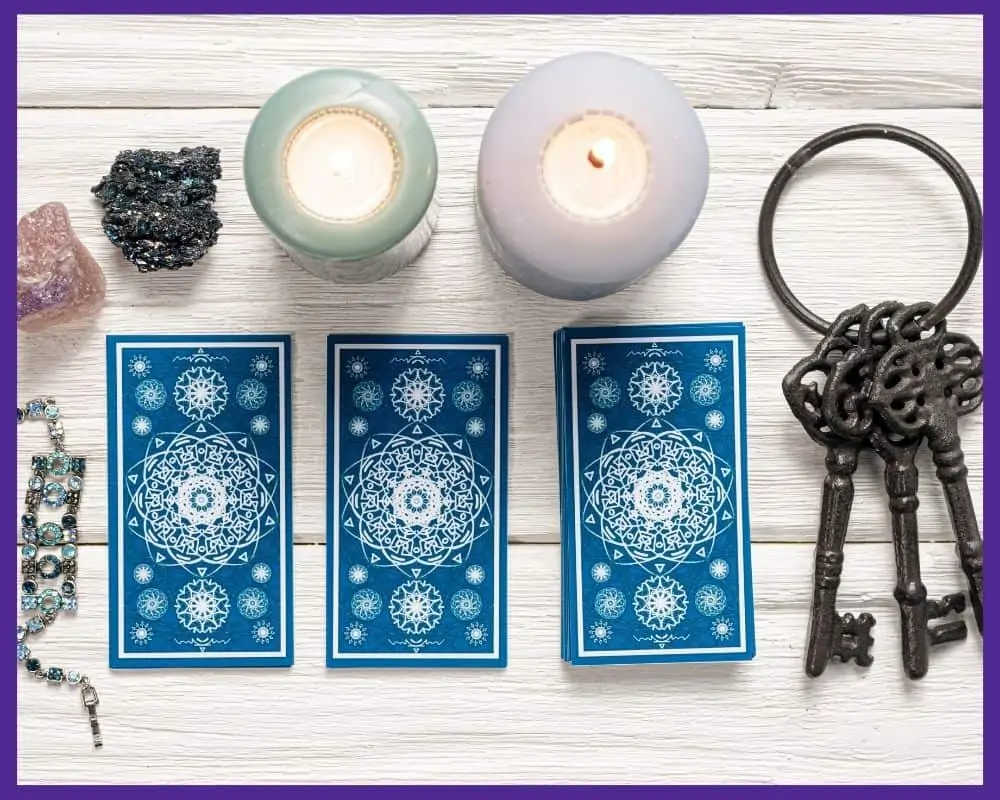 How to do a three card spread
Shuffle the cards, and when you can feel the timing is right, stop and pull one. Place it on the left side. That one should explain why you are in that situation, what brought you there.
Place the second one in the middle. It will provide you with an explanation of your current situation.
The third is the future card, which should be on the right side.
You can also use these ideas as 3-card spreads:
Past, present, and future
What's going on in my mind, body, and spirit
What's the situation, the challenge, and the solution
Morning, noon, and night
What do I need to do, pause, and let go of
What is going on in my subconscious, my conscious, and how to integrate them
What is going on, what is holding me back, advice
What do I need to know, what do I need to learn, what do I need to do about it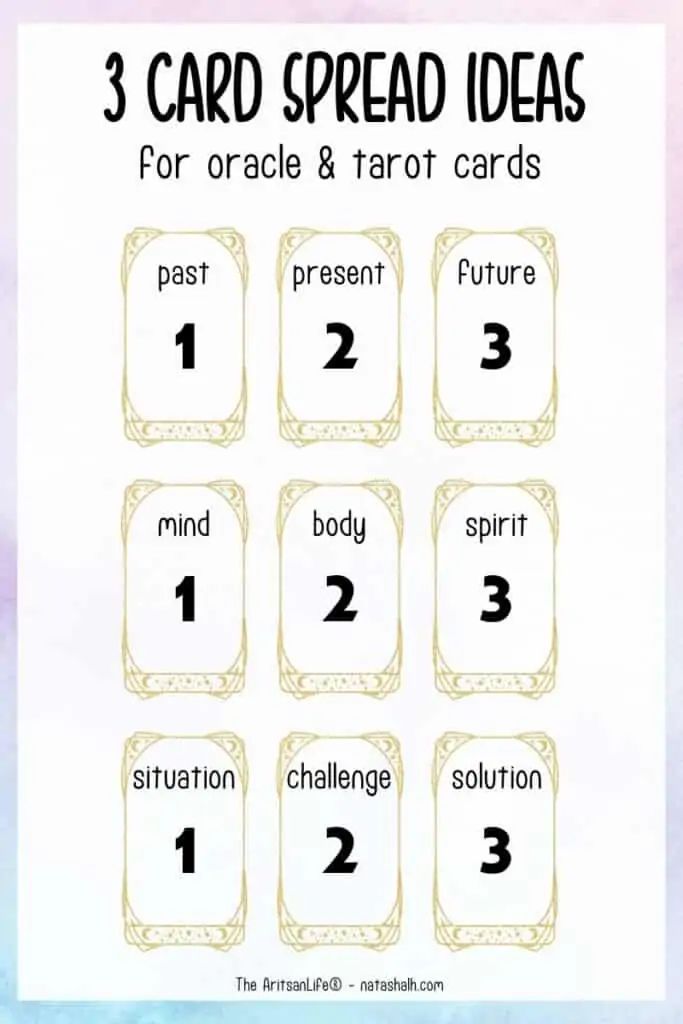 5-card tarot spread
Use the 5-card tarot spread when you are thinking about an issue or problem in your life and need to explore all possible interpretations of it.
How to do a 5 card spread
There are many different ways to do a 5 card spread.
Sometimes people simply place them out in a line.
You can also lay them out with 1 forming the center and 2-5 forming a cross around the central card.
Yet another format is called the "fork in the road" with the first card in the center and slightly above the other cards. Cards two and three are to the left, and slightly below one, with cards four and five to the right. You could also lay them out 1, 2, 3, in a row with 4 above 2 and 5 below 2.
Another option is to lay the cards in a cross position, with the first, second, and third cards representing past events or things. The fourth and fifth cards represent present circumstances or events happening now.
Play around with the formats to see what feels best to you.
You can also use these meanings for the 5-card spread:
In the 1st card, see the present situation as it is now.
In the 2nd card, see the challenge you are facing
In the 3rd card, see the past influences and what lessons to take from that into the future.
In the 4th card, see a door or window opening that will help you know when and how to take the action
In the 5th card, see the outcome for your future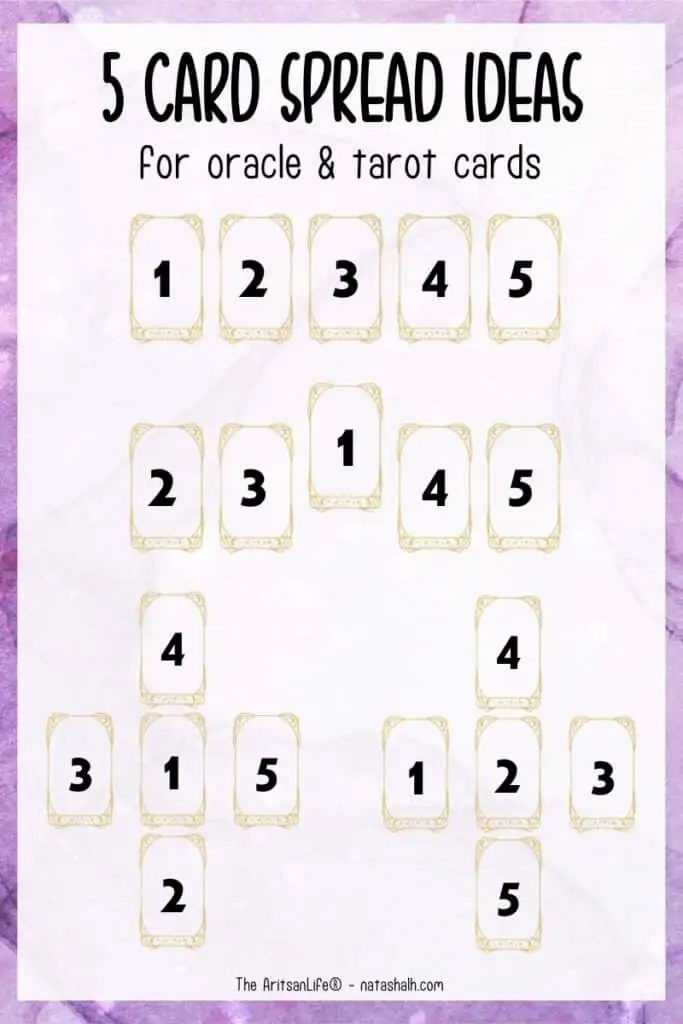 Celtic Cross reading
This reading is great for answering specific questions or the outcome of one particular issue.
How to do a Celtic Cross tarot spread
It is a ten-card spread. To place the cards correctly, do the following:
The first card goes to the middle. It describes the situation.
The second card goes over the first. It represents the challenge.
The third card below the first and second. It outlines the root issue of the situation.
Fourth to the left of the first and second. It portrays the past.
Fifth above the first and second. It depicts the present.
Sixth to the right of the first and second. It describes the near future
Line up the rest of four cards from the bottom to top (to the right of all cards).

The seventh card represents our power in the situation.
The eighth card reveals the other people involved and the environment.
The ninth card signifies the hopes and fears we have about the situation.
The tenth card represents the outcome.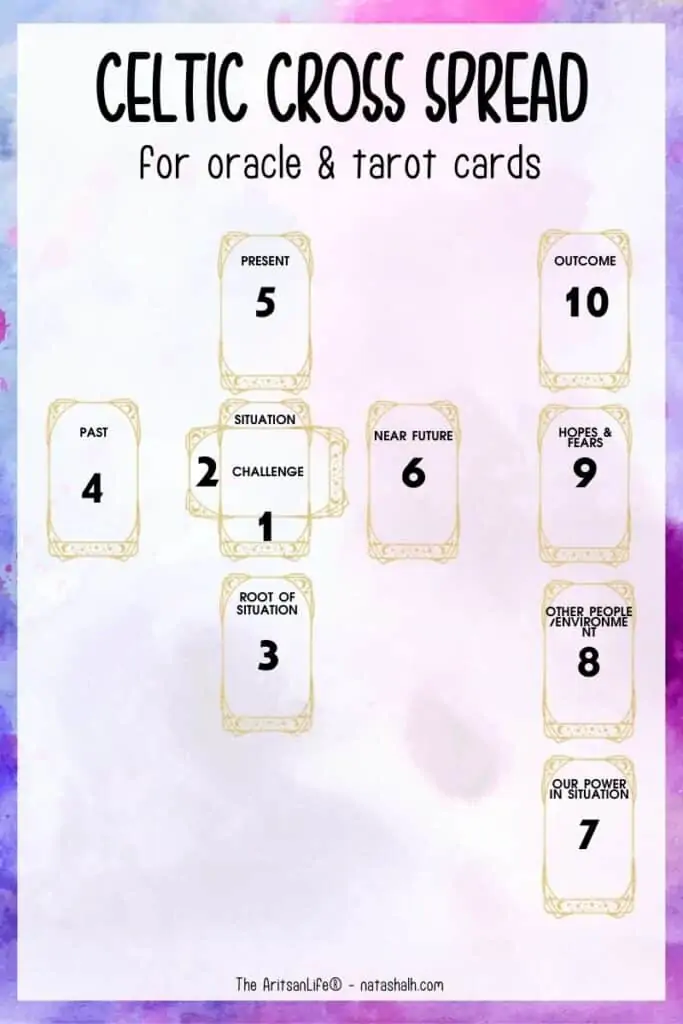 I hope you've enjoyed this look at popular tarot and oracle card spreads! Make sure to stop by this post for your free printable word of the day oracle cards so you can get started with cards without spending money or waiting for the mail to arrive.
Journal Prompts and Planner Printables
Planner and calendar printables allow you to stay organized without a trip to the store or wait for the mail.
Journal prompts remove the fear of the blank page and allow you to start journaling today! Make sure to grab your free printable journal pages in each post.