Moths and butterflies are truly amazing creatures.
Did you know that caterpillars basically dissolve themselves inside their cocoons and then re-form into butterflies? They don't just grow and morph, they actually break down and then regrow. (Wacky, right? You can read a bit more about that process here if you're interested.)
Moths and butterflies are frequently seen as symbols of growth and transformation. Moths, in particular, can serve as a reminder to remain optimistic and seek the light.
This post may include affiliate links, which means I may make a commission on purchases made through these links at no additional cost to you. 
This symbolism inspired a recent painting featuring a stylized luna moth flying towards three moons. I loved the drawing so much I decided to turn it into a coloring page to share! I hope you enjoy this free printable luna moth coloring page.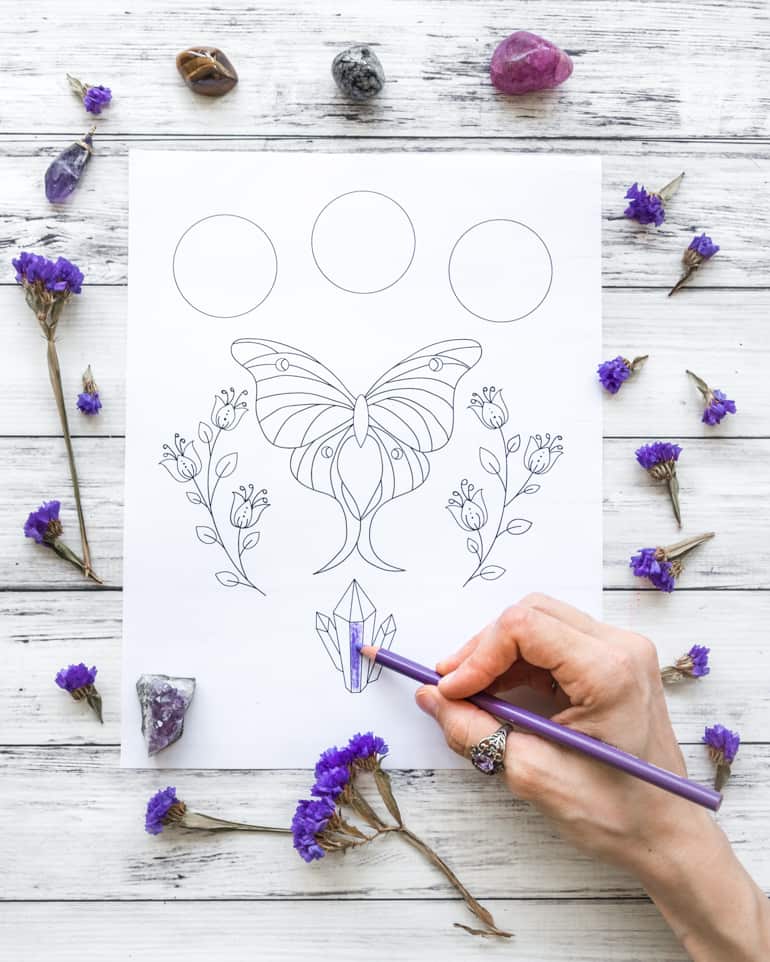 Originally I was going to paint a galaxy background for the luna moth (because, if you can't tell, I'm kind of obsessed with galaxy night skies!), but I loved the bright, clean look of the painting so much I decided to leave it alone. Instead of painting the galaxy on the page, I digitized the painting and then layered it over a galaxy image in Photoshop. Here's the painting without the digital background: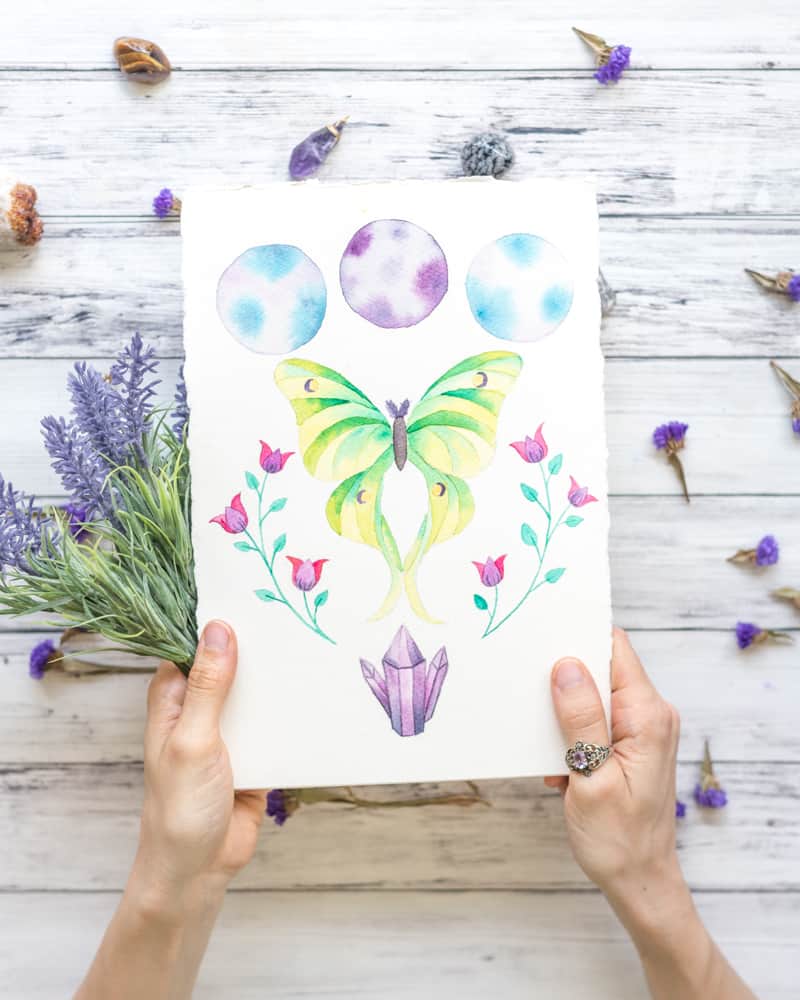 Then I added lots of layers in Photoshop. Finally, I added the text "always seek the light" for uploads to my main print on demand sites. I have the most art on Society6, but I'm working to build my Redbubble store, too. I'm really loving Society6's new offerings like serving trays, cutting boards, and wall hangings!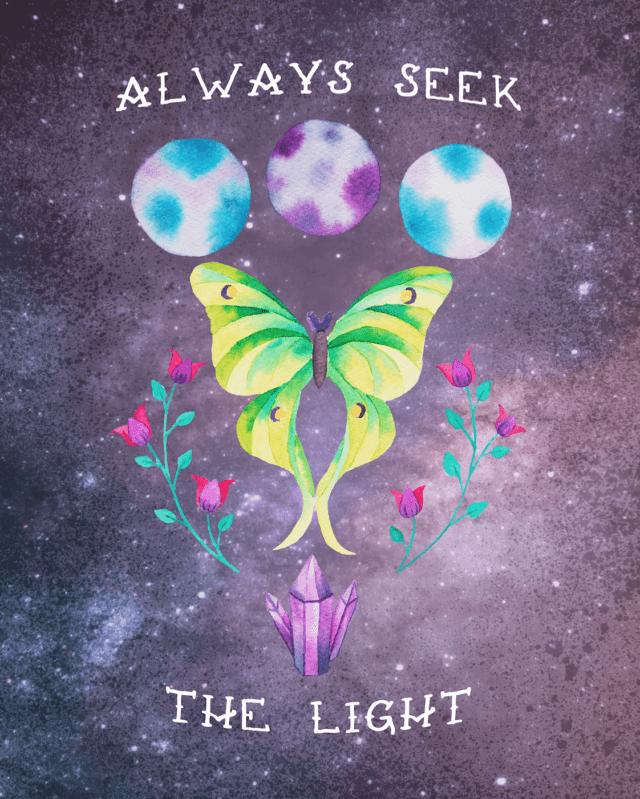 The coloring page version of the painting allows you to fill in the background, phases of the moon, and the moth's antennae however you'd like. As always, I recommend printing on something nicer than printer paper. I like to print coloring pages on bristol vellum. Cardstock and art papers like this Bee marker pad can work well, too.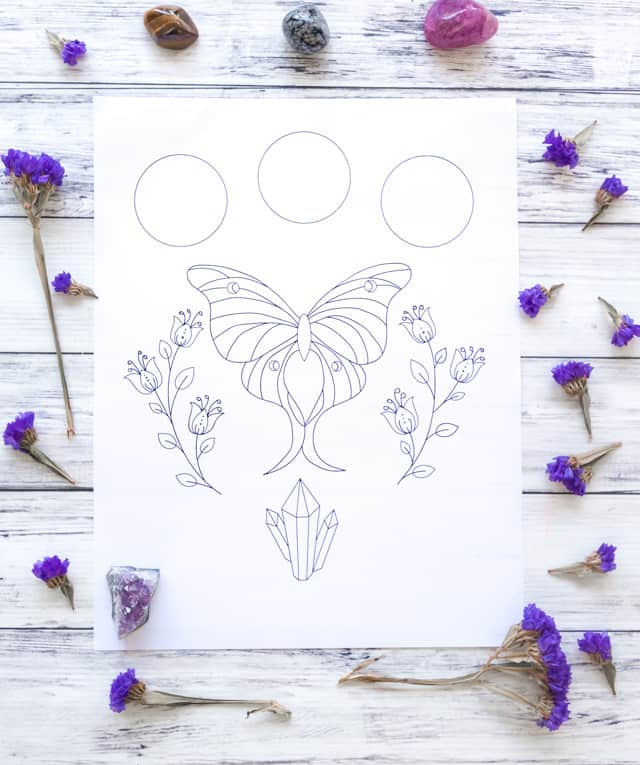 Grab your free printable luna moth coloring page right here!
I really hope you enjoy this luna moth coloring page! If you like coloring, be sure to check out my other recent free printable coloring pages and sign up for my monthly newsletter! For a limited time, subscribers receive both a printable gratitude journal with 30 days of doodle frames & writing prompts and a 12 page sugar skull coloring book.
Do you have any coloring page requests? Let me know what you're looking for!
More coloring pages on The Artisan Life
Free Printable Coloring Pages
Discover free printable coloring pages on The Artisan Life!