If you love herbology, essential oils, or coloring, these lavender coloring pages are for you! These coloring sheets feature detailed designs to color, information about lavender, and several lavender essential oil recipes to try. They're a fun way to learn about this essential oil. I've enjoyed coloring them and I hope you do, too.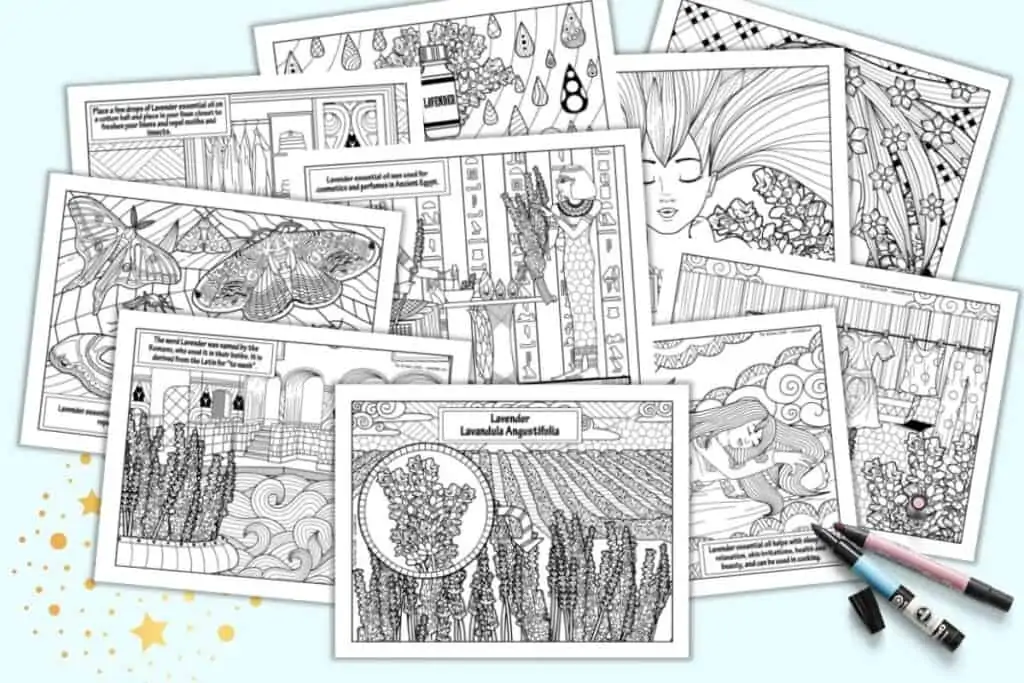 If you like lavender, be sure to grab these free printable lavender bujo planner pages, too.
I hold a certificate in skincare formulation. This means I've taken extensive coursework on how to make body care products like soaps and lotions as well as how to use essential oils safely. If you're interested in essential oils, check out these recipes here on The Artisan Life:
You may also want to grab this set of free printable cedarwood essential oil coloring pages while you're here.
This post may include affiliate links which means I may earn a commission on qualifying purchases at no additional cost to you.
Lavender essential oil information
Lavender is versatile and an easy to use, inexpensive essential oil. It's one of my personal favorites and I use it almost daily. Lavender essential oil has many proven benefits, including:
Reducing anxious, stressful thoughts
Improving sleep
Improving wound healing
Repelling insects
Soothing insect bites
Improving skin tone and clarity
Lavender is also safe for use with children, which is great because many essential oils are not safe for use with children (especially young kids).
You can experience many of lavender's benefits from other preparations, such as lavender tea. We love drinking this organic lavender chamomile tea. It's delicious and calming, too.
When you purchase essential oils, always look for brands that have 100% essential oil without fillers or added fragrances. There are multiple reputable brands. Plant Therapy is one of the brands on Amazon that I generally trust. They have products made in collaboration with the Tisserand Institute, which is a well-known and respected organization promoting safe essential oil usage.
Plant Therapy Lavender Essential Oil 100% Pure, Undiluted, Therapeutic...
CALMING AND RELAXING: Lavender oil is ultra-versatile and loaded with benefits. That's probably why it's one the most popular and widely used...
IDEAL FOR NATURAL SKIN CARE: Dilute 2-5% of Lavender in a carrier oil of your choice. It can help with skin issues like fine lines, wrinkles, and...
MOST VERSATILE OIL AVAILABLE: Can help produce a calm, peaceful, and tranquil environment, promote a peaceful sleep, great for hair and skin, lovely...
If you want to know more about essential oils, pick up an authoritative book like The Complete Book of Essential Oils and Aromatherapy to learn more. The author, Valerie Worwood, has been studying and writing about essential oils for a very long time.
Sale
The best coloring supplies for adults
For professional-feeling coloring pages that are fun to color, please don't use whatever cheap paper is in the office copy machine. Thicker, smoother paper costs a tiny bit more, but makes your experience so much more enjoyable. It will feel like you're coloring a professionally printed book (at a fraction of the price – you can get an entire pack of premium paper for less than a higher end adult coloring book)
I use and recommend HP 32# paper for coloring pages. It's thicker and brighter than "regular" copy paper." This paper is very smooth, which means pencils and crayons glide and color easily on it. It has optical brighteners so it appears brighter white than paper can on its own. It's also acid free, which means your pages won't yellow over time if you decide to keep them. Since these pages also act as a reference guide, it's great that your sheets won't yellow and turn brittle.
This HP 24# paper is usually (but not always) a couple of dollars less than the 32# option. It is also nicer than standard paper and very bright white, so it's another solid choice.
HP Paper Printer | 8.5 x 11 Paper | Premium 32 lb | 1 Ream - 500 Sheets |...
Made in USA: HP Papers is sourced from renewable forest resources and has achieved production with 0% deforestation in North America.
Heavyweight premium printing: HP Premium32 is a heavyweight (32 pounds), brighter (100 bright) and whiter (163 whiteness) paper with a super-smooth...
Certified sustainable: HP Premium32 presentation paper is Forest Stewardship Council (FSC) certified and contributes toward satisfying credit MR1...
Copic markers are amazing, and I love coloring with them, but they are expensive and can be hard to find. That's why my favorite markers for everyday coloring are inexpensive Crayola Supertips. Crayola Supertips are inexpensive, easy to fine, and fun for both adults and kids. Supertips have a fine tip for details, but can also be used on the nib's side for bigger areas of coloring.
Sale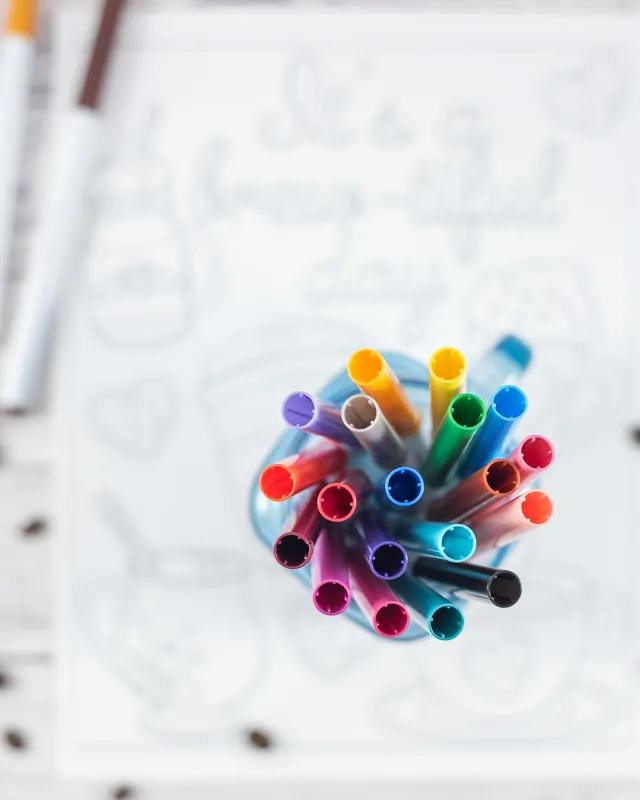 Prismacolors are, I think, the best colored pencils for coloring. Even the "student" lines of Prismacolor colored pencils are softer and creamier than brands like Crayola. Prismacolors are fun to color with and are great for blending.
And, last but definitely not least, the most awesome coloring option – gel pens. A high quality gel pen that colors well is such a joy to color with. Even if you don't want to color the whole sheet with gel pens, you can add accent sparkles. Check out this post for the best gel pens for coloring, including a budget pick that actually colors well. The short version is that the pens shown below are the best overall and best budget pick:
It's impossible to capture sparkle well in a photo, but I tried to get a picture of a partially colored page I'm doing with gel pens. Once I start coloring with gel pens, I don't want to stop! The free-flowing ink is so fun and easy to color with. I used the 32# paper mentioned above and have not experienced feathering or bleed through while coloring with gel pens.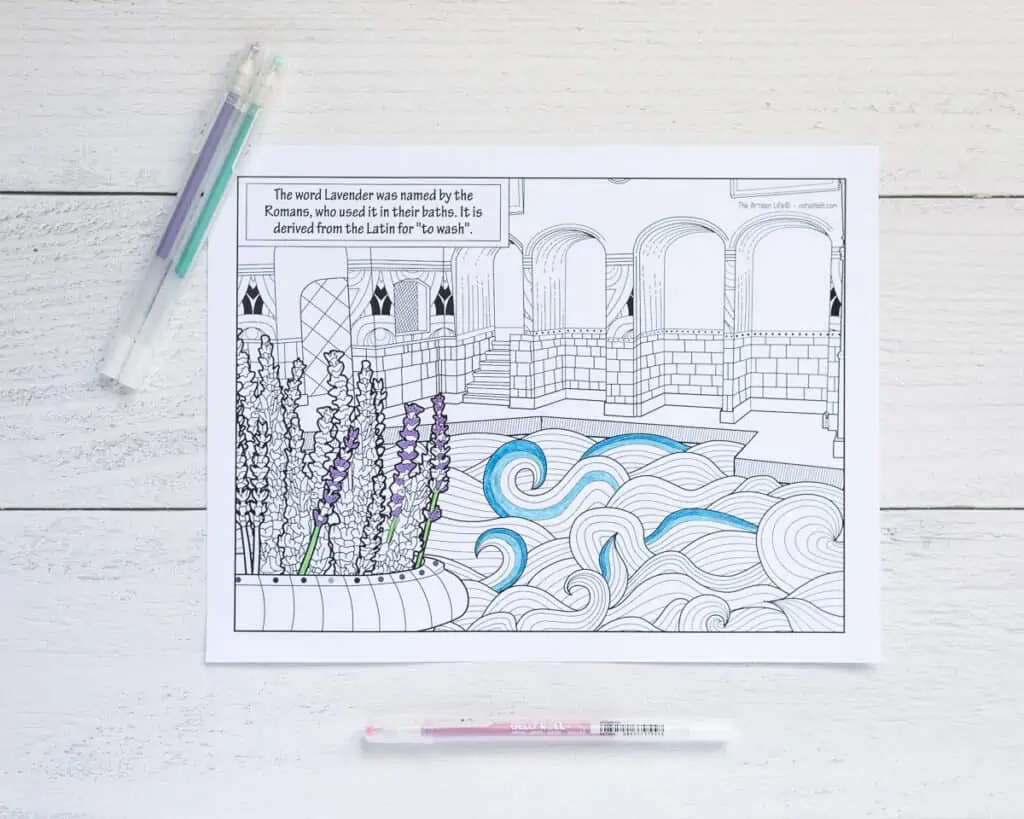 Free Lavender Essential Oil Coloring Pages PDF
This set of lavender essential oil coloring sheets has 16 individual pages to color. Most of the pages have information about lavender or a lavender recipe to try. There is also a page of recipe cards to print and use with your own creations!
All 16 sheets have their own page in the PDF, but the preview images are shown in groups to help this page load more quickly. Any blurriness in the previews is because of web image compression. The actual download is high resolution and prints clearly. Download information and license terms are located below the previews. Look for the row of purple arrows.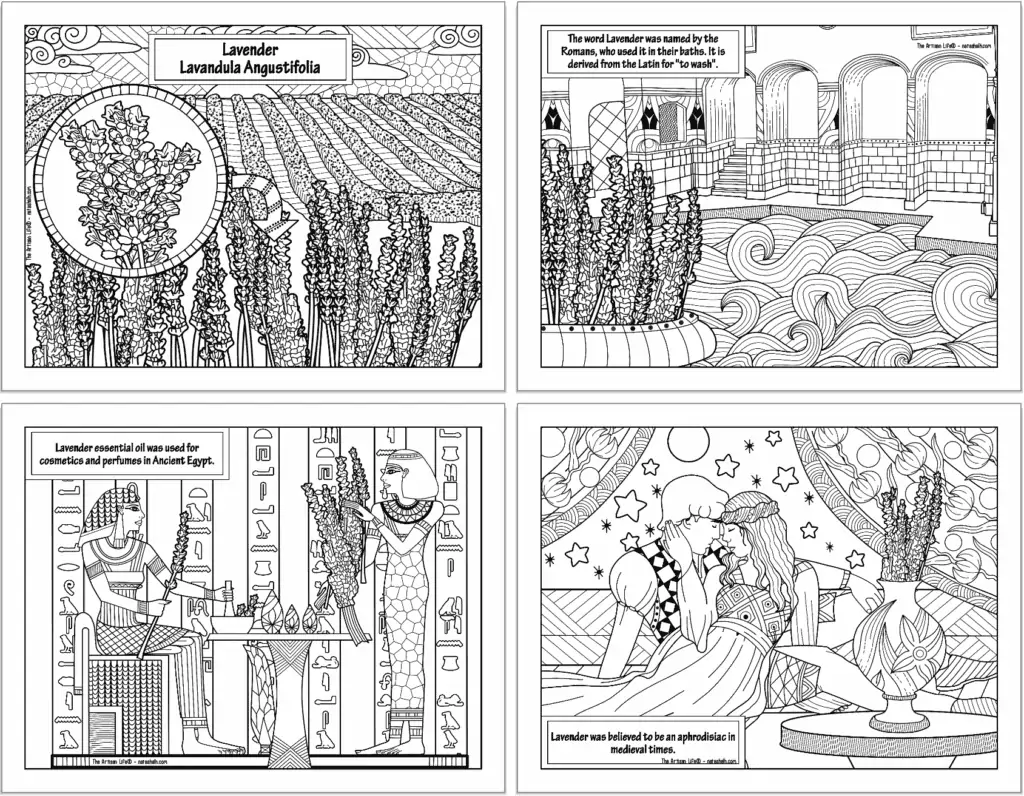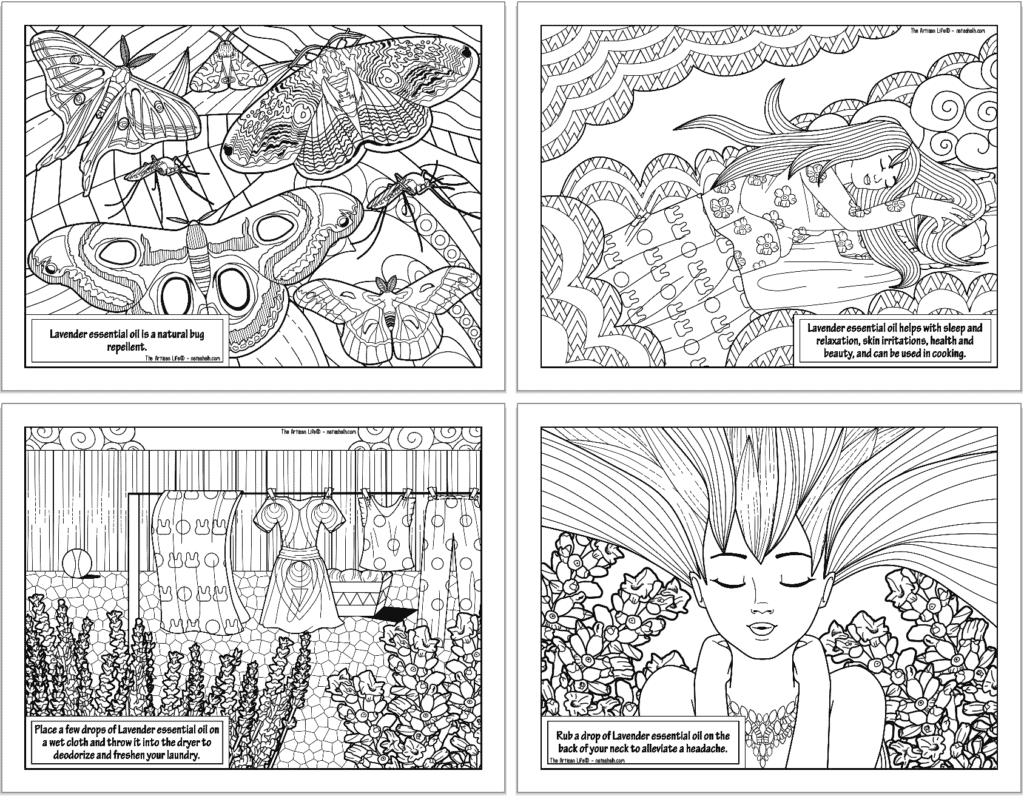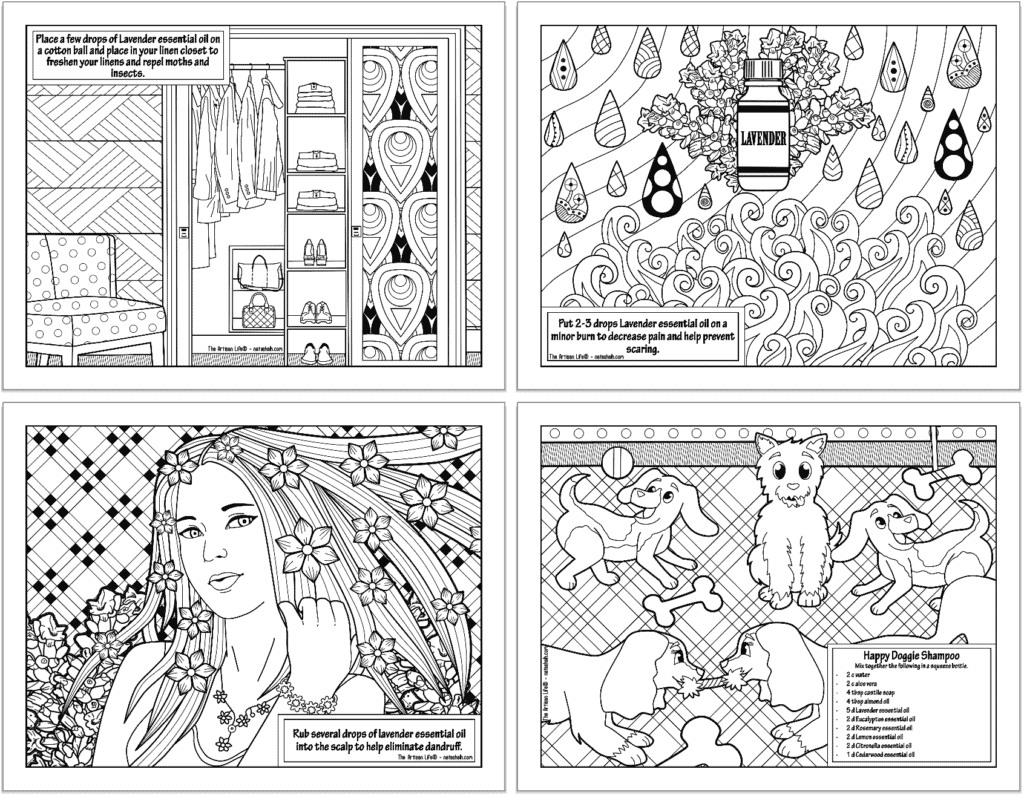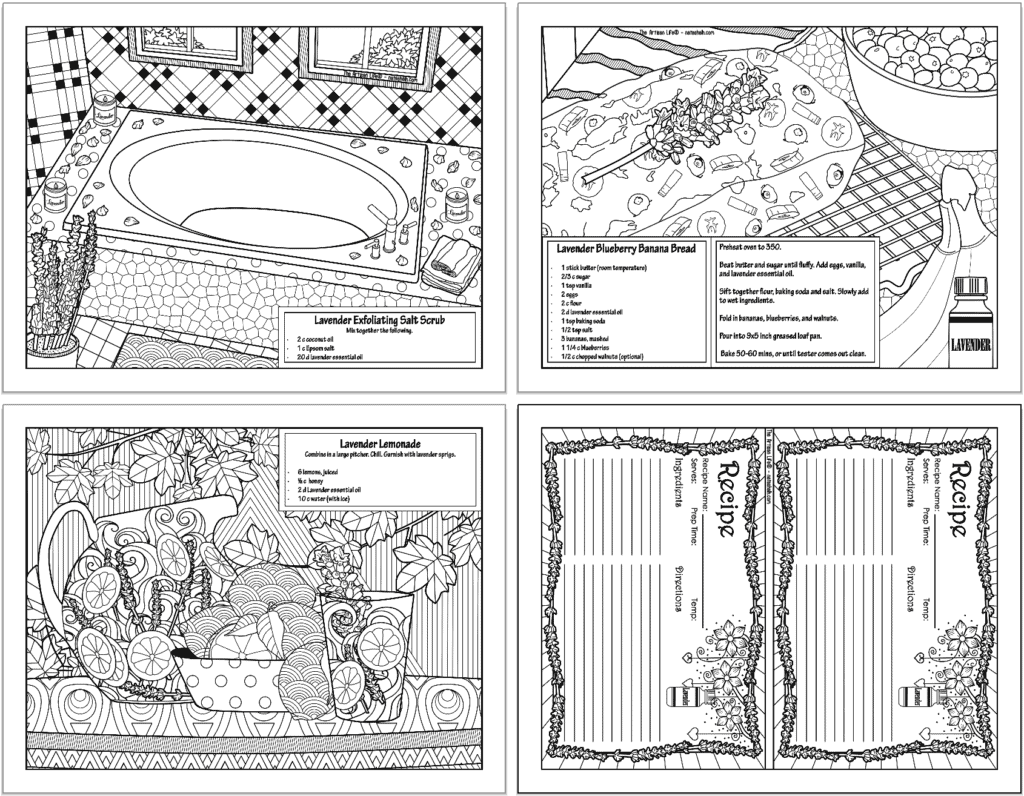 These free printable coloring pages are available for personal use. You are not licensed to alter, sell, or redistribute the files (digital or printed) to others for their use. You absolutely are not licensed to post them for sale or download on any website. Please send your friends and family to this page to download their own copies.
If you agree to this license, you may click below:

I hope you enjoy coloring these essential oil coloring sheets! If you enjoy coloring, make sure to check out these additional freebies:
Free Printable Coloring Pages
Discover free printable coloring pages on The Artisan Life!